Highlights from the virtual STEM Women London and Home Counties Event 2020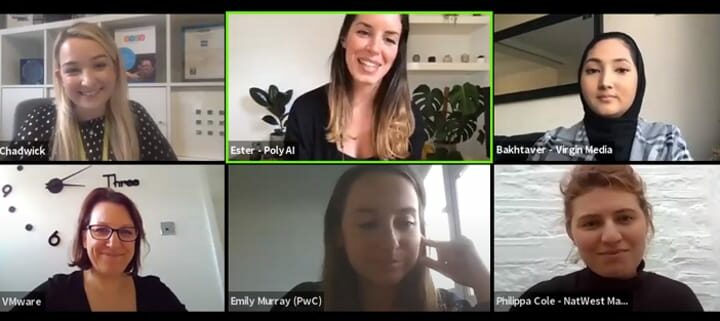 On Monday 19th October, we hosted our seventh virtual event of the autumn season, targeted towards female STEM students and recent graduates based in London and the Home Counties! The event enabled attendees to network with impressive employers, hear insightful speaker sessions, engage with a Q&A featuring representatives working within STEM industries and hear invaluable advice during a skills session.
Sponsored by NatWest Markets, this event was one of our largest ever, with 343 students and graduates attending and 20 companies exhibiting! These included NatWest Markets, PwC, Poly AI, VMware, Virgin Media, AWE, Newton, Citrix, Flow Traders, KPMG, LIDL, British Transport Police, EDF Trading, Metaswitch, ARM, GE Digital, Kilburn & Strode, TJX, Analysys Mason and Dornan.
Throughout the day, attendees and potential employers had a total of 994 conversations and sent 8,263 chat messages! Alongside the webchat function, attendees could also browse company stands, watch videos and apply for over 95 live jobs during the event. Companies had over 252 job applications over the course of the day!
We enjoyed some inspiring talks from a range of representatives working in STEM industries and had a peak live presentations audience of 232. Our attendees were predominantly from STEM degree backgrounds, with the most common degree subjects being computer science, followed by mathematics.
At noon, our event began with a welcome talk from Sophie Chadwick, Events Manager at STEM Women, followed by a presentation from our event sponsor NatWest Markets. We welcomed Imogen Bachra, CFA European Rates Strategy VP, who gave attendees an overview of her personal career journey into investment banking. She described how she studied economics, but had no idea what she wanted to do after she graduated. After leaving university she was faced with multiple rejection letters whilst applying for internships but learnt to be resilient and eventually secured an internship at RBS, now NatWest Markets. Imogen's talk was extremely inspiring and helped our attendees to remain confident in their job searches and understand that feeling overwhelmed and out of your depth is natural.
After a short networking break, we began our speaker sessions with an introduction to Poly AI and the role of a Machine Learning Engineer with Sam Coope, Senior Machine Learning Engineer. Sam started his talk by giving us an overview of his background, from studying computer science and software engineering, to slowly developing his knowledge of machine learning and natural language processing. We learnt about Poly AI as a company and were treated to a fascinating insight into an AI company, with a detailed look at some of the projects Sam works on.
Following this, we welcomed Catriona Holland, Business Manager to COO at Virgin Media. Catriona gave a presentation on the Virgin Media graduate scheme, covering the type of projects she worked on and why Virgin is a great option if you're not completely sure which sector you'd like to work in.
Ellie Griffiths, eFX sales VP at NatWest Markets then gave attendees an insight into working within the sales team at an investment bank.  Ellie described how she started her career on an internship at NatWest, and then secured her place on the graduate scheme. Today, she looks after a range of large clients, which means she meets lots of new people every day. Ellie ended her talk by looking at some of the women in investment banking statistics and highlighting that NatWest were working hard to change the stats for the better.
Next up was Mila Piperevska, Manager, Technology Consulting at PwC. Originally from Bulgaria, Mila came to the UK approximately 13 years ago to study BSc Management, at Warwick Business School, followed by a masters in MSc Economics and Strategy, at Imperial College London. She gave an overview of her career journey through engineering roles with BT, to her current role in Technology at PwC.
Our speaker sessions ended with a presentation from Sarah Swatman, Director – Solution Engineering at VMware. Sarah explained how she went from applying to be a receptionist after graduating with a degree in applied mathematics, to becoming a Director across EMEA at VMware in pre-sales.  She spoke about a few of her career highlights, including writing the code for the first online mortgage calculator, and how she overcame her self-doubts to apply for opportunities and gain numerous promotions.
In between networking, attendees were then invited to join the audience of a panel session featuring women working in STEM industries. On the panel we welcomed back Sarah Swatman from VMware, Ester from Poly AI, Emily Murray from PwC, Bakhtaver from Virgin Media and Philippa Cole from NatWest Markets. The panel session allowed attendees to ask employers direct questions about their role or company They covered tips on working in a virtual environment, how to stay confident in the workplace and the importance of finding an ally or a sponsor in your company.
After this inspiring panel session, we then enjoyed a fascinating Interview Skills Session with Leadership Coach, Sarah Perugia. She presented a session that focused on how to be passionate and confident in a virtual environment. She gave attendees tips on how to implement strategic thinking, manage your mind by thinking positive and confident thoughts and ask yourself 'what is my value'.
We are so happy with how our London and Home Counties event went! Attendees learnt some invaluable tips that will stand them in good stead when they enter the world of work. Janvi Bamania – BEng (Hons) Biomedical Engineering described how she found the event:
"An excellent platform for women in STEM. Despite the current situation due to COVID-19, I think this was one of the best events provided to students and graduates, due to its high level of interactivity. The one-to-one chat function with different company employers was very easy to use and convenient. STEM women have done an excellent job by providing many students the opportunity to apply to internships, graduate schemes, placements etc. through this event."
We now have just three events left in our autumn season, Ireland, Scotland and the Netherlands! For more information, visit our events page and follow us on LinkedIn, Twitter and Facebook for updates.
There are still spaces left for employers for our upcoming events, If you're interested in exhibiting, get in touch with laurenj@stemwomen.co.uk.