Meet the Sponsor and Speakers at the STEM Women London Careers Event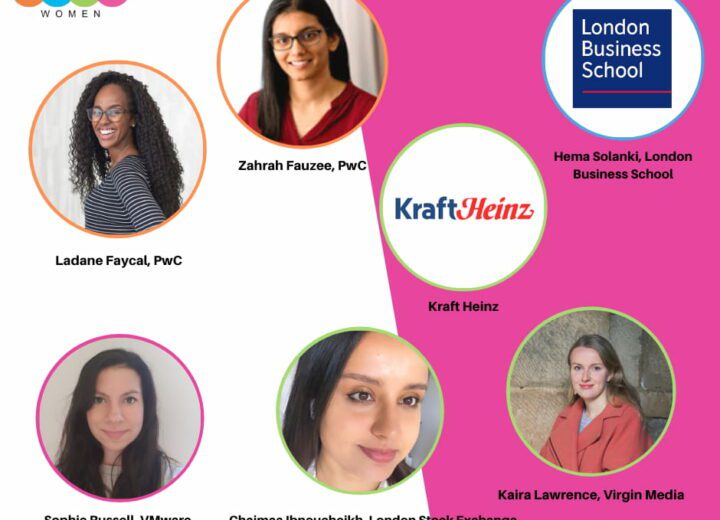 On Wednesday 29th September 2021 we are hosting our London STEM Careers Event for students and recent graduates looking to start their careers in a STEM industry in London.
This event is perfect for people who identify as female or non-binary and will give attendees the chance to network with employers, apply for jobs and hear insightful speaker sessions from representatives working in STEM.
During these presentations, the representatives will cover a range of topics, from their own personal career journeys to their experiences working in STEM and offer any helpful advice on the application and interview process.
Before the event, we wanted to introduce some of our speakers to find out more about them and what they will be covering during their talks.
Welcome Talk from Sophie Chadwick, STEM Women Events Host
The event will start with a welcome talk from STEM Women Events Host, Sophie Chadwick. Sophie will give attendees an overview of the agenda, highlight the company stalls and introduce the sponsor speaker who will address the audience.
Welcome Talk from PwC – Ladane Faycal, Student Recruiter
Ladane from PwC will open the event with a welcome address. Her presentation will introduce PwC to the attendees and highlight the exciting opportunities they have available.
Could you give us a brief description of your role at PwC?
"I am a student recruiter at PwC in the London team, I recruit for Actuarial Services and for Risk, in London, in the South East and in Mumbai."
What can attendees expect to hear during the welcome talk?
"An introduction on PwC, our purpose, the services we provide to our clients, the roles we offer to students and where they are based."
What are you most looking forward to on the event day?
"To introduce my fantastic PwC colleagues to some even more fantastic students, and to hopefully have future applicants and (crossing our fingers!) future hires coming from this event."
Chaimaa Ibnoucheikh, Solutions Architect, London Stock Exchange
Our employer speaker session will then begin with a presentation from Chaimaa at 1.30pm. Chaimaa will talk about her role as a Solutions Architect and her career path.
Could you give us a short outline of your role?
"As a Solutions Architect, I am responsible for designing IT solutions to meet a problems' requirements and implement those potential solutions."
What will you covering during your speaker session? 
"Growing into the role of a SA."
Do you have any tips for attendees? 
"Embrace adversity. Learn to "learn" and seek help from mentors/senior people whose management style resonates with you."
Hema Solanki, Student Recruitment Manager – Early Careers Masters Programme, London Business School
Next up we will welcome Hema from London Business School who will introduce the Masters Programmes available at LBS and the benefits of being a member of the LBS global network.
"I am the recruitment manager for students enrolling onto our Early Careers Masters programmes at London Business School. They are the Masters in Management, Masters in Financial Analysis, Masters in Analytics & Management.
"Together with my team, we consult with you by reviewing your profile and, guide you on how best to prepare your application. We host panels discussions and Information sessions where you can join us and further explore the Masters programme and connect with both our students and alumnus.
"I will be sharing with you the strength of being the LBS student, the role of our careers team and being part the LBS global network.
"At LBS you truly become a Global Citizens."
Kaira Lawrence, Consumer Sales Graduate, Virgin Media
Kaira from Virgin Media will then begin her talk which will cover her role at the company and her experience of joining as a graduate.
Could you give us a short outline of your role at Virgin?
"I am a Consumer Sales Graduate in Virgin Media, currently working as a Planning Manager in the Channel Management team. This looks after quarterly planning, in-quarter trading and project implementation across the sales channels. I'm also a Network Lead for the Gender Equality Network, as well as sitting on the Future Careers Committee and the Neurodiversity Network."
What will you covering during your speaker session?
"As a graduate which joined Virgin Media 1 year ago, I'll be giving you an insight into what my first year into the company looked like. I'll be covering experiences, development and my different rotations. I'll also be providing advice I have for those applying to graduate positions, getting the most out of your first role and experiences of being a woman in a male-dominated sector."
Do you have any tips for attendees when they are at the event?
"As well as thinking about questions for speakers, think about what questions you have for yourself to reflect on afterwards. What is important? What should you look into?"
What are you most looking forward to on the day?
"Connecting with and empowering others."
Zahrah Fauzee, Senior Associate, Actuarial RMS, PwC.
At 2.45pm, Zahrah from PwC will present a session which will go into detail about her roles at PwC, and the types of opportunities available at the company.
"I am a Senior Associate in the Risk Modelling Services (RMS) within the PwC Risk line of Service. The team consists of 4 areas namely: Banking, General Insurance, Life insurance and Corporate and Government (C&G). Most of us are actuaries especially in the insurance team while the other teams might not require actuarial qualifications. I sit within the Banking team and have been working mostly on credit risk modelling for the last 3 years.
"I am looking forward to taking this opportunity to provide a little bit of background about myself, I will then go through why I chose PwC and RMS specifically, what type of work we do, ending with any questions you might have."
Do you have any tips for attendees?
"Try to enjoy the process! While it can be quite tiring at times, I would recommend making the most out of it and applying to places and areas which interest you. There are lots of exciting opportunities out there so be curious and don't give up! Good luck!"
Sophie Russell, Technical Account Manager, VMware
Next, we will hear from Sophie from VMware. Sophie will be talking about her personal career journey and how she became a Technical Account Manager.
Could you give us a short outline of your role at VMware?
"I am technical account manager at VMware, aligned to a number of our customers and I work closely with these customers to accelerate and optimise their technologies."
What will you covering during your speaker session?
"I will be speaking about my journey to a VMware TAM."
Do you have any tips for attendees?
"Be confident, always ask, do not feel you need to know everything about everything."
Why is inspiring more women into STEM important to you/your company?
"To show that there are so many exciting roles available to everyone!"
Kraft Heinz
Our speaker sessions will finish with an insight talk from a representative from Kraft Heinz.
STEM Women Events
Before our speaker sessions begin, attendees can also watch and ask questions during a live panel discussion with women working in STEM.
If you're interested in starting your career in STEM, and would like to attend a STEM Women event, visit www.stemwomenevents.com and register for your free ticket today!
There are also still spaces available for employers looking to exhibit at this event and our upcoming autumn 2021 events. Get in touch with Lauren at laurenj@stemwomen.co.uk for more information.