Highlights from the STEM Women Ireland Careers Event, Sponsored by Ball Corporation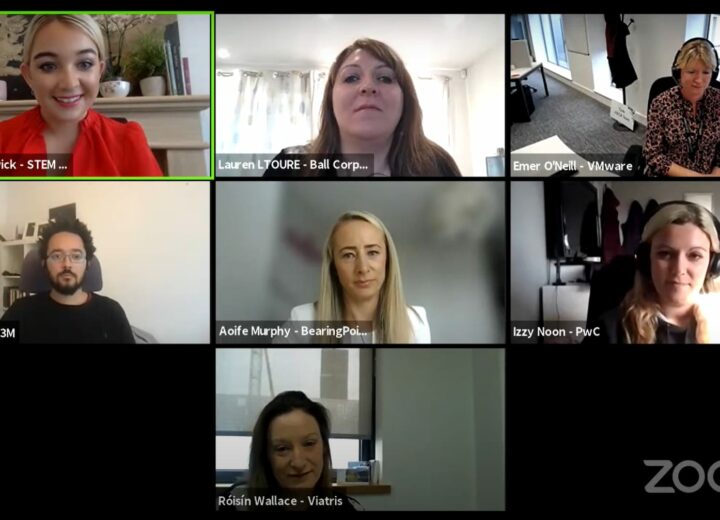 On Wednesday 6th October, we were delighted to host our Ireland STEM Careers Event for students and recent graduates who identify as female or non-binary. The event was perfect for attendees who were looking to start their careers in a STEM industry, based in Ireland.
We had 704 signed up for this event, with 336 logging in on the day. Attendees had the chance to network with 19 top employers who included our event sponsors Ball Corporation, alongside 3M, AquaQ, Bearing Point, Breedon, Dornan Group, Eirgrid, HPE, Intel, Liberty IT, London Business School, Nikon, PPD, PwC, Riot Games, Stripe, Viatris, VMware, and Xilinx.
Employers and attendees had 961 conversations throughout the day, sending 3,395 chat messages. Our event platform also allowed attendees to browse company stalls and apply for live roles, we recorded 331 job applications during the event! Our attendees were predominantly studying computer science followed by data analytics and data science.
Our event began with a welcome talk from STEM Women Events Host, Sophie Chadwick. Sophie gave everyone an overview of the event agenda, the companies taking part and offered some tips on how to get the best out of the day.
This was followed by a welcome address from our event sponsors, Ball Corporation. Lauren Toure, Diversity & Inclusion Manager, EMEA led this presentation and gave attendees a snapshot of the exciting opportunities that are available at Ball Corporation. She highlighted who Ball are, the areas they work in and the vast scope of the global company. Lauren ended the welcome talk by talking about Ball Corporation's commitment to diversity and inclusion in the workforce and their inspiring vision for the future.
Following the welcome talk, attendees were invited to join the audience and post their questions to a panel of representatives working in STEM. Our fantastic panelists were Izzy Noon from PwC, Aoife Murphy from BearingPoint, Roisin Wallace from Viatris, John Glover from 3M, Emer O'Neill from VMware and Lauren Toure from Ball Corporation. We heard some invaluable advice about the key transferrable skills to highlight when entering into a tech role, how to deal with rejections when applying for jobs and some excellent CV and cover letter tips. Our panelists also touched on the importance of communication skills and highlighted that it's not always necessary to know all of the technical skills when applying for graduate roles.
After a short networking break our employer insights talks began at 1.30pm with a presentation from Claire Watson, Head of Business Innovation at PwC. Claire began her session by talking through her personal career journey, from university to her current role. She spoke honestly about how the pandemic had impacted her career in aeronautical engineering, forcing her to take a new path and the amazing advice she received along the way. She ended her presentation with some of her key career tips, from being energetic, to learning from setbacks, learning from others and the importance of balance.
Next up we welcomed Kelly Conway, Technical Support Engineer at VMware. Kelly spoke to attendees about her transition from college to industry and how she got her role at VMware through an internship. She highlighted who VMware are, who they employ and where they are based. Kelly then went into detail about what a technical support engineer does on a daily basis, and what she has learnt during the remote training she has been given. Her presentation ended with some great insights into the unique culture at VMware and the inspiring initiatives they have at the company.
Our third insight talk was presented by Mary Connors, Director Strategic HR Business Partner EMEA at event sponsors Ball Corporation. Mary began by giving attendees an overview of the company, the roles they recruit for and the offices they have worldwide. She covered their vast range of global customers and their commitment to sustainability. Attendees were given an in-depth insight into the talent strategy framework and the type of skills they are looking for from graduate candidates.
Our penultimate speaker session was with Aoife Murphy, Manager People and Strategy at BearingPoint. During her presentation, Aoife spoke about her personal experience at BearingPoint and what her role entails. She also offered some great advice on how to be successful in a tech role without needing a technical degree. We heard more about BearingPoint as a company, how they've grown over the years, their key clients, and the projects they work on. Attendees also learnt more about the technologies they use and what it really means to be a consultant.
Our speaker sessions drew to a close with a session from 3M. Erin began the presentation by talking broadly about 3M as a global company and their vision. She highlighted the important work they have done during the COVID-19 pandemic and their ongoing commitment to diversity and inclusion. Erin then handed over to Jing Su, Senior Machine Learning Scientist, who went into the technical aspects of machine learning and how technology can help clinicians and medical staff. We learnt more about fluency assistants, how they work, and the processes he works on in his role.
After our speaker sessions, there was then an hour of pure networking time for attendees to start chats with companies, apply for jobs and browse the stalls.
We are always so excited to host our Ireland-based events and this one was no different!  We have had some great feedback –
Hewlett Packard Enterprise:
"Very well run event with a great calibre of candidates overall, will definitely be attending another event in the near future."
We now have just three events left of our autumn season. Next up we will be hosting our England and Wales (excluding London) STEM Careers Event, followed by our UK Engineering Industry Event and the Benelux Region STEM Careers Event.
If you are a student or recent graduate and would like to attend a STEM Women Event, please visit https://stemwomenevents.com/events to register for your free ticket.
For employers looking to exhibit, please get in touch with Event Sales Manager Lauren Jenkins for more information or to book a demo on our virtual platform.