Meet the Speakers at Our Upcoming STEM Women Australia Graduate Careers Event!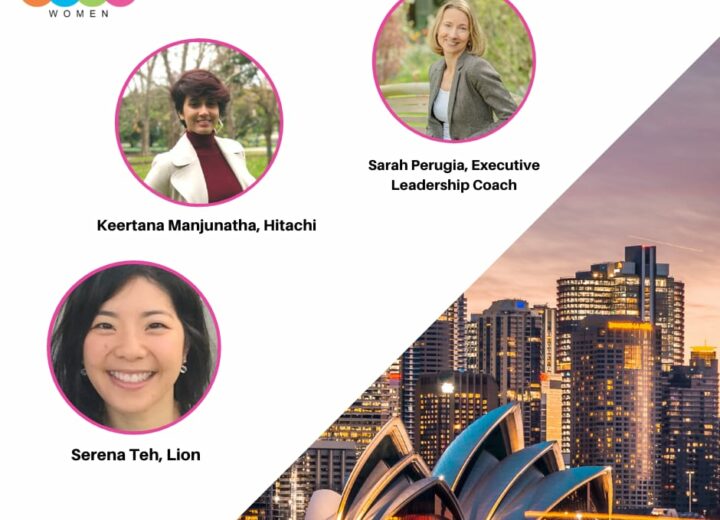 We are thrilled to be hosting our very first STEM Women event in Australia on Thursday 11th March.
Throughout the event we will have a "Live Presentations" area where attendees can hear speakers from a range of different companies, all sharing their personal career journeys, offering advice to attendees, and giving an insight into what it's like to work in their industry.
Ahead of the event, we caught up with the speakers to find out more about the topics they will be covering, and what attendees can look forward to!
Speakers
Lion
Serena Teh, Capital Projects Manager
Serena from Lion will kick off our speaker sessions and give attendees an introduction to her company. She will highlight her career journey so far and discuss the challenges she faced entering the world of work after studying at university.
What topics can attendee expect to hear from you on the event day?
You can expect to hear some of the reasons why it's ok if you don't know exactly which company or what industry you want to work in during your final year of university, and much more!
Why are you excited to be presenting a session at the event?
We need more diversity within the STEM workforce, so any opportunity for me to share my experiences and encourage a career in STEM always puts a smile on my face!
What are you most looking forward to?
Meeting and chatting with STEM students virtually at the careers fair.
Do you have any tips for attendees?
Don't be afraid to ask questions!
Why is encouraging more women into STEM important to your company?
Greater diversity within Lion will encourage greater diversity in thought and innovation, which will enable us to better understand and serve our customers and consumers who are at the heart of everything we do.
Hitachi
Keertana Manjunatha, Controls and SCADA Engineer
We will then welcome Keertana to present her session which will cover everything you need to know about Power Grids and what it's like to work at Hitachi.
What topics can attendee expect to hear from you on the event day?
Attendees will enjoy a Grid Automation business presentation by our Controls and SCADA Engineer, Keertana Manjunatha. She will highlight her career journey to date, 'A day in the life', challenges she has faced and career advice she would give her student self!
Why are you excited to be presenting a session at the event?
Being able to connect with prospective candidates, sharing more about our business, as well as being able to motivate and encourage the students to take the next step in their career journey.
What are you most looking forward to?
Sharing what we do within the renewables and sustainability space, and the impact we have as an organisation to our community, country, and the world. Describing our culturally diverse organisation and finally the vast career opportunities we have available both in Australia and globally.
Do you have any tips for attendees?
Visit as many stalls as possible and speak to the organisations to really find out more about what they do and what opportunities are on offer…. And ask lots of questions, there is never a silly question.
Why has your company decided to present a session at this event? 
Being in a very male dominated industry, where the majority of electrical engineer and technology employees and candidates that apply for our open roles are male. Our values are to help bridge the gender diversity gap and look at ways to support early talent and female talent to start as well as grow and advance their career in this industry and field of work. We want to make a difference to the world both from an environmental and people aspect, as it is the people that drives our organisation and helps achieve our goals and vision!
Panel session
Before the speaker sessions, we will also be hosting a panel session with women working in STEM industries. Attendees will have the chance to ask the panellists questions in a live chat and hear some inspiring advice. Our panellists for this event will be Niamh Nixon and Thea Comino from Lion, plus Esmeralda Hernandez from Hitachi.
Don't miss out on this fabulous opportunity!
Skills session
Sarah Perugia, Executive Leadership Coach
We're thrilled to be welcoming Executive Leadership Coach and Keynote Speaker, Sarah Perugia, to host a skills session for our attendees. This coaching masterclass focuses on practical techniques that enable you to interview and present with confidence.
Sarah is a qualified accredited Executive Leadership Coach, Team Facilitator, and Keynote Speaker. With nearly 20 years' experience, she has helped individuals and teams flourish and thrive in the workplace. Sarah is extremely passionate about supporting women in leadership and has already coached women across the world in a range of roles, from CEOs to entry-level.​
What can attendees look forward to hearing about during your skills sessions?
"We will be working very practically! I hope the women will go away with some ideas of what they can do differently immediately. Perhaps they can use this new awareness as they network after the session. They will leave with skills to help them not only look more confident but feel it too!"
Do you have any tips on how attendees should prepare for your virtual sessions?
"Great question – yes! I would say come to the session with an idea of where you will be presenting yourself, and what 'good' looks like for you in this situation. What are you hoping to achieve? What story do you want to tell about who you are and what value you bring with you?"
If you're interested in starting your career in a STEM industry and would like to attend a STEM Women event. Visit www.stemwomenevents.com and register for your free ticket today!
There are also still spaces available for employers looking to exhibit at this event and our upcoming 2021 events. Get in touch with Lauren at laurenj@stemwomen.co.uk for more information.