Highlights from our Biggest UK STEM Careers Event Ever!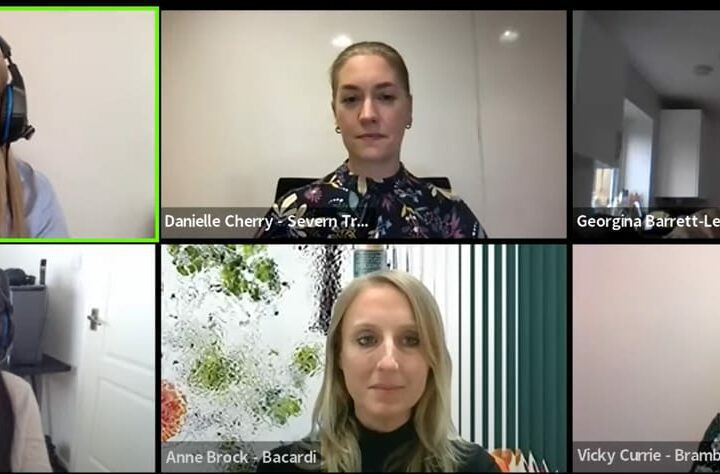 On Wednesday 16th February, we held our first STEM Careers event of the year and reached record numbers of attendees and event interactions! We signed up 1,855 students and graduates, with 915 attendees logging in on the day, a fantastic 49% turn out rate. We also welcomed 32 top employers from a range of different industries to network, promote their opportunities, present talks and take part in a panel session during the day.
This event was targeted towards STEM students and graduates who identify as women or non-binary, studying at universities across the UK. Attendees were studying a range of STEM related courses, but the most popular course was Computer Science, followed by Data Analytics and Biological Sciences.
This event was the largest we have ever run and therefore we saw some of the highest number of engagements throughout the day. Attendees and employers had 2,554 conversations, sending 10,172 chat messages, and attendees made a staggering 1,141 job applications during the event.
The Event Agenda
The event began with a welcome talk from STEM Women Events Host Sophie Chadwick. Sophie introduced STEM Women, gave an overview of the agenda and highlighted the exhibiting companies. This was followed by a welcome address from our event sponsors, MI5, MI6 and GCHQ. Hannah, Director of Research & Engineering presented this session and gave attendees an overview of the agencies and the importance they place on improving diversity. She highlighted the roles they have available and the skills they look for from candidates.
Following this, our event host Sophie began the panel discussion featuring women working in STEM industries. The panelists were Danielle Cherry, Water Networks Business Lead from Severn Trent, Georgina Barrett-Lenton, Senior Associate from PwC, Hayley Hill, Full Stack Software Developer from Experian, Anne Brock, Master Distiller for Bombay Sapphire from Bacardi and Vicky Currie, Data Analytics Chapter Lead from Brambles. During the panel discussion, we heard some invaluable advice around how to overcome imposter syndrome, and to place less importance on having a linear career path. The panelists also discussed their career highlights and challenges, and what they enjoy most about their roles.
Attendees then had the chance to network with employers via webchat, browse the company stalls and apply for the live role. Following this, we then enjoyed the first of our employer speaker sessions.
Speaker Sessions
Lizzie, Student Recruitment at PwC
Lizzie began our speaker sessions with an introduction to PwC, who they are and the key business areas they work on. She then went on to outline the exciting graduate opportunities they have available and the how the application process works.
Marie-Louise Slater, UK Operations Graduate Trainee, and Sian Illston, HR Business Partner from Bacardi
Next up we welcomed Sian and Marie representing Bacardi. Sian began the talk by introducing the company and giving attendees a short history of how they were founded and the portfolio of brands they own. Marie then took over to talk through her personal experience of the scholarship programme, the projects she worked on and why attendees should apply!
Vicky Currie, Data Analytics Chapter Lead, Brambles
Vicky then presented on Brambles' digital strategy and how it is transforming the business. She spoke about the importance of sustainability and how they are looking to use data to become more innovative in the future. Attendees also learnt more about the supply chain and how the business works.
Katy, Principal Scientist for AI, Office of the Chief Scientific Advisor, MI5, MI6 and GCHQ
Next, we heard a session from Katy who spoke about careers in national security. She explained more about who the agencies are and, in particular, the Office of the Chief Scientific Advisor. Katy gave attendees an insight into her personal career path and how she first got into computing.The presentation was ended with some key points on why attendees should consider a career in the agencies.
Alice Hawash, Early Career Practice Manager, Laura Caicedo, AWS Solutions Architect Manager, and Liza Robinson, Early Careers Talent Acquisition, Amazon Web Services
Liza led this employer talk by covering who Amazon Web Services are and the types of roles they are recruiting for. She then introduced Alice and Laura who spoke more about their roles at the company and what they most enjoy about working there. Liza also highlighted Amazon's commitment to diversity and their drive to have more women working in their tech departments.
Danielle Cherry, Water Networks Business Lead and Chair of the Severn Trent Women in Operations and STEM Advisory Group, Severn Trent
Danielle from Severn Trent then presented her session which covered more about the company and their dedication to a gender balanced future for the water industry. She highlighted how Severn Trent invest in their people and focus on training and upskilling their employees. Danielle also gave an overview of the environmental initiatives the company are investing in.
Orianne Wightman, Senior Talent Acquisition Partner, Hayley Hill, Full Stack Software Developer Heather Kirwan, Graduate Software Engineer, and Janey Slinger, Graduate Software Developer, from Experian
For Experian's speaker session, Orianne chaired a short panel session with graduate employees from the company. Heather, Janey and Hayley all gave attendees invaluable insights into the graduate scheme, the training they have received, how they found the application process and what they enjoy most about their roles.
Imogen Bachra, CFA. European Rates Strategist, NatWest Group
Our speaker sessions ended with a presentation from Imogen who gave attendees an overview of her career journey so far. She started at NatWest 9 years ago as an intern, and then joined as a full-time graduate analyst a year later. She spoke about the graduate rotational programme which allowed her to try out different business areas, and how much she enjoyed it. Imogen ended by giving attendees some great tips she wished she had known at the start of her career.
Our Biggest Event Yet!
This was one of our most successful events to date, and we hope to have introduced hundreds more of our STEM Women community to inspiring employers. We have received some great feedback from both employers and attendees!
"It was amazing to hear about the experiences of women in STEM, especially the ones whose career paths were not linear"
– Sandra Andrzejczak, BSc (Hons) Information Technology
"I loved this event! I got the chance to network with loads of different employers, and found out about companies I had never even heard of before. I am now 10x more confident in applying for these jobs in the future."
– Sharon Ross, Mathematics
STEM Women Events
We are running a number of events throughout 2022. Next up we have our Australia and New Zealand STEM Careers Event on 10th March, followed by the UK Technology Event on 30th March. For more information visit www.stemwomenevents.com, follow us on LinkedIn, Twitter and Facebook for event updates.
If you're interested in exhibiting at an upcoming event, please don't hesitate to get in touch with Event Sales Manager, Lauren Jenkins by emailing info@stemwomen.com.