Meet the Speakers at the UK Graduate Careers Event This February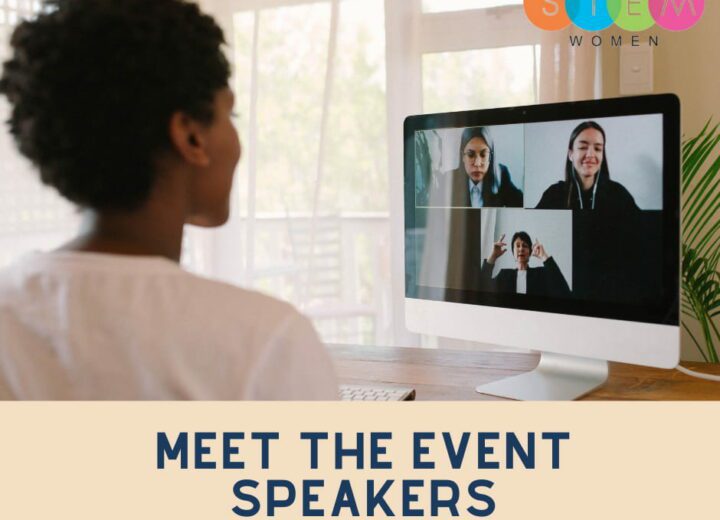 On Wednesday 16th February, we are running our virtual UK Graduate Careers Event, sponsored by MI5, MI6 and GCHQ. This event is perfect for STEM students and recent graduates who identify as women or non-binary and are passionate about a career in a STEM industry.
During the event, attendees will have the chance to network live with employers, apply for opportunities, browse company stalls, watch a live panel session and hear inspiring speaker sessions from company representatives.
Let's take a look at who will be presenting during the day.
Welcome talk presented by STEM Women and Event Sponsors MI5, MI6 and GCHQ.
Our event will begin with a welcome talk from STEM Women Events host, Sophie Chadwick. Sophie will run through the event agenda, the exhibiting companies and introduce our event sponsors. This will be followed by a welcome address from our event sponsors, MI5, MI6 and GCHQ.
Attendees will then hear speaker sessions and a panel session featuring a number of different companies. Let's find out more about what they will be presenting.
PwC
Georgina Barrett-Lenton, HR Technology Consultant
"I am a Senior Associate in PwC's HR Transformation and Technology team, I specialise in Workday Adaptive Planning. I am really excited to share my journey into the world of tech with you and tell you more about my experiences of designing and implementing a planning system for our clients."
Amazon Web Services (AWS)
Alice Hawash, Early Career Practice Manager and Laura Caicedo, AWS Solutions Architect Manager
"We're excited to be participating at the STEM Women UK event and hope you join us to learn about Solutions Architect and Professional Services roles at Amazon Web Services (AWS). Here, we work with customers to successfully implement cloud technologies and address business challenges around the world. 
"When you join AWS as a student or recent graduate, you'll have the chance for your voice to not just be heard—but to be amplified. That's because our teams here are looking to learn as much from you as you'll learn from them. Whether you're graduating with an associate degree, bachelor's degree, MBA, or PhD, we offer a range of early career opportunities across the globe. Visit our AWS student hiring page at amazon.jobs to learn more.
"AWS is committed to having a diverse workforce not just because it allows us to continue driving innovation for our customers, but because it's also the right thing to do for our employees. We want our builders to know their voices and opinions are heard, to see themselves at every level in our organization, and, above all else, to feel a sense of belonging here. Learn more about where we are and where we are headed: AWS Inclusion, Diversity and Equity."
Severn Trent
Danielle Cherry, Water Networks Business Lead and Chair of the Severn Trent Women in Operations and STEM Advisory Group
"Women play a big role at Severn Trent, especially as we work in a traditionally male dominated industry. This is why event such as this are so important to us.  I can't wait to engage and listen to those attending the event."
MI5, MI6 and GCHQ
Katy, Principal Scientist for AI, Office of the Chief Scientific Advisor.
"We are excited to sponsor this event and for the opportunity to share some insight and opportunities with the talented STEM Women network. One thing that unites MI5, MI6 and GCHQ is our love for STEM. Without people who are passionate and talented in those areas, we couldn't keep the country safe. We have a huge range of different opportunities from internships, development programmes and entry schemes where applying your STEM skills and passion could be fostered."
NatWest Group
Imogen Bachra, CFA. European Rates Strategist
"Joining the internship and then graduate scheme at NatWest Markets gave me the perfect platform to build my career in finance, and I hope that by demonstrating the opportunities and inclusive culture that exists here at NatWest that has supported me so well, I can inspire the next generation of women in finance"
Bacardi
Marie-Louise Slater, UK Operations Graduate Trainee, and Sian Illston, HR Business Partner
Marie: "I'll be taking you through my own experience of the Scholar & Graduate Scheme with Bacardi, giving you an insight into what you could expect!"
Sian: "I'll be giving you a brief insight into the world of Bacardi UK Operations and how to start your career with us!"
Experian
Heather Kirwan, Orianne Wightman, Hayley Hill, and Janey Slinger
Experian will be sharing some stories from their current graduates, the projects they are working on and how they found the application process.
Brambles
Vicky Curry, Data Analytics Chapter Lead
"I will be covering more about Brambles and our sustainability, and how we are contributing to it as a Digital team and company."
STEM Women Events
Before our speaker sessions begin, attendees can also watch and ask questions during a live panel discussion featuring women working in STEM.
Register for your free ticket to this event – https://stemwomenevents.com/event/5645
If you're interested in starting your career in STEM, and would like to attend a STEM Women event, visit www.stemwomenevents.com and register for your free ticket today!
There are also still spaces available for employers looking to exhibit at this event and our upcoming events. Get in touch with Event Sales Manager, Lauren Jenkins by emailing info@stemwomen.com.