Competition Time! Win a Signed Copy of The Matter of Everything – Twelve Experiments that Changed the World, by Suzie Sheehy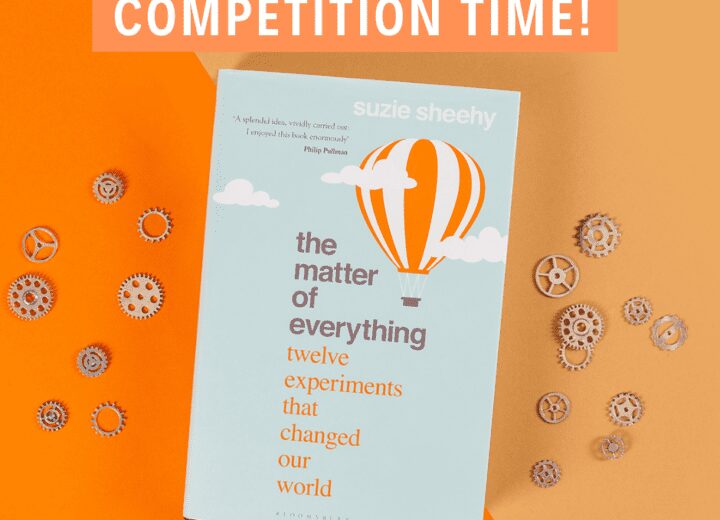 We are giving you the chance to win a signed copy of Suzie Sheehy's new and hotly anticipated book, The Matter of Everything. It tells the astonishing story of twentieth-century physics, told through the twelve experiments that changed our world!
For thousands of years, people have obsessed over questions about the nature of matter in our universe. However, by the turn of the twentieth century, we believed we had answered all of these fundamental questions. Many believed our understanding of matter – physics- was complete. But an unprecedented outburst of scientific discovery was about to change the course of history.
In this fascinating book, physicist Suzie Sheehy introduces us to people who, through a combination of genius, persistence and luck, staged ground-breaking experiments. You will discover everything from physicists who soared in hot air balloons on the trail of new particles, to the serendipitous discovery of X-rays in a German lab; and from the race to split open the atomic nucleus to the quest to find the third generation of matter.
Sheehy offers a reminder of the thrilling discoveries that have shaped our lives – often without us even knowing it! The Matter of Everything reinvigorates the history of particle physics, and tells a story of human ingenuity, creativity and unending curiosity.
Published by Bloomsbury on Thursday 28th April, this fantastic book has already received some incredible praise.
Early Reviews
"This fascinating and highly readable book captures the radical excitement of experimental science as it's being made. It's an all-action thriller, laced with some of the most profound ideas humans have ever had" – Brian Eno
"This is a book about the fundamental problems of physics written from a viewpoint I hadn't come across before: that of the experimenter. Someone first thought of the cloud chamber, or the cyclotron, or the MRI scanner, and that person (or that team) had to build one: you couldn't buy one off the shelf. The actual sequence of experiments, and failures, and more experiments, and success, is a fascinating one, especially for any readers excited, as I am, by the thought of making things. A splendid idea, vividly carried out: I enjoyed this book enormously." – Philip Pullman
"This is storytelling at its very best and why I fell in love with physics. Sheehy's attention to detail shines through every story and yet there's a lightness of touch in the way she highlights the passion, drive, ingenuity and, ultimately, the sheer triumph of science in unlocking nature's secrets." – Jim Al-Khalili
About the Author
Dr Suzie Sheehy is a physicist, academic and science communicator who divides her research groups at the University of Oxford, and the University of Melbourne. Her research focuses on developing new particle accelerators for future applications in areas such as medicine and energy.
She is also an award-winning public speaker, presenter and advocate for women in science, and has delivered professional lectures and keynote presentations. Dr Sheehy is also an expert TV presenter for the Discovery Channel and in 2018 delivered her first TED talk as part of TEDx Sydney.​
ENTER NOW – Win a Signed Copy
To enter this amazing competition, simply fill out the form below! You can also enter again on social media and increase your chances of winning! Enter on – LinkedIn, Instagram, Twitter, and Facebook.
We have two signed copies of this fabulous book to give away so keep your cross your fingers!
The competition ends on 12th May with winners announced in the days following. You must be based in the UK or have a UK address in order to enter and be in with a chance of winning.
Good luck!
Form ID:6428