Bloomsbury Books Competition: Win a FREE copy of 'This Is How They Tell Me the World Ends' by Nicole Perlroth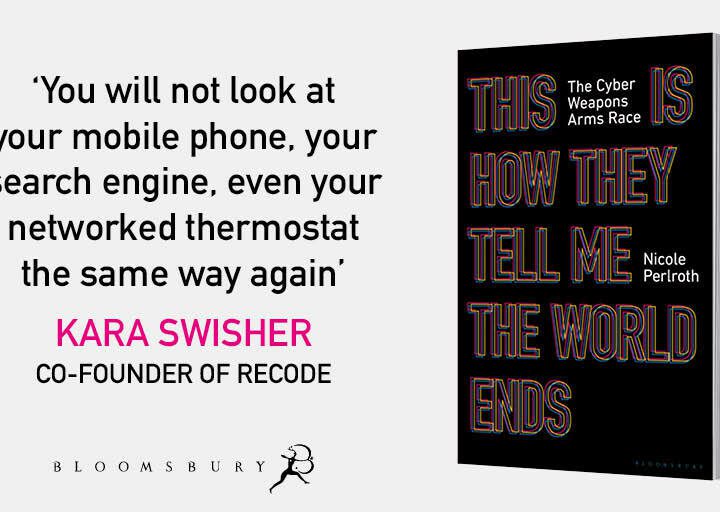 We have partnered with Bloomsbury Books to offer our followers the chance to win a free copy of their latest publication, 'This Is How They Tell Me the World Ends': The Cyber Weapons Arms Race, by Nicole Perlroth.
This fascinating non-fiction book tells the untold story of the cyberweapons market and its implications for the wider world. So, if you have a passion for technology and coding, this is the perfect book to learn more!
This Is How They Tell Me the World Ends
Written by Nicole Perlroth, a writer who has covered cybersecurity for the New York Times for over six years, this book offers a terrifying first look at a new kind of global warfare. It features interviews with more than three hundred people linked to the underground cyber arms industry and undercovers the murky world of internet backdoors.
Perlroth believes that cyberwarfare is one of the biggest threats facing our almost completely networked modern world, and as we rush to push the world's critical infrastructure online, she argues that security should start from inception, rather than as an afterthought when the product is already online and susceptible to hackers.
From spies to hackers, arms dealers, activists, mercenaries, computer scientists, and government officials, this book reveals some shocking stories and threats to the world's digital infrastructure.
Here are some early reviews of this amazing book:
'The definitive history of cyberwarfare. Nicole Perlroth connects the dots and the behind the scenes action of every serious intrusion, cyberattack and cyberespionage revelation in the last decade, offering recommendations for stopping the cyberwar none of us want to see.'
Clint Watts, author of Messing With The Enemy
'Reads like a modern-day John le Carré novel, with terrifying tales of espionage and cyber warfare that will keep you up at night, both unable to stop reading, and terrified for what the future holds.'
Nick Bilton, author of American Kingpin
Enter the competition!
To enter our amazing competition and be in with a chance of winning a free copy, all you need to do is find us on LinkedIn, Instagram, Twitter, or Facebook. Like, share and comment on our competition post and make sure you're following us!
The competition ends on 2nd March with winners announced in the days following.
Good luck!