Bespoke Virtual Insight Event for Graphcore – Case Study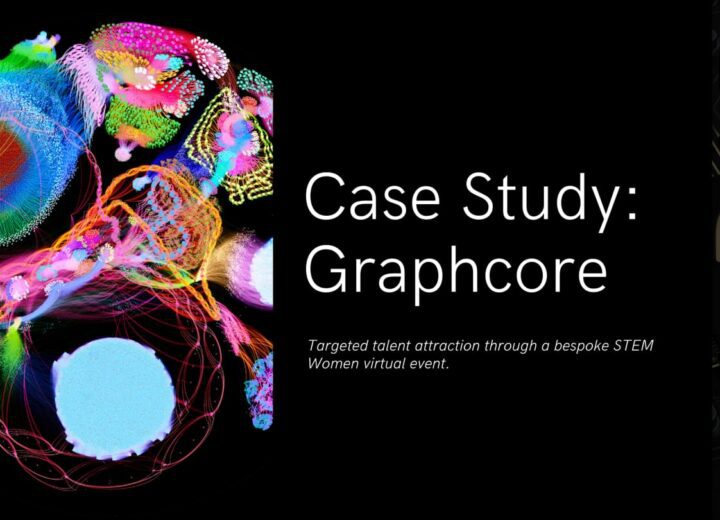 Targeted talent attraction through a bespoke STEM Women Virtual Event.
Working in partnership with Graphcore, a British semiconductor company that develops accelerators for AI and machine learning, STEM Women organised a unique virtual insight event to assist with their 2021 recruitment drive.
The Challenge – Attracting relevant, strong job applications from high calibre female candidates.
Graphcore were looking to recruit students who were studying Computer Science at university, with strong Python and/or C++ skills. Potential candidates needed to be available to begin work in the Graphcore Bristol office in April or September 2021.
Operating in an emerging sector, Graphcore are relatively unknown to students. Their unique recruitment process also only allows candidates to apply for one role within the business. This meant that it was important for us to create an event that encouraged applicants to identify the role that best matched their individual strengths. The event also needed to offer an in-depth insight into the company and the sector, whilst guiding applicants through the recruitment process.
The Solution – An exclusive, bespoke virtual insight event.
To meet the goal of the client, we created a bespoke virtual insight event, exclusively targeted towards Graphcore's specific candidate requirements. Our sourcing team worked hard to create attendee lists which met the high calibre criteria Graphcore were looking for.
The insight event was hosted on the innovative STEM Women virtual event platform and featured a number of live talks from Graphcore's Senior Leaders, engineers and recruiters, a panel discussion with graduates working at Graphcore, a skills session and a topical workshop.
The event allowed attendees to learn more about the company and what they do, whilst discovering what it's like to work at the forefront of the AI revolution.
After the main event had ended, attendees were invited to book 1-1 consultation with a member of the Graphcore recruitment team or a Graphcore engineer, who were on hand to guide attendees through the recruitment process.
The Result – 52 high calibre attendees, the majority identifying a suitable career opportunity and applying for a job.
The Graphcore insight event was a huge success, attracting 52 high calibre attendees who matched the company criteria. During the event, Graphcore received 27 job applications, and separately booked 19 students onto '1-1 application guidance sessions.'
Our client was delighted with the event, we caught up with Serena, Early Talent Specialist at Graphcore after the event:
"Absolutely amazing! We partnered with STEM Women to host our first bespoke event, and found the entire process from start to end second to none. Their professional and dedicated approach provided us with comfort that we were in good hands, and supported our companies diversity agenda.

We wanted to host an event to create an awareness of our brand, and although we didn't have set expectations we were pleased with the quality of the students and the attendee numbers, resulting in follow on conversations with students for our early talent opportunities."
Before the event, 80% of attendees said they were unaware of the company, however, after the event 80% said they had a much better understanding of Graphcore. 80% of attendees also highlighted that they would now be more likely to apply for a role at the company.
We also received some amazing feedback from attendees, overall, they rated the event 4.8 out of 5 stars.
"The combination of all of the elements made the event so good. Each section was the right length and was very engaging. It's the best careers event I have attended." Anonymous Attendee

"I enjoyed listening to employees discussing their role within the company, they were so energetic and enthusiastic they made me want to work at the company." Anonymous Attendee
Like the sound of a bespoke careers event for your company? Get in touch with our team today and discover how we can help your recruitment drive. Email laurenj@stemwomen.co.uk to book a demo!