8 Things You Can Learn at the STEM Women Student Technology Event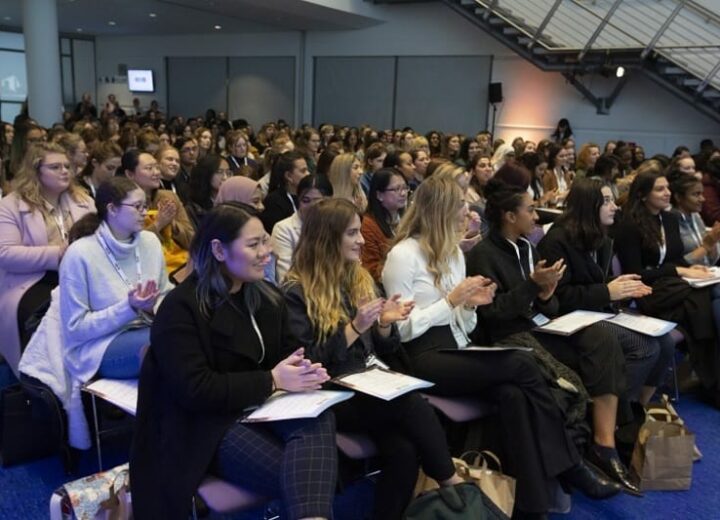 On Monday 28th September 2020, we are hosting our first ever event dedicated to the Technology sector. Taking place in the prestigious QE2 Centre in Westminster, London, we are inviting over 200 female students to meet and network with top employers from the tech sector. The event is perfect for those who are studying a STEM related degree and are passionate about starting a career in technology.
On the day you'll have time to network, hear inspirational talks from employers and learn some really important skills that will help you make the leap from university to the world of work. Check out just some of the invaluable things you can learn at the STEM Women Technology Event…
Exclusive access to graduate tech opportunities
At the STEM Women Technology Event, there will be a wide range of tech employers ready to network and discuss the graduate opportunities that they have available.  They will usually offer students who come to these events exclusive access to certain graduate schemes and internships that may not yet be in the public domain. This means that you'll be ahead of the game if you decide to apply and have some inside knowledge about what they are looking for.
At our past events, we have welcomed big names such as Google, Microsoft, Amazon, Bloomberg, EY, Goldman Sachs and more, alongside SME tech firms that can't be found on campus. Keep checking our event page and social channels for regular updates on which companies will be joining us in April!
Potential new career paths you didn't know about
Because the tech industry is so vast and innovative, many students are unaware of potential career paths that are available to them. Networking events like the STEM Women Technology Event can help you to broaden your horizons and find out what companies are best for you and whether your skills can be transferrable.
It's the best place to learn about different industries, roles and what exact skills they are looking for when recruiting graduate talent.
What it's like to be a woman working in tech
As well as lots of networking opportunities, our tech event will also feature a number of panel sessions with women currently working in the technology industry. During these sessions, you will hear real life experiences from recent graduates now working in tech or more experienced women in leadership roles.
These sessions also give the audience a chance to ask some insightful questions of their own. This will help you to gain some more knowledge about certain tech sectors and advice on how to be successful in the industry.
How to overcome challenges in the workplace
During the panel sessions, we usually talk about some of the challenges that women face at work and the best ways to overcome those obstacles. Hearing how successful women working in tech deal with everyday challenges and difficulties can help you learn how to cope with these things when you start your first job. The advice attendees receive from women talking on the panel is always invaluable.
Tips on the application process for graduate schemes
At our events, you can ask HR representatives in depth questions about the company culture, what tests you will have to complete and what the graduate scheme will involve. The advice received can be hugely beneficial for students and recent graduates looking to apply for various graduate schemes.
How to succeed in an interview
Following on from tips on the application process, if you're successful and get to the interview stage, there are plenty of things you could learn at our event that will serve you well. From practicing your pitch to asking important questions and learning about the company, these things will make you stand out to recruiters.
Your interviewer may even be someone you've already met and connected with at the event, so you know you've already got your foot in the door!
Confidence 
One of the most important traits to bring with you if you get to the interview stage is confidence in your own ability. At the STEM Women Event, you can get inspired by meeting like-minded women, hearing professionals talk on stage about their experiences and selling skills to recruiters on the stand. By doing all of these things, you're sure to boost your confidence and get closer to your dream job in technology.
The best ways to find a mentor 
When you're just starting out in your career, one of the best ways to feel more confident and learn everything you can is to find a mentor. Many companies offer mentoring schemes alongside their graduate opportunities, and one of the best places to find out about these is by asking at our event!
Many of last year's attendees even found mentors at our events after networking and connecting on LinkedIn!
Register for your ticket to the STEM Women Tech Event
Whether you're a recent graduate or current student, if you've got a passion for technology and want to learn more, register for your ticket to the STEM Women Technology Event today!
Keep checking our events page for further information and updates on what employers will be attending.
At STEM Women we're on a mission to address the gender imbalance in STEM in the UK. Last year, we held ten events in different cities across the UK and Ireland and introduced over 3,000 students to over 180 employers.
Our events have helped many university students and graduates find their ideal job within companies who are committed to creating a gender-balanced workforce.
Enjoy this blog? Check out our highlights from the STEM Women Autumn 2019 Events Season.