Sponsor and Speaker at the STEM Women South West, South Coast England and South Wales Event Announced!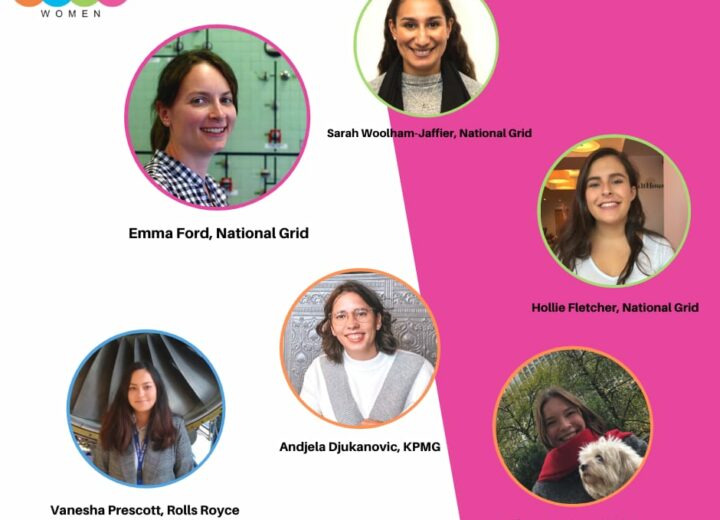 On the 5th October, we will be hosting our graduate event for the South West, South Coast England and South Wales and we're so excited to announce our sponsor and speakers!
This event will allow employers to virtually network with female STEM students and graduates, deliver insightful talks and take part in a panel session.
Ahead of the event, we had a chat with our event sponsor and speakers to learn more about what our attendees can look out for on the day.
Sponsor
National Grid
Emma Ford, Head of Gas Construction
We are very proud to have National Grid sponsoring our event, they will be taking part in a range of presentations and talks throughout the day. Our event will begin with a welcome talk from Emma Ford at noon.
Why are National Grid excited to sponsor the event?
"National Grid are excited and proud to sponsor this event as it's a fantastic platform to encourage women in STEM to join our passionate, diverse and committed workforce."
What type of topics can attendees expect to hear from you during your talk?
"I will give a brief overview of who and what is National Grid, Net Zero and inclusion & diversity."
Why do you think it's important to get more women working in STEM?
"In order to grow as a company we welcome women in STEM, creating the leaders of the future."
Do you have any tips for attendees before the event?
"Find a career path that you are passion about, the only person blocking your career progression is you and always be authentic at work!"
Speakers
Rolls-Royce
Vanesha Prescott, Graduate Design Engineer
During the speaker sessions we will hear a talk from Vanesha. She will be covering her professional career journey, from academia to industry and will speak about the challenges faced and lessons learnt along the way.
What are you most looking forward to on the event day?    
"I'm excited to speak to the future women in engineering and answer some interesting questions. As well as hearing from fellow women in STEM!"
What do you love about your role/company?
"My company, Rolls-Royce pioneers cutting edge technologies to deliver products and services across Civil Aerospace, Defence, Power Systems, Nuclear and Data Labs. I have felt very fortunate that as a graduate Design Engineer, I have had the opportunity to complete rotations all over the company, at different locations and develop a range of technical and soft skills, as well as taking part in STEM events that Rolls-Royce hold to inspire the scientists and engineers of tomorrow."
Do you have any tips for attendees before the event?
"Try to do some research on the companies to get an idea of what you are interested in beforehand, and get the most out of the speakers and their experience. Don't be nervous, there's no such thing as a silly question!"
Have you learnt anything new in or out of work during the pandemic?
"Working from home has been challenging at times, especially when I joined a new department remotely during the pandemic, but I learnt how important team bonding and working collaboratively is, and to be more confident reaching out to new as well as familiar colleagues virtually, as everyone is happy to support others."
National Grid
Hollie Fletcher, Higher Apprentice, Network Management and Sarah Woolham-Jaffier, Project Supervisor, London Power Tunnels
We will also be welcoming Hollie and Sarah from National Grid. They will be offering an insight into two very different business areas. Hollie will be focusing on building relationships and confidence, the high and lows of training and how to balance learning and working. Sarah will then speak about women in STEM and engineering, and how to be a generalist in a specialist field.
What are you most looking forward to on the event day?
Hollie: "Trying a virtual event for the first time."
Sarah: Lots of interesting questions!
What do you love about your role/company?
Hollie: "Meeting a huge array of people with different characters, experience and advice."
Sarah: I've really enjoyed how much freedom and accountability I've been given!
Do you have any tips for attendees before the event?
Hollie; "If you don't ask you don't get! And don't rule out anything before you have learnt plenty about it."
Sarah: If I were an attendee I'd have a think about what I would like to learn from the event and jot down some questions/topics ahead of logging on!
Have you learnt anything new in or out of work during the pandemic?
Hollie: "Change can be good even if it seems challenging to start with and that motivation and good snacks are a good mix to get work completed."
Sarah: I became a yoga teacher!
KPMG
Andjela Djukanovic, Assistant Manager – Technology Audit, Information Risk Management and Klara Agoston, Graduate Trainee – Technology Audit, Information Risk Management
Finally, Andjela and Klara from KPMG will also be presenting talks about their roles within KPMG.
What topics can attendees expect to hear from you on the event day?
Andjela: What is IRM/IT Audit and what does it involve on a day to day basis, why you shouldn't be put off by the word 'audit' and how everyone (whatever you studied) has transferrable skills that are key within the world of technology.
Klara: You can expect to hear all about the choices that have led me to where I am now, my background, and my future plans. Andj and I will also be talking about the fabulous new Womens' Forum I've initiated, which has developed a supportive environment for all of us ladies to have an open conversation around anything on our minds.
What are you most looking forward to on the event day?
Andjela: Speaking in front of a wide audience of hopefully upcoming and future female leaders. Encouraging young women to take the leap into the world of technology if it is something that interests them or something they are curious about. Becoming a part of the STEM Women community.
Klara: Hopefully the chat we have with you will inspire another movement of young women to join Tech and our firm. It's a great opportunity for all of you to get as much information out of us as possible, so please don't be shy in asking questions!
What do you love about your role/company?
Andjela: The variety! This role within KPMG allows you to interact with different companies and colleagues on a day to day basis. You get to learn about different technologies, systems and controls and speak to people who are at the heart of different firms. You're not just speaking to technology contacts, but with HR, Finance and project managers too, so you really get a feel for the company culture and how they work. What I love about KPMG are the people and opportunities you get outside of your day job. There are a wide range of networks to get involved in, where you get to network with people from all other KPMG member firms.
Klara: The people within the firm are so amazing! I had heard a lot about the 'people' being great at KPMG before joining, but I didn't expect everyone to be so much fun. We have such good socials and friendly/professional relationships, it makes working really enjoyable.
Do you have any tips for attendees before the event?
Andjela: Be open minded. Try not to have a pre-conception of the companies and roles you hear about.
Klara: Think of a few questions that you won't find answers on the internet to – especially female-related if you can! Andj and I have both come through the graduate programme route, so it's a good chance to hear our recent experiences and top tips for applying.
Have you learnt anything new in or out of work during the pandemic?
Andjela: A great quality to have within the working world is being able to adapt. Technology is fast moving as it is, but this pandemic has meant that we all had to adapt our working and personal lives to ensure we stay up to date, safe and continue to do our jobs well. I've learnt that big tasks such as getting a whole company to adapt to remote working is possible and it even has accelerated the implementation of new technologies, such as MS Teams.
Klara: I've been at my most busy during the pandemic so, slightly unexpectedly, I feel like I've learnt at the fastest rate since joining in 2018. The transition into working from home has been really smooth firm-wide, so it's not something to be concerned about if you're applying. The most important top-tip I think is calling (rather than messaging) your manager to go through any queries – it's so much more efficient and productive!
Alongside our sponsor and speakers, MOD, Newton Europe, IPO, Accenture, Welsh Water, General Dynamics, PwC, Atkins, APR, Virgin and Baker Hughes have also signed up.
There will also be a panel session at 3pm where women working in STEM industries will answer questions from the attendees.
If you're interested in starting your career in a STEM industry and would like to attend this event, there are still tickets available. Visit www.stemwomenevents.com to register for your ticket today!
There are also still a few spaces available for employers looking to exhibit at this event. Get in touch with Lauren at laurenj@stemwomen.co.uk for more information.