Meet the Speakers at the STEM Women Benelux Region Event, Sponsored by Accenture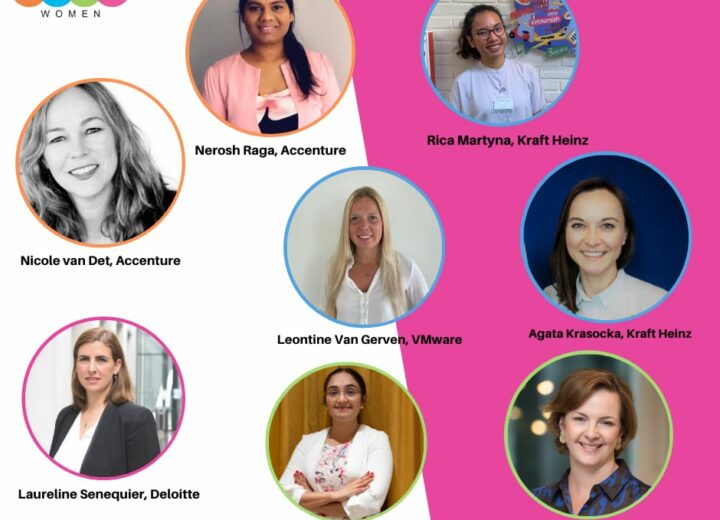 On Wednesday 27th October, we are hosting our final event of the autumn 2021 season. This event is our STEM Women Benelux Region Event, sponsored by Accenture. The event is targeted towards STEM students and recent graduates who identify as female or non-binary and are looking to start their careers in a STEM industry.
During the day, attendees will have the chance to network with employers, apply for jobs, browse company stalls, watch a live panel session, and hear insightful speaker sessions from representatives working in STEM.
Welcome talk by STEM Women
Our event will begin with a welcome talk from STEM Women Events host, Sophie Chadwick. Sophie will run through the event agenda, the exhibiting companies and introduce our event sponsors.
Welcome talk from Accenture – Nicole van Det
Accenture will then deliver the welcome address to attendees. Nicole van Det, Country Managing Director Netherlands and Global Account Lead for Unilever will be leading this presentation.
"Nicole has held several leadership and management roles in the past two decades. She previously led the products client service group and was a member of the Netherlands leadership team until December 2017.
"With 22+ years of experience in the consumer goods and communications industry, Nicole is recognized for helping companies pivot and transform through new approaches, business models and technology."
Leontine Van Gerven, Solutions Engineer, VMware
At 1.30pm, our speaker sessions will begin with a presentation from Leontine from VMware. Leontine will be sharing her career journey and how she has found working at VMware.
Could you give us a short outline of your role at the company?
"I am part of the solution engineering (SE) team at VMware, Barcelona. Our team is involved in all technical aspects of customer engagement. Through close collaboration with sales and professional services, a solution engineer builds long term customer relationships, ensuring the customer meets their business challenges through the adoption of VMware solutions.
"Solutions engineering is the ideal blend of business and technology, helping customers understand how they can use technology innovation to transform their IT landscape and achieve their business goals.
"VMware has vastly increased its investments in training solution engineers graduates and created an EMEA Academy for that purpose. This training introduces graduates to VMware and its technologies and is followed by an in-role training as part of the solution engineering team."
What will you covering during your speaker session?
"I will share my journey up till now and tell you more about how I've been enjoying my time at VMWare by getting involved in exciting projects, pushing myself out of my comfort zone and seeing myself flourish in ways that I never thought I would."
What are you most looking forward to on the day?
"I am looking forward to seeing loads of new faces and I hope I can inspire women to pursue a career in technology."
Do you have any tips for attendees on the event day?
"Be curious, dare to ask questions and don't hesitate to stay in touch with me after the event."
Laureline Senequier, Director in Risk Advisory Services, Deloitte
We will then welcome Laureline from Deloitte who will talk about her experiences as a woman in tech and how she has progressed throughout her career so far.
Could you give us a short outline of your role at the company?
"I am a Director in Risk Advisory Services focusing on Information Technology Risks. I am serving clients by providing expertise in the field of ICT Risk – that includes:
IT Audit: providing an opinion of a company's information system and IT department using a rigorous methodology to support our conclusion
Information Security Governance: writing Information Security Policies or standards, implementing Information Security frameworks
ICT Risk Assessment: identifying the threats to a company's information system, evaluating these threats, identifying the measures that will protect the information system (organisational or technical measures) and evaluating the efficiency of these measures
IT Regulatory compliance in the financial sector: helping clients comply with the requirements related to the financial sector in the field of Information Security, Business Continuity, Outsourcing, ICT Risk, Cloud
"I am also leading a team of 35 ICT Risk professionals serving our clients. That means recruiting these talents, training them, knowing them, reviewing their performance and most of all inspiring them.
"I am finally actively participating in the market's activity as Board member of IT Audit professional organisation, participating in sectoral workgroups like Luxembourg Banking Association's workgroup on Cloud and I am speaking at conferences on my subject of expertise."
What will you covering during your speaker session?
"I'll share my experience on the 2 sides of the coins of being a woman working in a Tech environment and how I overcame this barrier to become the expert and leader I am today.
"I'll also share our initiative on Women in Cyber and in my view, what are the game changers for offering an inclusive working environment."
What are you most looking forward to on the day? 
"I will be excited to hear the other's stories and paths because inside each one of us there is an experience. Everyone has to learn from one's experience and the difficult situations are the ones where we learn and grow most.
"And definitely, seizing the opportunity of growing our team by connecting with talents that have a great potential."
Marleen van Wingerden, Director of Chemistry, Waters
At 2.20pm, Marleen van Wingerden will then present her speaker session which will cover who Waters are and her personal career journey.
Could you give us a short outline of your role at the company?
"My function is Director of Chemistry, Europe. The chemistry team is responsible for selling all the chemistry consumables that can be used on our own though also on competitive instrumentation. As the Director of Chemistry, I am responsible for delivering on the sales target we have as a business unit in Europe. And for this I work closely together with our regional sales directors and their teams. I am also responsible for European demand generation/marketing and for post-sales support. Within our business unit our biggest passion is to ensure our customers are successfully turning their precious samples into results, not just today, every day, and consistently getting the same reliable result."
What will you be covering during your speaker session?
"During the speaker session I will give some background on Waters Corporation, what we do, what our vision is and how we like to contribute to a better world. I will talk about what type of functions we have at Waters and where you can find information on current job openings. I will also tell my own story, what I had in mind when I was 17 years old and my journey to my current role. Last but not least, I will also speak a little bit about women in scientific workplaces, as I am very passionate about inclusiveness and diversity in the workplace."
What are you most looking forward to on the day?
"I really look forward to meeting young women, getting challenged by some good questions. And to learn what they expect from an employer."
Do you have any tips for attendees on the event day?
"Come prepared, do some research on the companies that are participating, note down what you want to ask. Try to formulate what is really important for you and think about some of your personal no's. What don't you want to do, is as important when getting to know yourself."
Nerosh Raga, Director SAP Advisory, Accenture
Next, we will introduce Nerosh from Accenture to present her session on the importance of digital transformation and the key ingredients to build a successful career.
"Nerosh Raga leads the SAP Advisory practice at Accenture, The Netherlands.  With 15+ years experience within the South African and European market, she has grown organically through various project roles ranging from Business Analyst, Solution Architect to Practice Lead affording her with the ability to connect at all levels within an organization.  She is a catalyst for change, undaunted in her mission to utilise technology to enhance sustainability and improve how clients operate and deliver value to customers."
What are you most looking forward to on the day?
"Meeting new aspiring STEMinists who are keen to pursue a career in the industry and be able to share advice/experiences to support them."
Do you have any tips for attendees on the event day? 
"Come with a healthy appetite to learn about the opportunities within STEM and be prepared to network, network, network!"
Agata Krasocka, Customer Excellence Lead Benelux and Rica Martyna, Environmental Health and Safety Continuous Improvement Senior Analyst, Kraft Heinz.
Agata and Rica will then take over to host their session on behalf of Kraft Heinz.
What will you be covering during your talk?
"What it is like to be a female leader at Kraft Heinz and what challenges face us a female leaders and how we overcame them."
What are you most looking forward to on the event day?
"Meeting other inspirational women and inspiring young women to go after their goals."
Do you have any tips for attendees?
"Dare to ask!"
Gayathri Gangadharan Nampoothiri, D&E Metrology Manager, ASML
Our employer talks will end with a session from Gayathri from ASML. Gayathri will be talk about the company, what they do and some typical career paths.
Could you give us a short outline of your role at the company?
"I'm a manager at D&E metrology, leading a group of excellent physicist, mathematicians and engineers."
What will you covering during your speaker session?
"I will be talking about the amazing work we are doing at ASML, typical career paths, and my experience of my professional career journey."
What are you most looking forward to on the day?
"I'm looking forward to meeting enthusiastic talent, to motivate and be motivated, and to meet my possible future colleagues!"
STEM Women Events
Before our speaker sessions begin, attendees can also watch and ask questions during a live panel discussion with women working in STEM.
If you're interested in starting your career in STEM, and would like to attend a STEM Women event, visit www.stemwomenevents.com and register for your free ticket today!
There are also still spaces available for employers looking to exhibit at this event. Get in touch with Lauren at laurenj@stemwomen.co.uk for more information.