Meet the Sponsor and Speakers at the STEM Women UK June Careers Event!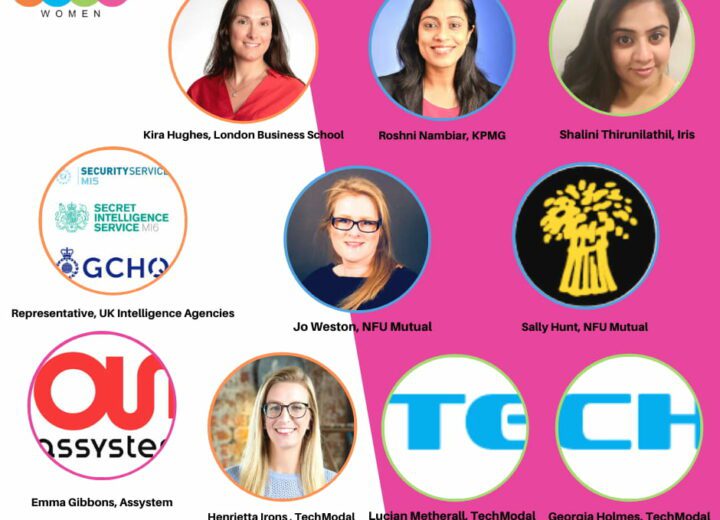 We can't wait to welcome everyone to the STEM Women UK Graduate Careers Event on Wednesday 16th June.
This event is perfect for students and recent graduates studying a STEM subject who are interesting in pursuing a career in a STEM industry.
Throughout the event we will have a "Live Presentations" area where attendees can hear speaker sessions from a range of different companies, they will share their personal career journeys, offer advice to attendees, and give an invaluable insight into what it's like to work in STEM.
Ahead of the event, we caught up with the sponsor and speakers to find out more about the topics they will be covering, and what attendees can look forward to!
Sponsor
NFU Mutual
Jo Weston, Resourcing Business Partner
We are so happy to have NFU Mutual as sponsors for this event. They will start the day off with a welcome talk presented by Jo Weston.
Why are NFU Mutual excited to sponsor the event?
"As an organisation our success comes from our people who are at the heart of everything we do and sponsoring this event is a great opportunity for us to share that message. We are proud that Gallup have recognised us for six years in a row, with the last two years us gaining the accolade of Gallup Exceptional Workplace 2021. We are also delighted to have been named on the LinkedIn Top 25 UK Companies List for 2021.
"Women in Finance is something our HR Director, Trisha Jones was really passionate about us signing up to, particularly given insurance and Financial Services can be a more male dominated sector."
What type of topics can attendees expect to hear from you during your talk?
"Who we are, what we stand for – all of the things that make me proud to work for NFU Mutual."
Why do you think it's important to get more women working in STEM?
"Having a balanced workforce promotes a healthy culture and diversity in thinking and progression. If you're attending today's event, you're already a great role model for others thinking about a career in STEM."
Speakers
MI5, MI6 & GCHQ
Representative from the UK Intelligence Agencies, Director of Technical Capability
Our speaker sessions will begin with a presentation from a representative from the UK Intelligence Agencies.
What topics can attendee expect to hear from you on the event day?
"You will be hearing from a representative from the UK Intelligence Agencies, who will be sharing some insight on what it is like to work for one of the most secretive organisations in the UK!"
What are you most looking forward to on the event day?
"Being able to share the vast opportunities available to you as you begin to explore where an interest and passion for STEM can take you within your career."
Why is inspiring more women into STEM important to you/your company?
"The UK intelligence agencies come together to protect the people of the UK and UK interests overseas.
"Ensuring better diversity and inclusion is central to our future as organisations, as we enrich our mix of talents, and are supported to give our best."
London Business School
Kira Hughes, Career Coach
We will then welcome Kira Hughes from the London Business School. Kira will be sharing her view on the skills that employers most look for when recruiting. She will also offer advice and tips on how students can make good career decisions and make the most of the networking sessions at the end of the day.
What are you most looking forward to on the event day?
"I'm looking forward to sharing thoughts and insights that the students can use as they consider their future career options."
Do you have any tips for attendees?
"Engage your curious side and don't hold back during the networking sessions – we are all here to answer your questions!"
Why is inspiring more women into STEM important to you/London Business School?
"There is a technological solution to almost every challenge businesses face these days – LBS is dedicated to developing talent that can understand and bridge these intersections for the benefit of the wider society."
KPMG
Roshni Nambiar, Manager – Technology Enablement
I am Roshni, a test manager in the management consulting section of KPMG. With an experience of 15 years, I am very passionate about ensuring workforce parity, especially in technology. I am keen to talk about my experiences and what drew me towards the work I do, talk about how I used failures as stepping stones to success and why I am so keen on inspiring more women into STEM.
TechModal
Henrietta Irons, Senior Consultant, Luciana Metherall, Defence Business Consulting and Georgia Holmes, Senior Analyst.
We will then introduce three representatives from TechModal, who will introduce the company, it's structure and talk about their inspiring career journeys.
What are you most looking forward to on the event day?
The opportunity to reach out to so many women and to show them what variety of options is open to them is fantastic. I am looking forward to sharing all about what we do in our company and giving the attendees a window into our daily lives.
Do you have any tips for attendees?
Be individual and don't be afraid to express about what you enjoy doing and what you want to get out of a role. At Techmodal we don't look for the 'One size fits all' employee, we are looking for inspirational, passionate employees who are ready to challenge the norm.
Why is inspiring more women into STEM important to you/Techmodal?
We want to do everything we can to encourage more women into STEM based roles. We feel that a mix of skills, talents and gender really does create a diverse thinking environment to produce the best results for our clients.
NFU Mutual
Sally Hunt, Talent Development Manager
Next up we will welcome Sally from our sponsors NFU Mutual. Sally will be running through the application process and covering what opportunities are available at the company.
Assystem
Emma Gibbons, HR Director
We will then introduce Emma Gibbons from Assystem who will be giving an introduction to the company and their people.
IRIS Software Group
Shalini Thirunilathil, Scrum Master
Shalini will then begin her presentation on behalf of Iris Software Group. She will talk about the vast array of roles available within IT and offer tips using her own career experience.
What topics can attendee expect to hear from you on the event day?
Provide students awareness about the wide range of roles available to them in the IT industry and the possible routes they could take to get there. I will also provide interview tips and techniques to make themselves stand out from the crowd. I will be sharing my career experience and the lessons learnt from it.
What are you most looking forward to on the event day?
I am very much looking forward to support and help female students to boost their confidence in making their IT dreams a reality.
 Do you have any tips for attendees?
Through the event I will share various industry wide programmes to make their first move into this industry.
 Why is inspiring more women into STEM important to you/Iris?
STEM provides an excellent avenue for both employers and female students to network and collaborate. IRIS offers ample opportunities for women who are willing to make IT as their career. Through this event we are looking forward to meet talented females and share some great ideas and tips to get into the IT industry.
Before our speaker sessions begin, attendees can also watch and ask questions during a live panel discussion with women working in STEM roles, plus take part in break out sessions.
If you're interested in starting your career in a STEM industry and would like to attend a STEM Women event. Visit www.stemwomenevents.com and register for your free ticket today!
There are also still spaces available for employers looking to exhibit at this event and our upcoming autumn 2021 events. Get in touch with Lauren at laurenj@stemwomen.co.uk for more information.