Highlights from the STEM Women UK June Careers Event 2021, Sponsored by NFU Mutual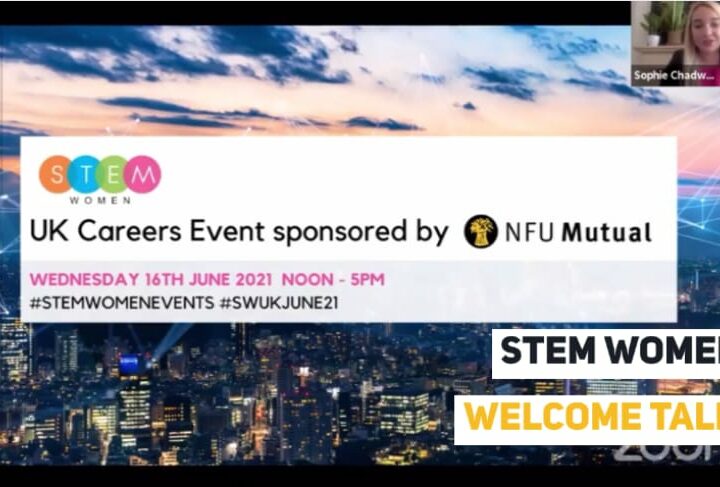 Highlights from the STEM Women UK June Careers Event 2021, Sponsored by NFU Mutual
On Wednesday 16th June, we hosted our biggest virtual event yet, welcoming 598 STEM students and graduates to meet with 31 inspiring employers.
The event was targeted towards STEM students and graduates who identify as female or non-binary, are based across the whole of the UK and are looking to start their careers in a STEM related industry.
Our exhibitors included our sponsor NFU Mutual, plus Admiral, Adobe, Agilent, Alacrity, Amazon, Anglian Water, Arcadis, Assystem, Atkins, BAE Systems, Capco, Darktrace, DWP, Dynamic Planner, Efficio, ESA, Edwards, Free Agent, General Dynamics, Imperial College, Iris Software, KPMG, Kubrick Group, Lane Clark & Peacock LLP, London Business School, MI5, MI6 & GCHQ, Motorola Solutions, PA Consulting, TechModal and Virgin.
Attendees and employers had a total of 1,562 conversations and sent 6,809 chat messages! During our live presentations, we recorded a peak audience of 322 and attendees made 418 job applications during the event.
The most common subjects studied by the attendees included computer science, mathematics, mechanical engineering and data science.
The day began with an introduction from Sophie Chadwick, STEM Women Events Manager, followed by a welcome talk from event sponsors. This talk was presented by Jo Weston, Resourcing Business Partner at NFU Mutual.
Following this, attendees were then invited to join the audience of a panel session featuring women working in STEM industries. The panel featured Anji Maters (NFU Mutual), Mubeen Malik (KPMG), Fanny Fouin (Assystem), Kerry Cook (IRIS Software), Henrietta Irons (Techmodal) and Shen Yue (London Business School).
Following our fantastic panel session, attendees then had a break to network with employers via webchat, voice and video call, and enter break out sessions, a new feature for our June event!
Our speaker sessions then began with insightful talks from a range of inspiring employers. We heard from a representative from the UK Intelligence Agencies, MI5 MI6 and GCHQ. The talk focussed on the work life balance offered by the agencies, and the rewarding nature of performing in a role that helps keep the country safe.
Kira Hughes, Career Coach at London Business School, highlighted the options available to graduates and focussed on the skills that employers are looking for. Interestingly the list of key skills that companies look for was different to the skills that graduates perceive to be important, and the talk highlighted the how employers are keen to see applicants who are passionate and enthusiastic about their chosen industry.
Roshini Nambiar, a Test Manager at KPMG, delivered an insight into her career. She began by explaining how she was interested in coding an application, but wondered "what next"? That led her to find a passion for working within testing, a role that she described as collaborative, and team focussed.
Henrietta Irons, Luciana Metherall and Georgia Holmes combined to deliver a fascinating talk that introduced Techmodal. The audience heard what it was like to work in a company that grew from 15 to 100 + staff in a short space of time, and were even given an insight into the onboarding process from a recent starter who joined during the pandemic.
Sally Hunt then delivered a talk from our event sponsor, NFU Mutual. She spoke about her personal career within the company, described how rapidly the graduate programme has grown within the past few years, and passed on tips relating to self-awareness that will help the audience identify their personal career strengths.
Emma Gibbons, UK Head of Human Resources at Assystem, then delivered a talk that highlighted the inspiring culture within the company. If focussed on the fact that Assystem believes diversity is the key to unlocking their company's potential, and the audience heard about Assystem's #incrediblewomen programme.
The final employer talk was delivered by Shalini Thirunilathil, Scrum Master at Iris Software. Shalini gave a personal account that detailed her career path, sharing advice on gaining qualifications and growing a presence on LinkedIn. It was a passionate talk that referenced our own STEM Women white paper and the importance of achieving gender diversity within tech (https://www.stemwomen.co.uk/2021whitepaper).
Our June event was a huge success, and we have already had some great feedback from both employers and attendees.
We are now looking forward to our exciting autumn event season, for more information on our line-up, visit our events page! Students and graduates can register their interest for all of our upcoming events on our website.  For employers looking to exhibit, we are now taking bookings, please contact Event Sales Manager Lauren Jenkins, laurenj@stewomen.co.uk for more information.
Form ID:3033