Introducing the Sponsor and Speakers at the Virtual STEM Women Ireland Event 2020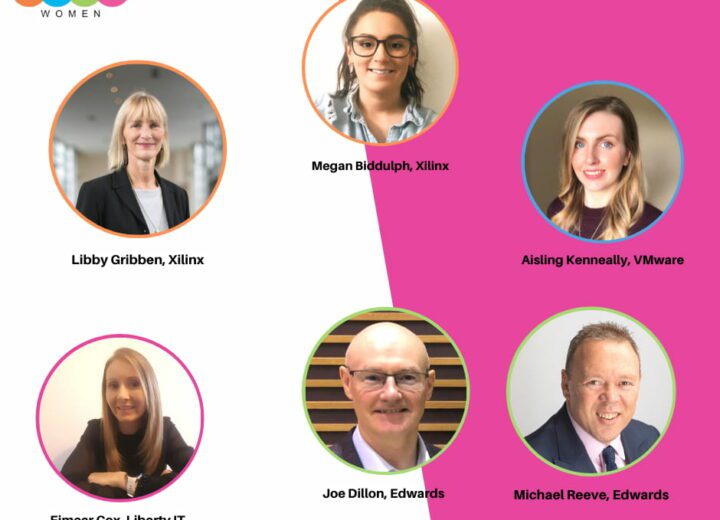 We can't wait to host our first virtual STEM Women event for the whole of Ireland on Wednesday 28th October 2020.
Our event will help female STEM students to connect with graduate employers, apply for opportunities and hear inspiring talks from a range of speakers.  During our speaker sessions, representatives will share their career journeys, offer advice, and provide an invaluable insight into what it's like to work in a STEM-related industry.
We caught up with the sponsor and speakers ahead of the event, to find out more about the topics they will be covering and what attendees can look forward to on the day!
Sponsors
Xilinx
Libby Gribben, Vice President Global HR
We are proud to have Xilinx as headline sponsors of our STEM Women Ireland event. Libby Gribben will be delivering a welcome talk about the company and the innovative technology they use. She will touch on the importance of diversity and finally share a little about her own personal career journey!
Why are Xilinx excited to sponsor the event?
"It is such a tremendous opportunity on many fronts. For women at various stages of their academic life to build a valuable network of support, some already graduated and looking for help before they take the first step in their choice of career, some still with a couple of years to go, but curious and wanting to expand their understanding of roles within STEM. For employers, here is a rich source of our next generation of STEM talent wanting to hear what is out there. It is an opportunity for "real life employees" to describe what life in their companies is really like. What on earth does a software engineer do? This is such a great forum for sharing experiences, and most importantly helping graduates to make really informed choices for themselves!"
Why is encouraging more women to work within STEM industries important to you/your company?
"Our success is highly dependent on diversity. Our 4 regions across the world work together in cross functional teams to collaborate and innovate. Our people have diverse backgrounds and experiences, and this ensures a variety of perspectives that is critical to successful innovation. A gender balance equally contributes to a rich diversity of approach and perspective and we make no secret of the fact that we need more girls to choose science subjects at school, more female school leavers to choose science subjects at college and therefore more female scientists to come and work in Xilinx!"
Do you have any tips for attendees before the event?
"Think hard beforehand about what you are good at , what you love doing and when you are at your happiest…be honest with yourself… and keep an open mind about your future opportunities! You may surprise yourself about what you end up wanting to do! Do NOT be afraid to ask questions: this day is about you and for you: make the most of it!"
Speakers
Edwards
Michael Reeve, General Manager EMEA Semiconductor and Joe Dillon, Manager STC Operations
At 1pm, our speaker sessions will begin with a talk from Michael and Joe from Edwards. Michael will be giving attendees an introduction to the Semiconductor Industry, the story behind the company's recent investment in Ireland and the career paths available at Edwards. Joe will then talk about his experience of the first few months at Edwards as a new joiner, opening the STC and what they have achieved so far.
What are you most looking forward to on the event day?
"We're looking forward to taking this opportunity to raise the profile of Edwards Vacuum STC and the exciting global career opportunities with Edwards."
What do you love about your role/company?
Joe: "I have recently joined Edwards and while it's a busy time with the focus on establishing a Service Technology Centre in Dublin, the Engagement and Energy of the Interactions with a diverse international team supporting the many STC project workstreams has been a highlight for me."
Michael: "I never stop learning – the dynamic technology of the Semiconductor market and the multi-national structure of our business means that there are always new challenges. If you are curious and mobile, there are many career opportunities."
Do you have any tips for attendees before the event?
"Check out www.Edwardsvacuum.com  and also the link to some introductory videos at https://www.collinsmcnicholas.ie/edwards-vacuum/"
Xilinx
Megan Biddulph, Senior Business Systems Analyst
At 1.30pm we will then hear from Megan at Xilinx. She will be giving attendees an insight into how she went from being a graduate to working for a company like Xilinx and why she chose IT.
What are you most looking forward to on the event day?
"Being able to interact with lots of like-minded women. Working in a male dominated sector, it is nice to get the opportunity to do so."
What do you love about your role/company?
"Xilinx is a very supportive company. They really do encourage and support women in technology."
Do you have any tips for attendees before the event?
"Don't be afraid to ask questions!"
Why is encouraging more women to work within STEM industries important to you/your company? "Working in a male dominated industry can be challenging at times, women offer a differing perspective that can often be missed as typically, I find we are less likely to speak up. There's strength in numbers and the more women enter STEM, the more women there will be in Senior Management roles."
VMware
Aisling Kenneally, Premier Services Manager, EMEA Premier Support
Next up, we will welcome Aisling from VMware. She will be presenting on her own career journey since graduating and sharing her experiences on the roles she has progressed though in VMware in the last 5 years.
What topics can attendees expect to hear from you on the event day?
"Coming up to the end of their degree, I know many graduates can feel like "what now?", so I'll also share some tips on how to navigate those first steps into a rewarding and successful career in STEM."
What are you most looking forward to on the event day?
"I'm especially looking forward to speaking with panelists and attendees in the afternoon panel session. I'm excited to hear what questions and conversations come up, and I hope by sharing my own experiences I can encourage the next STEM graduates to chase after their own professional goals with confidence!"
What do you love about your role/company?
"I love that VMware invests in its people. I've had opportunities to progress in my career and had support for further education, while also getting the chance to be involved with mentoring, STEM events like this, and giving back to charities. I love the various challenges my role as Premier Services Manager brings daily, and it's great working alongside a diverse group of fun and talented people every day."
Do you have any tips for attendees before the event?
"This event is a brilliant opportunity to network with women from various STEM industries, so my biggest tip ahead of the event is to get to know the companies you'll be hearing from and have a few questions ready to get the most value out of any conversations you have. This is your chance to get out there, so make the most of it!"
Why is encouraging more women to work within STEM industries important to you/your company?
"For me personally, it's hugely important because I want to see women pave the way in STEM, and break the stereotypes in what were traditionally seen as male dominated industries. VMware champions diversity and inclusion, and over the last number of years has been vocally committed to further building a diverse workforce in our company. There are incredibly intelligent, driven and talented women out there from a multitude of backgrounds, and I want to see these women join VMware's ever-growing family!"
Liberty IT
Eimear Cox, Delivery Lead
Our speaker sessions will end with a talk from Eimear at Liberty IT. She will take attendees through her career in IT to date, from her graduate placement, to travelling the world and landing her dream job at Liberty IT. Eimear will also share some key lessons learned along the way and impart some hints and tips for a successful, healthy career in IT.
What are you most looking forward to on the event day?
"Networking with the next generation of female talent and having the opportunity to share my experiences of being a female in IT, such as how I didn't stop searching until I found my ideal job."
What do you love about your role/company?
"Firstly, the people. From my immediate team, to my colleagues on the Leadership team to the Directors, without doubt the people in LIT contribute hugely to making it the success it is today. There are so many employees in Liberty IT that joined as graduates and are still there, even up to 20 years on! This is a complete testament to how well the company treats their employees.
Secondly, the company's pursuit in keeping in front of the latest and greatest emerging technologies. Liberty IT is constantly evolving and modernising to stay in front of the fast pace of technology. Nothing ever stands still, and it forces us to keep up-to-date with our own learning through podcasts, conferences etc. You definitely would not get bored working at Liberty IT."
Do you have any tips for attendees before the event?
"Don't be afraid to ask questions and be open minded about the type of company you would like to work for. It took me 10 years to realise what was important to me as an employee seeking a role in IT. So, my advice would be to have a think about what is important for you now and also look forward to the future!"
Why is encouraging more women to work within STEM industries important to you/your company?
"Liberty IT and their employees place a heavy emphasis on diversity in general. I have witnessed first-hand how diverse teams are able to solve technical problems and perform higher than those with similar, like-minded people. We aim to help remove any barriers that can discourage females from joining IT companies like Liberty IT, and instead promote the skillset and value that women add to businesses."
Alongside our event sponsor and speakers, attendees will also have the chance to network with Microsoft, Avanade, Eirgrid, Citrix, Bank of Ireland, Amazon, Cubicle Telecom, Workday, Google and Dornan Group.
There will also be a panel session at 3pm where attendees can gain fascinating first hand insights from inspiring women working in STEM industries.
If you're interested in starting your career in a STEM industry and would like to attend a STEM Women event. Visit www.stemwomenevents.com and register for your free ticket today!
There are also still a few spaces available for employers looking to exhibit at our autumn events. Get in touch with Lauren at laurenj@stemwomen.co.uk for more information.