Meet the Speakers at Our Upcoming UK Graduate Careers Event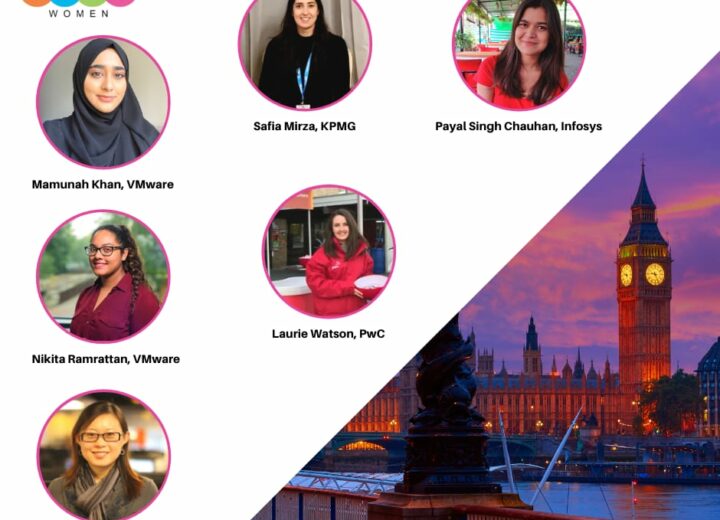 We are very excited to kick off our early 2021 event season with the STEM Women UK Graduate Careers Event on Wednesday 17th February!
Throughout the event we will have a "Live Presentations" area where attendees can hear speakers from a range of different companies, all sharing their personal career journeys, offering advice to attendees, and giving an insight into what it's like to work in their industry.
Ahead of the event, we caught up with the speakers to find out more about the topics they will be covering, and what attendees can look forward to!
Speakers
VMWare
Mamunah Khan, Solution Engineer Graduate and Nikita Ramrattan, Core Digital Solutions Engineer
Mamunah and Nikita will be presenting the session on behalf of VMware. Having both attended STEM Women events in the past as students on the job hunt, they are returning to give attendees some invaluable advice on the best ways to go about securing a role at our events.
Could you tell us about your first experience at a STEM Women event?
Mamunah: It was so insightful to see the variety of panellists and speakers talk about their experiences in STEM roles and give us insight into becoming more employable. Everyone at the STEM Women event was so friendly and answered all my questions. Because of the event, I was able to land a role at VMware as a Solutions Engineer!
Nikita: I attended my first STEM Women event in February 2019 and was amazed to see all these female representatives from prominent companies encouraging me to apply to them. I also attended the Technology & Consulting panel where I was able to ask questions to company leaders, which was a cool experience.
Why are you excited to be attending on the other side of the event as a speaker?
Mamunah: I'm excited to share my journey to the tech world and how I got to where I am today. I want to give my insight and advice as someone who recently joined the industry as a graduate. Sometimes it's a bit daunting to be joining big organisations with maybe little / no experience. From going to lectures to now hosting meetings, it's definitely a change from the university environment.
Nikita: I am super excited to share my story with other bright and ambitious ladies because I am proof that attending these events really does work!
What topics can attendee expect to hear from you on the event day?
Mamunah: I'll be discussing a bit about my background on how I went from starting a Law degree to finishing a degree in Computer Science. I also want to share my experience on how I landed a role at VMware and my experience so far as a graduate.  I'll be talking about what it's like to be working in the Technology industry and my role as a Solutions Engineer. Make sure to listen in!
Nikita: I will be highlighting the importance of resilience, especially in these unprecedented times. After gaining my degree in biochemistry I faced many rejections but thought I had to stick to my pre-planned path. It wasn't until I met VMware and decided to take a different route in technology, that I realised life doesn't follow a neat path. Every rejection just helped me grow as a person and gave me the confidence to look for success outside my comfort zone.
What are you most looking forward to?
Mamunah: I'm looking forward to meeting all the wonderful people who'll turn up to the event!
Nikita: Being able to offer advice to attendees and my unconventional story into tech, to show them it's possible to go into different industries than just the one they studied for. And of course, also hearing from the other speakers and panellists.
Do you have any tips for attendees?
Mamunah: Be yourself! Be open minded and don't be afraid to ask questions! If it helps, write a list of different questions you might want to ask. If you've not heard of a company before, that's the opportunity for you to go ahead and check them out and start a conversation. There are so many opportunities there, so take full advantage of the fair! I know I did!
Nikita: Network, network, network, if you don't reach out people won't know what skills you possess to offer you an opportunity! LinkedIn is perfect for connecting with recruiters and enables you to showcase your background and interests, which could place you as the right fit for a job.
Optiver
Zuotian Tatum, Team Lead, Infrastructure Data
From Optiver, we will welcome Zuotian who is returning to present her second speaker session at a STEM Women event for the company. She will give attendees an insight into Optiver and the skills you need to be a successful engineer at the company.
Could you tell us about your first experience at a STEM Women event and why you decided to return?
I really enjoyed the last STEM Women event. It was great to meet other panellist and share our career stories. I also had a chance to interact with many students during the event and was touched by their energy and intelligence. I truly believe that helping young women kick start their careers is the best way to bring more diversity into our industry.
What topics can attendee expect to hear from you on the event day?
A bit of introduction of myself and Optiver, how technology is used at Optiver, and what it takes to be a successful engineer at Optiver. Hint, it is not just about numbers.
What are you most looking forward to?
Meeting the students, answering their questions, and helping them to seek new challenges.
Do you have any tips for attendees?
Learn a bit about the companies ahead of the time so you can ask good questions. Not only focus on technical skill requirements, but also think about the soft skills.
PwC
Laurie Watson, Student Recruitment Officer
From PwC, Student Recruitment Officer Laurie will be giving attendees an overview of some of the exciting opportunities available at the company. She will focus on the unique company culture and the variety of roles on offer.
Why are PwC excited to be speaking at the event?
PwC have worked with the STEM Women team for a number of years, and always find the STEM women events a great way to network with enthusiastic and motivated students.
What topics can attendees expect to hear from you on the event day?
An overview of the PwC opportunities for both students and graduates, as well as hints and tips on our virtual recruitment process.
What are you most looking forward to?
Meeting and networking with motivated, enthusiastic students and graduates!
Do you have any tips for attendees?
Be confident, be yourself and ask questions!
Infosys
Payal Singh Chauhan, Relationship Manager
Payal will be presenting Infosys' speaker session and will give attendees an introduction to the company, who they are, and the internship opportunities they have available. She will also talk about her role as Relationship Manager and how the company hopes to develop in the future.
Why are Infosys excited to be speaking at the event?
Infosys' Global Flagship Internship program, InStep is always on the lookout for top talents around the world. InStep is "The World's Best Internship", awarded by Vault.com, is only as good as it's hardworking interns, who join us every year and work on some cutting-edge, live, real-time projects. We're looking for curious minds waiting to explore the tech world.
What topics can attendee expect to hear from you on the event day?
An introduction of the company, some details about the internship and the road ahead in the company.
What are you most looking forward to?
Engaging with students and understanding from them, what are they looking forward to an internship in these unusual times.
Do you have any tips for attendees?
To interact!
KPMG
Safia Mirza, DevOps Engineer

KPMG's speaker session will be led by Safia, a DevOps Engineer. Safia is extremely passionate about encouraging more young women to enter into STEM industries and will be giving an insight into her career path and some of the amazing accomplishments she has achieved along the way.
What topics can attendee expect to hear from you on the event day?
My journey into technology as a graduate at KPMG, breaking a World Record with KPMG and my role as a DevOps Engineer.
What are you most looking forward to on the event day?
Meeting all the graduates looking to start their career in STEM and help answering any questions they have.
Do you have any tips for attendees?
Say yes! I have found myself doing things I never would have, if I hadn't said yes. I found it daunting putting myself in positions that felt uncomfortable at the time but turned out to be very rewarding.
Why is inspiring more women into STEM important to you?
I see the lack of diversity in the tech sector, which means we're missing out on different perspectives and ideas and if I can be one of the people to help change that, it means a lot.
Madelaine Helleur O'Connor, Graduate Data and Technology Consultant will be representing KPMG during the panel session.
What are you most looking forward to on the event day?
I'm most looking forward to meeting all of the university students that are taking an interest in KPMG and helping them find out what KPMG can do for them and letting them know what it's like working in the tech industry.
Do you have any tips for attendees?
My top tips would probably be don't worry if you're overwhelmed by all of the information given during the day, in a situation like this, getting a feel for the company and the people is just as important because you can see if you like the environment and the people that you will be working with.
Why is inspiring more women into STEM important to you/KPMG?
Because the tech industry needs more women!
Before the speaker sessions start, don't miss the fantastic Sarah Perugia presenting an insightful skills session at 12.10 pm. This coaching masterclass focuses on practical techniques that enable you to interview and present with confidence.
At 2.30 pm, attendees can also gain fascinating first-hand insights from inspiring women working in STEM industries during our panel session.
If you're interested in starting your career in a STEM industry and would like to attend a STEM Women event. Visit www.stemwomenevents.com and register for your free ticket today!
There are also still spaces available for employers looking to exhibit at this event and our upcoming early 2021 events. Get in touch with Lauren at laurenj@stemwomen.co.uk for more information.