Meet the Speakers – UK Technology Event – 20th September 2022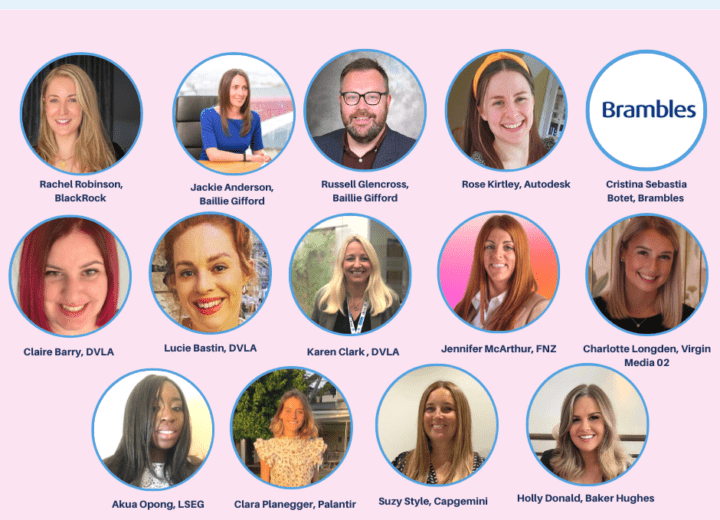 On Tuesday 20th September, we are running our second event of the autumn season, our UK Technology Careers Event! Taking place on our virtual events platform, this event is perfect for students and graduates studying a STEM (science, technology, engineering, or mathematics) related course and looking to start a career in technology.
We have 25 fantastic exhibitors signed up to this event, all looking to network with attendees, promote their roles and inspire the next generation of women in tech. During the day, 11 employers will also be presenting live sessions, with some also sitting on our panel discussion.
Speakers will talk about their personal experiences of working in their industry, the exciting opportunities available at their company and what graduates can expect when applying for roles!
Meet our speakers!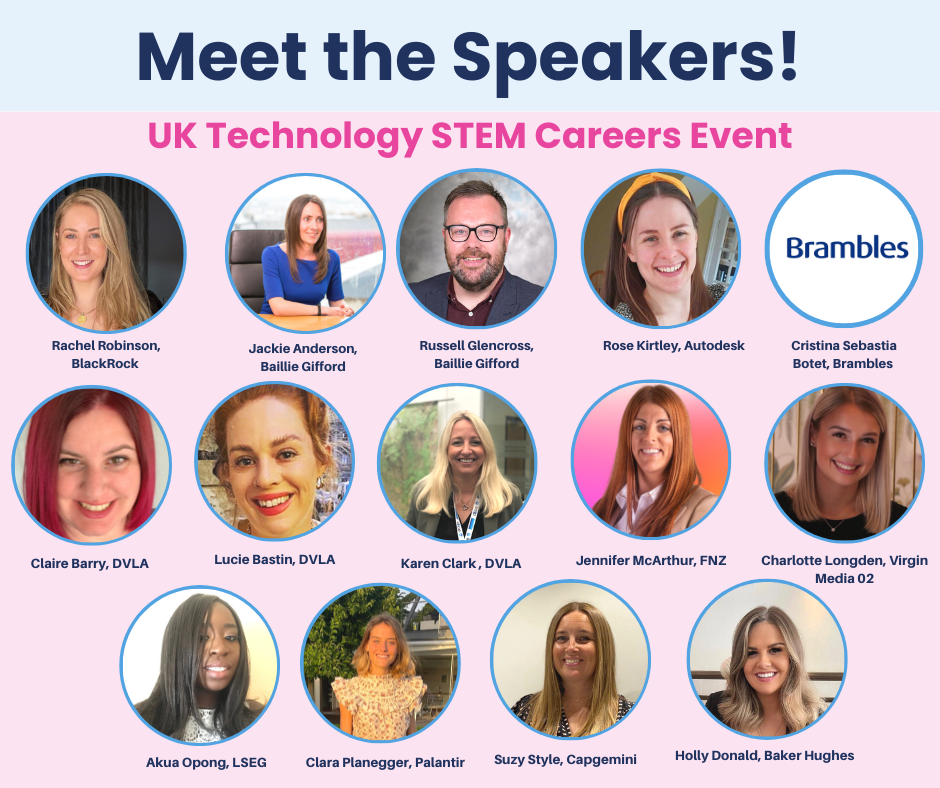 "I'm really looking forward to being part of an event that is specifically targeted for women, it's important for women to see representation in the industry and these events are fantastic for inspiring others to follow their career goals." – Lucie Bastin, DVLA
"I will be reflecting on my time on the graduate scheme and my experience since then as a developer and more recently as a scrum master." – Rose Kirtley, Autodesk
"Akua is an experienced IT and Service Management professional having worked in the financial service for over 8 years, currently at London Stock Exchange Group. Outside of her main role, Akua is a keen diversity and inclusion advocate, a mental health champion Community Lead for the UK Charity Committee and LSEG's Women's Inspired Network. She is passionate about raising the profile of women in STEM, as a Cajigo Mentor and STEM Ambassador." – LSEG
"Gain an insight into technology at BlackRock as Rachel shares the early career opportunities available and provides tips on how to submit a successful application." – BlackRock 
The Panel Discussion
At 12:20pm, we will begin our panel discussion which will feature: Denise Symons – Senior IT Talent & Development Adviser at Baillie Gifford, Parul Beniwal from BlackRock, Susan Tate from Autodesk, Cristina Sebastia Botet, Digital Serialisation Lead, at Brambles, Claire Barry, Technical Product Manager from DVLA, and Wendy Papworth, Global Head of Diversity and Inclusion, from FNZ
"During this session I'll be sharing my career journey from Software Developer to Tech People Developer and answering questions from our audience joining us virtually on the day. I'm most looking forward to sharing my experience with other women who have a passion for tech!" – Denise Symons, Baillie Gifford.
"I'm so looking forward to the day and hearing from the diverse tech talent of the future who will shape our industry in very different and interesting ways." – Wendy Papworth, FNZ.
"I'll be talking about why it's important to inspire other women to consider a career in digital. I'm really looking forward to being able to share my experiences and hope that I'll be able to inspire some of the attendees today to take the step to an area where there are so many opportunities to make a difference." – Claire Barry, DVLA.
The Event Agenda
Noon – Event begins in the 'Live Presentations' area, with a welcome talk from STEM Women.
12.20pm – Panel discussion with representatives working in tech. Ask questions and gain a fascinating first hand insight from inspiring panelists.
12:55pm – Live networking begins and continues until the event ends. Attendees can visit company stands, network with employers and search live jobs!
1:30pm – Rachel Robinson, Campus Recruiter, BlackRock employer insight talk.
1:45pm – Holly Donald, Project Manager, Baker Hughes employer insight talk.
2pm – Jackie Anderson, Early Careers Consultant and Russell Glencross, Information Systems, Talent and Development Lead', Baillie Gifford employer insight talk.
2.15pm – Rose Kirtley, Software Engineer, Autodesk employer insight talk.
2:30pm – Cristina Sebastia Botet, Digital Serialisation Lead, Brambles Digital employer insight talk.
2:45pm – Claire Barry, Technical Product Manager, Lucie Bastin, Delivery Manager, and Karen Clark, Agile Delivery Manager from DVLA employer insight talk.
3:05pm – Jennifer McArthur, Group head of Platform Conversions, FNZ employer insight talk.
3:20pm – Charlotte Longden, Brand Marketing Graduate, Virgin Media O2 employer insight talk.
3:35pm – Akua Opong, Senior Analyst, LSEG employer insight talk.
3:50pm – Clara Planegger, Deployment Strategist, Palantir employer insight talk.
4:05pm – Suzy Style, UK Head of Early Careers Talent Acquisition, Capgemini employer insight talk.
4:30pm – Event ends.
———————————————————————————————-
STEM Women Events
If you're a student or recent graduate, there is still time to register for your free ticket to this event – here
We are also hosting a number events for attendees and employers based in the UK, Ireland, and the Benelux Region this autumn. Take a look at our events line up for more information!
There are also still spaces available for employers looking to exhibit at this event and our upcoming events. Get in touch with Event Sales Manager, Lauren Jenkins by emailing laurenj@stemwomen.com.