Meet the Speakers – Sydney STEM Careers Event – 10th March 2023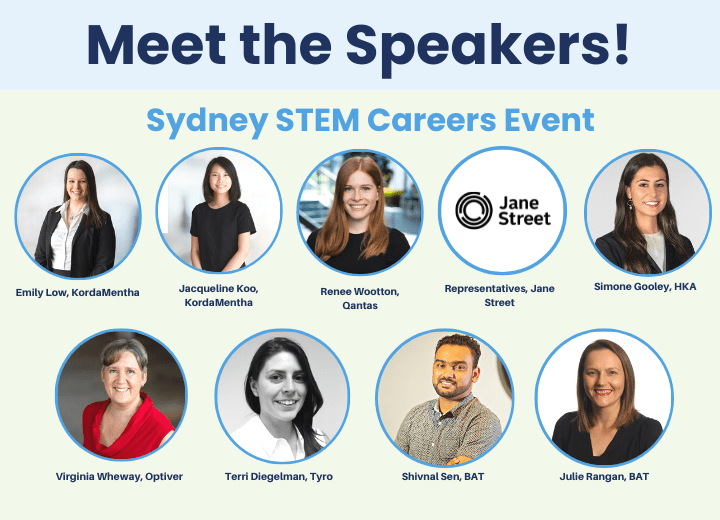 On Friday 10th March, we are running our second in-person event in Australia, the Sydney In-Person STEM Careers Event. Taking place at the ICC, this event is perfect for students and graduates studying a STEM (science, technology, engineering, or mathematics) related course.
We have 31 exhibiting employers taking part in the event, with 7 companies delivering live presentations on stage, followed by a Q&A.
Meet our speakers!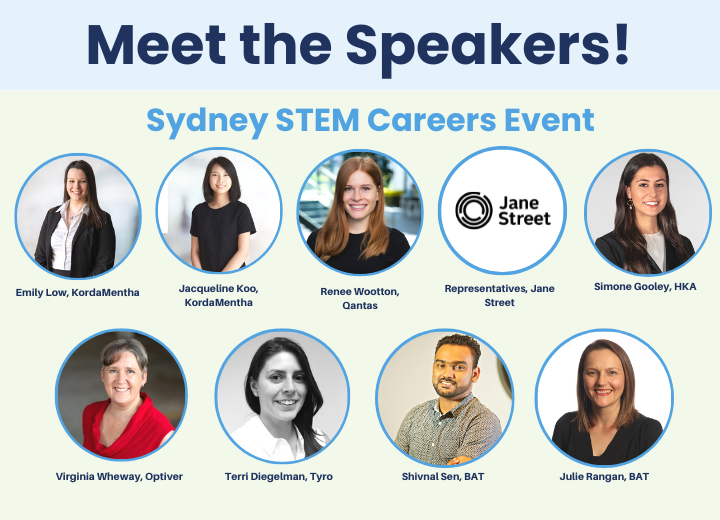 Event Agenda
12:00 PM – Arrive at the venue and check-in, put on your lanyard, and pick up a programme!
12:10 PM – 1:15 PM – Speaker Session One – Welcome talk from STEM Women, followed by employer insight talks from KordaMentha, Qantas, Jane Street and Optiver
KordaMentha – Emily Low, Associate Director and Jacqueline Koo, Associate Director.
Qantas – Renee Wootton, Group Manager, First Nations Engagement.
"My talk will cover Qantas Group Graduate Program and my career journey at Qantas."
Jane Street – Representatives – The company culture and opportunities available.
Optiver – Virginia Wheway – Head of Data Strategy at Optiver.
12:15 PM – Networking begins and runs until the event ends!
2:10 PM – 3:00 PM – Speaker Session Two – Welcome talk from STEM Women, this will be followed by employer insight talks from Tyro, British American Tobacco and HKA.
Tyro – Terri Diegelman, Head of Technology, Payments Delivery.
British American Tobacco – Shivnal Sen, Talent Acquisition and Julie Rangan, Head of Insights.
HKA – Simone Gooley, Consultant.
3:00 PM – 4:00 PM – Final networking break
4:00 PM – Event ends
——————————————————————————
STEM Women Events
We are also hosting a number events for attendees and employers based in the UK, Ireland, Australia and New Zealand in 2023. Take a look at our events line up for more information!
There are also still spaces available for employers looking to at our upcoming events. Get in touch with Event Sales Manager, Lauren Jenkins by emailing laurenj@stemwomen.com.