Meet the speakers – London STEM Women Graduate Careers Event – Monday 9th October 2023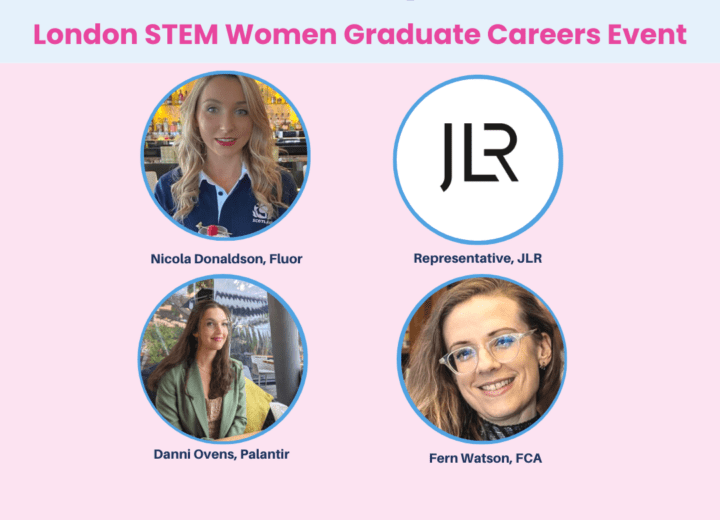 On Monday 9th October, we are excited to welcome hundreds of students and recent graduates to the London STEM Women Graduate Careers event, sponsored by Fluor. This event is perfect for students and graduates studying a STEM (science, technology, engineering, or mathematics) related course.
We'll have 41 exhibiting employers taking part in the event. Seven companies will also be delivering live presentations, and representatives will share their tips and insights in a panel discussion.
At 12.00pm the event will begin, with attendees able to register and head to the theatre for the first speaker session.
With networking getting under way in the main room, our first speaker session will begin in the theatre at 12.10pm.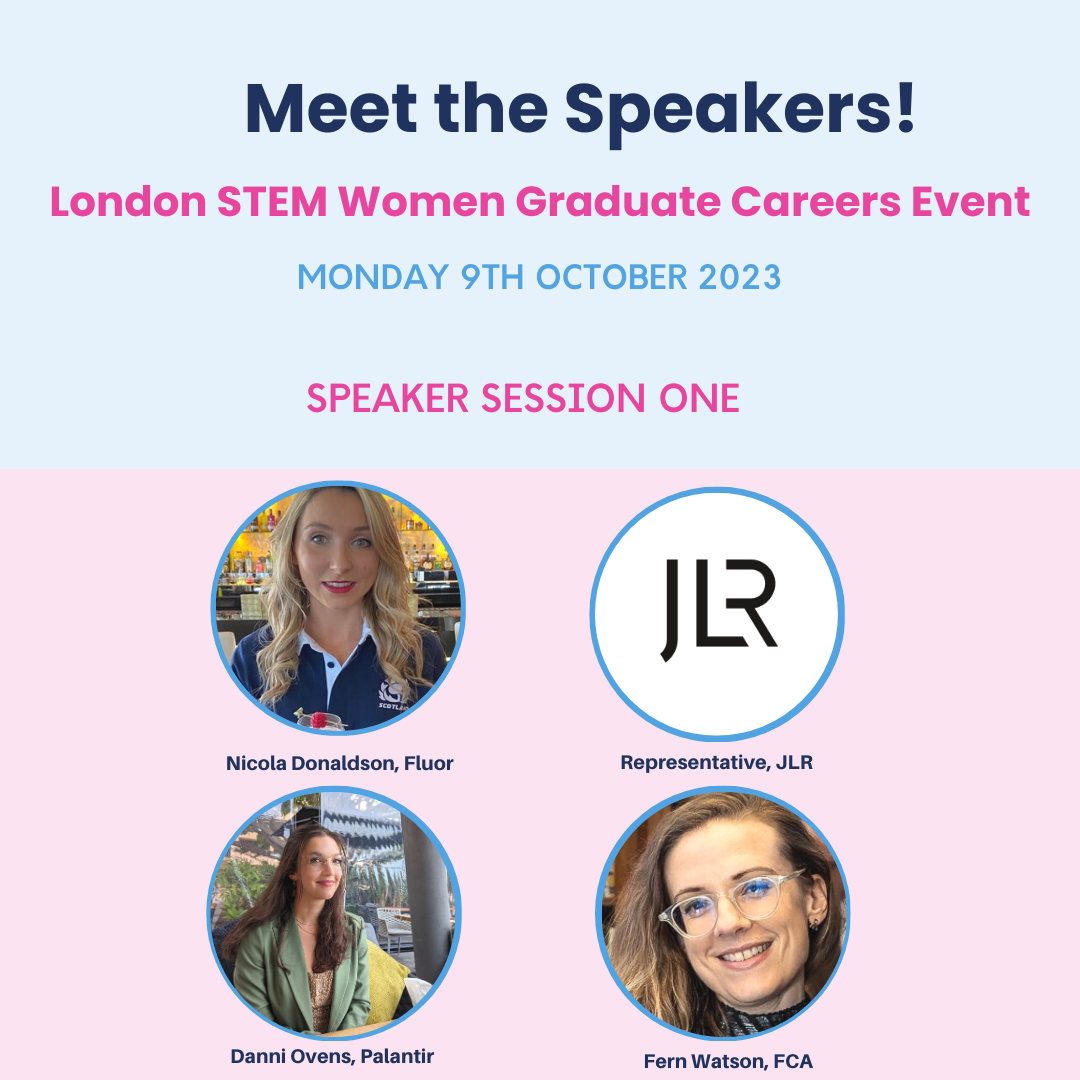 First speaker session
The session will start with a welcome talk from STEM Women and our event sponsor, Fluor. Ian Hogg, Engineering Director at Fluor, will give a high-level overview of the organisation and open this inspiring speaker session.
This will be followed by an insight talk from Nicola Donaldson, Design Engineer at Fluor. Nicola said:
'I'll be speaking about my career in Engineering so far, the opportunities I've had and how they've come about. I'll also share some advice which I would have found helpful when starting my career."
Attendees will then be able to hear a further insight talk from from Samuel Parkin from JLR, followed by Danni Ovens, Forward Deployed Engineer from Palantir.
Palantir aims to solve the worlds hardest problems: from supporting the NHS's front-line clinicians, to helping Airbus improve efficiencies in their manufacturing processes. But, as software engineers, how does this impact our day-to-day work? Danni's talk will tell you all you need to know!
Next up,  will be Fern Watson and Prasoon Chaturvedi from FCA. In this talk Fern and Prasoon introduce the audience to the Financial Conduct Authority's Data Science Grad scheme, the department it sits in, and some of the work they do. They'll touch on the FCA working culture as well as a couple of impactful recent case studies so attendees will get a well-rounded idea of what it would be like to join them. Prasoon will also spend a few minutes adding her thoughts about a different side of the Tech world at the FCA: Strategy & Architecture.
Networking will then commence in the main hall until the event ends. Attendees can visit company stands, connect with employers and find out about jobs and internship opportunities.
At 1.30pm STEM Women will host a panel discussion featuring Anouska Martin, Engineering Manager at Fluor, along with representatives from Palantir and JLR, sharing their tips and expertise.
Second Speaker Session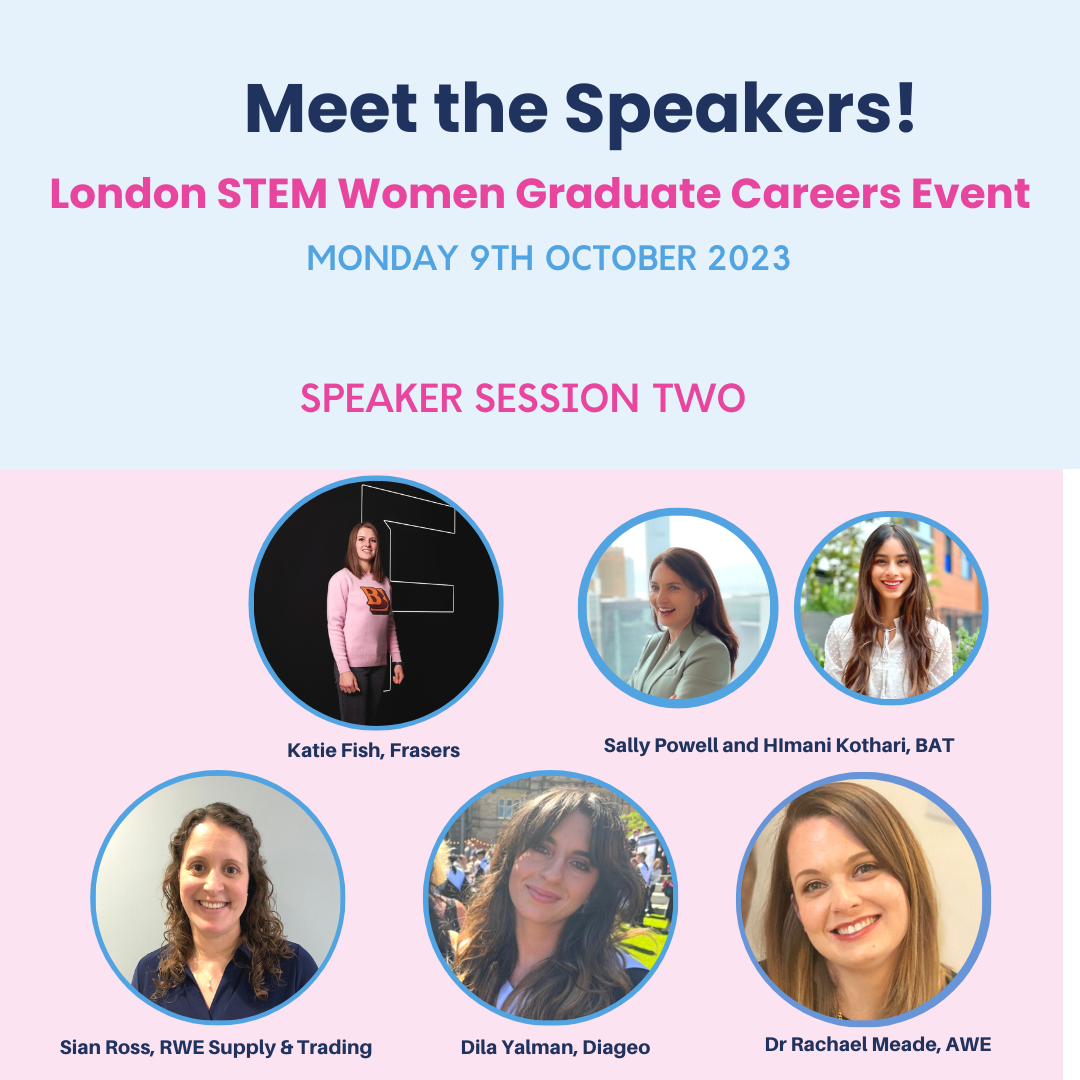 At 2.15pm, a second speaker session will commence in the theatre, beginning with Katie Fish, Talent Acquisition Manager at Frasers Group. Katie said:
'I will be introducing Frasers Group, our core brands and how our IT eco-system works with an insight into our "Behind the F" video series. I will be talking about our 3 core business values "Think Without Limits" "Own It" and "Be Relevant" and how these shape our day-to-day environment but also how these have built a culture of learning/development, freedom to create and accountability within IT at Frasers."
We'll then hear from Sally Powell, Group Head of HR & Inclusion (Operations) and Himani Kothari, Regional Capability Manager from BAT. Himani will speak about how she started her BAT adventure just two years ago as an intern. From the Middle East all the way to Europe, she has embraced various challenges that she is excited to share. Her  journey showcases the incredible growth and potential that BAT offers – a success story which will certainly inspire the audience! With Sally, they will discusse how BAT can ignite your career journey, sharing BAT's transformation journey, their global reach, multi-category future, our diversity and the incredible opportunities for STEM candidates.
The next speaker will be Sian Ross, Head of UK Analysis at RWE Supply & Trading. In Sian's talk, attendees will find out who RWE are, what they do and how they can support graduates to build a career at RWE. Sian will share her personal journey and her top tip for making the most of your future career!
In the next fascinating insight presentation, Dila Yalman, Voyager PMO (Digital & Technology) from Diageo will deliver a talk called
"Navigating the Digital Frontier: My Diageo Digital & Technology Graduate Journey". In preparation for her talk, Dila said:
"Join me as I take you through my exciting journey in the Diageo Digital & Technology graduate scheme. I'll share the insights, challenges, and triumphs I've experienced while working at one of the world's leading beverage companies. From cutting-edge technology projects to digital innovation, this talk will delve into the transformative power of the digital world within the beverage industry and how the Diageo graduate scheme has shaped my career. Get ready to be inspired by the possibilities that await in the digital landscape!"
Finally we will hear from Dr Rachael Meade from AWE, making a welcome return after her fantastic talk at our London event in June this year.
Attendees can network with the exhibitors until the end of the event at 4.30pm
To enquire about exhibiting at our upcoming events, get in touch with Event Sales Manager, Lauren Jenkins by emailing laurenj@stemwomen.com.