Meet the Speakers at our UK Technology Careers Event Sponsored by PwC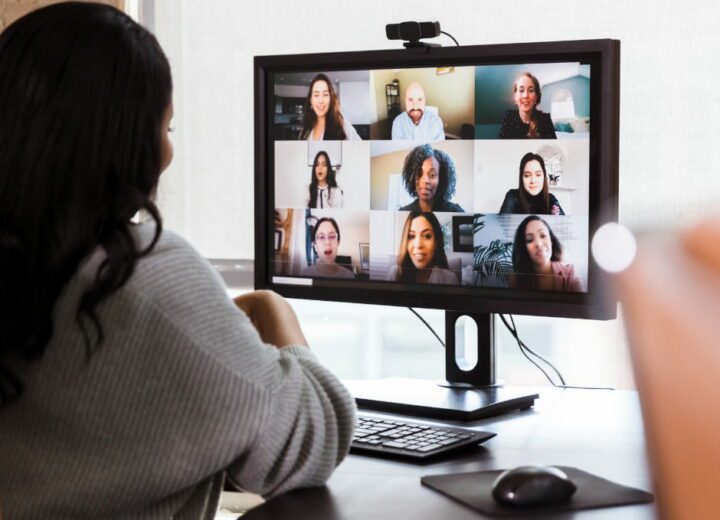 On Wednesday 30th March, we are running our UK Technology Careers Event, sponsored by PwC. This event is perfect for STEM students and recent graduates who identify as women or non-binary and are passionate about a career in technology.
During the event, attendees will have the chance to network live with employers, apply for opportunities, browse company stalls, watch a live panel session and hear inspiring speaker sessions from company representatives.
Let's take a look at who will be presenting during the day.
Welcome talk presented by STEM Women and sponsors PwC.
Our event will begin with a welcome talk from STEM Women event host Sophie Chadwick. Sophie will run through the event agenda, the exhibiting companies and introduce our event sponsors, PwC.
Lizzie Hughes, Talent Engagement Officer – Welcome Talk
"I will be speaking for the short sponsor slot at the beginning of the event. I'll be giving the attendees an overview of who we are, along with mentioning some of the tech teams we have across the firm. We have three ambassadors from different tech teams who will be speaking throughout the day (both on the panel and for our employer session), so hopefully the students find it useful!"
Event Speakers
PwC
Andrea Hill, Senior Associate
"I am a Senior Associate working in Technology, Data and Analytics which is part of the Risk team within PwC. My session will cover a brief overview of my career in data analytics and my role at PwC."
Coco Yang, Senior Associate
"I am part of the digital audit team at PwC and I will be sharing my experience in digital audit and what the role involves."
Chloe Carter, Manager, Technology Consulting
"I'm looking forward to sharing my story & journey of being a Woman in Engineering throughout university/placements then a Woman in Technology once I joined PwC. I will also talk about how there's a need for more diversity (gender being a key one) in both industries which share a lot of similarities and transferable skills."
Reply
Myria Constantinidou, Data Scientist Consultant
"I will be covering the development plan upon joining Reply, upskilling and flexible training. Having responsibility early on to work with clients and more about my role; pricing and promotion optimization, ML models, deliver optimal discounts for global retail brand, technical skills and soft skills developed, challenges and opportunities."
Anita Rochalska, Senior Networks Consultant
"I found my graduate role with Reply at a similar careers event for women in STEM in 2018. I remember what it is like to be attending graduate careers events, finding roles that you would be passionate about and eventually applying for them! In the speakers' session, I will tell you about what my role entails as a Senior Consultant at Reply, the exciting projects I have been working on and I will give advice on how to get the most of out of your career in technology."
Victoria Catherall, Google Cloud Platform Consultant
"I will mention that I am a recent graduate who joins in August and have worked on a variety of projects focusing on data engineering with a little bit of data analytics and with the hope of moving towards data science.  Mainly I will be answering questions from the audience."
Tinka Ivanova, Talent Acquisition Consultant
"I will be presenting a company presentation about the recruitment & interview process at Reply."
MI5, MI6 and GCHQ
Jo – 'Lead Software Engineer' at MI5
"A glimpse into the secretive world of technology roles within the security services and how you can contribute to keeping the country safe".
DVLA
Ritu Yadav, Agile Delivery Manager
​
"I am a great believer of equality and sharing my own journey at this event will be my little bit to help encourage other women into IT. DVLA Digital is a brilliant place not to just start your career in technology but also to continuously keep progressing. I'm really looking forward to being a part of such an amazing initiative providing great opportunities for our future women tech leaders."
Kirsten Phillips, Junior Cloud Engineer
"This will be my first STEM women event. I'm looking forward to having the opportunity to connect with women who hope for a career in digital and share information around my role as a Junior Cloud Engineer in DVLA."
Ffion Fox, Junior Business Analyst
"I am looking forward to sharing my experience as a woman in a STEM career, I will be covering what my role is, what I enjoy and how my career started in digital."
Mthree
Khadijah Pandor, Talent Partnerships, Senior Specialist EMEA
"At mthree we support graduates to turn their degree into a career, by providing in-depth paid training followed by a 24-month placement with one of our clients.  During my presentation I will be covering how mthree support STEM graduates from our application to training to placement. I am looking forward to meeting talented STEM graduates and sharing how mthree can help launch their careers and support them on a 2-year graduate programme in Software Development or Production Management pathways."
GFT
Roslyn Moses, Learning & Development Coordinator, Jennifer Nicholas, Senior AWS DevOps Engineer, and Rachel Whitmore, Cloud Engineer
​
"Our presentation is themed 'Exploring routes into the tech industry' as we delve into the routes which our colleagues have taken to enter the industry themselves. We will then speak to some other routes which can graduates can use to enter the industry- a feat which can seem difficult or impossible to some students."
Software Institute
Olivia Hill, Graduate Web Developer and Harriet Trundle, Corporate Services Executive
"In our Employer Talk we will be giving an insight into who The Software Institute (TSI) are and how we can support graduates gain the right skills to be placed in exciting jobs in the tech industry. You will hear from Olivia who will talk through her experience of going through TSI training programme and you'll be able to find out about the technologies and the roles we have available to apply for."
Trayport
Peter Conroy, CEO
"I will be giving an overview of our business and the broader group and talking about the importance of STEM in the growth of businesses. The presentation will also feature an employee case study and the current opportunities available within our group."
Erika Bradley, Head of Project Delivery
"My session will focus on the many routes to success, drawing from real life experiences and situations I encountered along my journey."
Quantexa
Laura Hutton, Chief Customer Officer
As Chief Customer Officer at Quantexa, Laura has over 13 years' experience using innovative technology to solve real-world problems and empower organizations to make better, trusted decisions from their data.
Laura will touch on Quantexa and what we do, her journey into Q and main takeaways, and advice she would give to women when considering a career in STEM.
Brambles
Emily Cheng, IoT Scrum Master
"In my session I will be introducing Brambles and talking about who we are and what we do."
Patricia Santillan O'Shea, Value Delivery and Change Manager, Digital Engagement
"We will be covering working at Brambles, and more specifically I'll be focusing on sharing the value of sustainability in Brambles being one of the most sustainable companies in the world and how we live that in our everyday at the company and the impact our jobs have on that."
Monica Llorens, Intelligent Process Automation Lead
"Based in Barcelona, after few years managing global projects and portfolios, I've recently taken over Intelligent Process Automation. I'm proud of being a member of the diverse and talented Brambles family, and enjoy focusing my efforts in delivering technology that enable new ways of working. When not at work, I balance writing short fiction with outdoors activities with my wife Rosa and my little dog Rita."
CausaLens
Tina Wilkinson, General Manager – Financial Services – Insurance​
"STEM has grown and changed dramatically over the past 10 years.  I have been in FS for over 30 years – and taken an interesting route from Life Sciences into Technology in Asset Management -Banking – and Insurance.  I look forward to sharing my path to being CEO of several large asset management companies – and driving solutions for a very traditional FS sector in Insurance with a very non- traditional AI based platform.  It's the adventure of the journey that makes STEM so interesting – with so many potential paths from commercial to technical – something for every woman!"
IBM
Dr Charlie Coleman, Technology Consultant
</stron >
"I will be sharing my career journey so far and my role as a Technology Consultant."
STEM Women Events
Register for your free ticket to this event – https://stemwomenevents.com/event/5647
If you're interested in starting your career in STEM, and would like to attend a STEM Women event, visit www.stemwomenevents.com and register for your free ticket today!
There are also still spaces available for employers looking to exhibit at this event and our upcoming events. Get in touch with Event Sales Manager, Lauren Jenkins by emailing info@stemwomen.com.