Meet the Speakers at the STEM Women Midlands Event 2020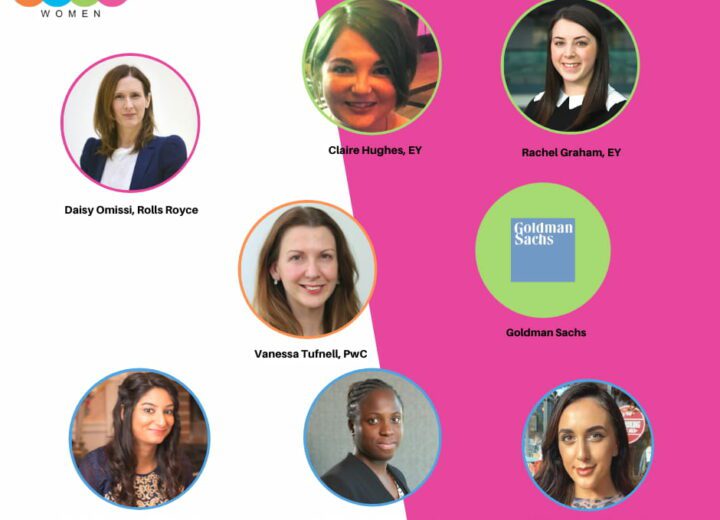 We can't wait to host our STEM Women event for the Midlands region on Monday 12th October.
The event will enable STEM students to network with graduate employers, apply for jobs and hear from inspiring speakers. A number of speakers will share their career journeys, offer advice and provide an invaluable insight into what it's like to work in a STEM related industry.
As we count down to the event day, we caught up with the some of the women taking part in our speaker session to learn more about them and what we can look forward to on the day.
Speakers
PwC
Vanessa Tufnell, Senior Manager Cyber Security
At 1pm, our speaker sessions will begin with a talk from Vanessa Tufnell. She will be covering her personal technology and cyber focused career journey, which spans over 17 years, and offer attendees some useful tips.
What are you most looking forward to on the event day?
"Having the opportunity to speak to people that are passionate about the field of STEM and answer any questions that they have."
What do you love about your role/company?
"The varied clients, subjects and people that I get to work with every day."
Do you have any tips for attendees before the event?
"Think about your own career objectives and come armed with questions!"
IMI Precision
Vinita Meissner, Product Applications and Valve Engineering Lead, Paula Okeudo, Graduate Engineer and Adela Skendo, Graduate Engineer
Following PwC, we will welcome Vinita, Paula and Adela from IMI Precision. Vinita will be focusing on IMI as a company and the kind of products they design, Paula will offer an insight into a year in the life of an IMI Graduate and Adela will be talking about the application process, working life during the pandemic and the importance of having a positive attitude!
What are you most looking forward to on the event day?
Vinita: "I'm looking forward to meeting lots of potential applicants and answering questions about being a female engineer at IMI!"
Paula: "Meeting and networking with female STEM participants, and speaking about the potentials for personal and career development across numerous industries/fields through IMI."
Adela: "I am so excited to meet some lovely women on the day! Last year, I was at the STEM Women event as an attendee and this year I am a panellist with IMI so I think I can give some great tips and advice."
What do you love about your role/company?
Vinita: "I love the variety of work I get to do, working with a global customer base and I love the friendly and family-like mindset everyone at IMI has!"
Paula: "IMI provides mentors that guide you and spearhead your development through real and relevant opportunities. Tailored career paths are identified, post-placements, that suit your interests and ambition across different regions."
Adela: "The thing I love the most about IMI is that there is massive effort constantly put in from your employees and from all managers to help you on both personal and professional development. We are a team and there is always great team spirit throughout the company. Not to mention that there are uncountable amounts of opportunities and projects that you can get involved with!"
Do you have any tips for attendees before the event?
Vinita: "Ask lots of questions and keep an open mind!"
Paula: "For an opportunity to work with the best minds and take on global projects that provide much needed technical, operational and customer exposure during your placements, try IMI."
Adela: "My best tip would be for the attendees to be honest about what they're looking for in a job and what is most important to them in a job role, this would give them the best chance of finding something that is absolutely right for them. Another tip is to be open to new opportunities and to go in with an open mind and show passion for the subject they have studied/field of work they aspire to get into."
Don't miss the speaker session from IMI, it will begin at 1.25pm.
Rolls-Royce
Daisy Omissi, VP External Communications Civil Aerospace
At 1.50pm we will welcome Daisy Omissi from Rolls-Royce. Daisy will be covering her professional career journey from working for publications like Harpers Wine and the Orient Express, to becoming the Editor of OK! Middle East, relocating to Spain for four years and finally heading back to the Middle East to work for Qatar Airways. She is now VP of External Communications for Rolls-Royce Civil Aerospace in the U.K.
What topics can attendees expect to hear from you on the event day?
"My global journey from London to Dubai, Spain and Qatar."
What are you most looking forward to on the event day?
"Hoping to inspire young women to think globally."
What do you love about your role/company?
"The global nature of my role – the amazing people I work with every day at RR."
Do you have any tips for attendees before the event?
"Think big. Be bold."
Have you learnt anything new in or out of work during the pandemic?
"How to use Teams!"
EY
Rachel Graham and Claire Hughes, Student Recruitment Advisors
From EY, we will welcome Rachel and Claire from the recruitment team. Their session will  begin at 2.15pm and will give attendees a greater understanding of the different opportunities available, and offer tips and insights that can help students make a successful application.
What type of topics can attendees expect to hear from you on the event day?
"All the different student opportunities we can offer you in EY – we're not just an accountancy firm and have a range of roles that are looking for more STEM females! We'll also be giving hints and tips on how to make a successful application – one not to miss!"
What are you most looking forward to on the event day?
"Looking forward to meeting so many interesting and engaged women from STEM backgrounds in the Midlands, especially through the new virtual careers fair tech on offer!"
What you like most about your role?
"We love having the opportunity to speak to and meet new people on a daily basis to represent EY. We're really proud to work here and want to share that experience with you!"
Do you have any tips for attendees before the event?
"Have a think about questions that you want answers to. They may be covered in the speaker sessions or panel, but also make use of the 1-1 networking opportunities to get the most out of the experience. Also – keep an open mind. There may be companies at the event that you wouldn't have imagined working for, but this event could change your mind!"
What you've learnt during the pandemic?
"Resilience!  It's been a strange few months but it's shown us how adaptable we can all be to make things work in a new normal."
At 2.40pm we will then enjoy a presentation from a representative from Goldman Sachs.
Alongside our event speakers, attendees will also have the chance to network with Newton Europe, Air Liquide, Atkins, Baker Hughes, Bloomberg, Ametek, Virgin, ARM, KPMG and BTP.
There will also be a panel session at 3pm where attendees can gain fascinating first hand insights from inspiring women working in STEM industries.
If you're interested in starting your career in a STEM industry and would like to attend a STEM Women event. Visit www.stemwomenevents.com and register for your free ticket today!
There are also still a few spaces available for employers looking to exhibit at our autumn events. Get in touch with Lauren at laurenj@stemwomen.co.uk for more information.