Highlights from the STEM Women Midlands Event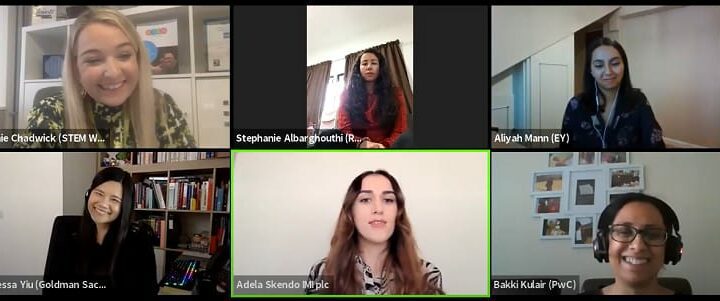 We're halfway through our autumn event season and on Monday 12th October, we ran our sixth STEM Women virtual event! This event was targeted towards female STEM students and recent graduates based in the Midlands. It enabled them to network with top employers, hear inspirational speaker sessions and take part in a Q&A with panelists working in STEM industries.
We welcomed an amazing 337 attendees to network with 14 employers, which included PwC, Rolls Royce, IMI, Goldman Sachs, EY, Air Liquide, ARM, Atkins, Baker Hughes, Bloomberg, British Transport Police, KPMH, Newton and Virgin Media.
Over the course of the day, attendees and employers had a total of 934 conversations which made up 6,757 chat messages!  During our insightful speaker and panel sessions, we had a peak audience of 247, and attendees submitted 209 job applications during the event.
Our attendees were predominantly studying Mathematics at university, followed closely by Mechanical Engineering, Computer Science and Chemical/Process Engineering.
At noon, our event began with a welcome talk from STEM Women Events Manager, Sophie Chadwick. Attendees were given a run through of the day and a refresher on how to best use the platform.
We began our speakers' sessions at 1pm with a presentation from Vanessa Tufnell, Senior Manager Cyber Security at PwC. Vanessa gave attendees an overview of her professional journey so far, from consulting, to technology and finally into cyber. She explained how she studied Business Administration at Bath University, and then worked for a number of industry leading employers throughout her career.
Next up, we welcomed three women from IMI who presented a talk entitled: 'IMI: Engineering a Resilient Future. Vinita Meissner, Product and Applications and Value Engineering Lead began the session by giving our attendees an insight into how she progressed from studying Mechanical Engineering to securing her role today. She explained who IMI are and the types of industry the company cover, plus how the current pandemic has changed the way they work. Adela Skendo, Graduate Engineer then took over to highlight that last year she attended the STEM Women event in Birmingham as an attendee, met her colleagues and got her dream job with IMI.  She also gave attendees some great advice on how to stay positive and act confidently. Finally, Paula Okeudo, Graduate Engineer talked us through her first year with IMI and the types of projects she has worked on in the Mechanical and Automotive engineering sector.
At 1.50pm Daisy Omissi, External Communications Civil Aerospace at Rolls Royce then took to the virtual stage. She gave attendees an overview of her varied career, from publishing to working in the wine industry, living in Dubai and Spain, and finally returning to London to work within Civil Aerospace. We heard great advice on adapting to different cultures when working across the globe.
Following this insightful session, Rachel Graham and Claire Hughes, Student Recruitment Advisors at EY, gave attendees an in depth presentation on the student opportunities available at EY, with tips on how to apply and the core strength they would need to be successful in a role within the company.
Our employer speaker's session came to an end with a talk from Kristina Poulos, Global Head of Storage Engineering at Goldman Sachs. Kristina described how she began working for Goldman as an intern on the data base team after she graduated from university. She worked in the New York office for six years, before moving to London 9 years ago. Her talk highlighted the power of moving around within a company, rather than leaving a firm, and how Goldman are very supportive of personal development and diversity.
Attendees were then invited to visit the company stalls to network, ask questions and apply for their live job vacancies.
At 3.10pm, we began our panel discussion, which featured a range of women working within STEM industries. Our panel included Stephanie Albarghouthi from Rolls Royce, Aliyah Mann from EY, Vanessa Yiu from Goldman Sachs, Adela Skendo from IMI and Bakki Kulair from Pwc. Attendees asked our panelists some fantastic questions, from how to build and maintain networks virtually, to tips on overcoming imposter syndrome and the best ways to highlight your weaknesses in an interview situation. We also heard some great advice on how to manage busy workloads without looking overwhelmed, and the importance of being authentic!
Our Midlands event was a huge success, with both employers and students offering some fantastic feedback! Masooma Begum BEng, student of MSc Engineering Management described how she found the event –
"The STEM Women careers event was truly exceptionally delivered considering the restrictions due to COVID. It allowed me to interact with like-minded individuals and a panel of professionals that I was able to relate to, as well as open up a world of opportunities I was completely unaware of. I'd like to thank the wonderful team who orchestrated the event, the companies involved and the speakers who shared their valuable experiences with us."
Charlotte Howe from Air Liquide added her thoughts:
"Found the event really valuable to reach out to great STEM graduates – We have attended this event in the past and made a super hire from it!"
We are now over half way through our autumn event season, having successfully hosted a Financial Services focused event, two technology sector specific events and regional STEM events for the South West and South East England and South Wales, and Yorkshire, North West and North East England. Coming up, we have a STEM event for the London and Home Counties regions, plus Ireland, Scotland and Netherlands events. For more information visit www.stemwomenevents.com, follow us on LinkedIn, Twitter and Facebook for event updates.
There are still a few employers spaces left for upcoming events. If you're interested in exhibiting, get in touch with laurenj@stemwomen.co.uk.