Meet the speakers – Amsterdam STEM Women Graduate Careers Event – Monday 6th November 2023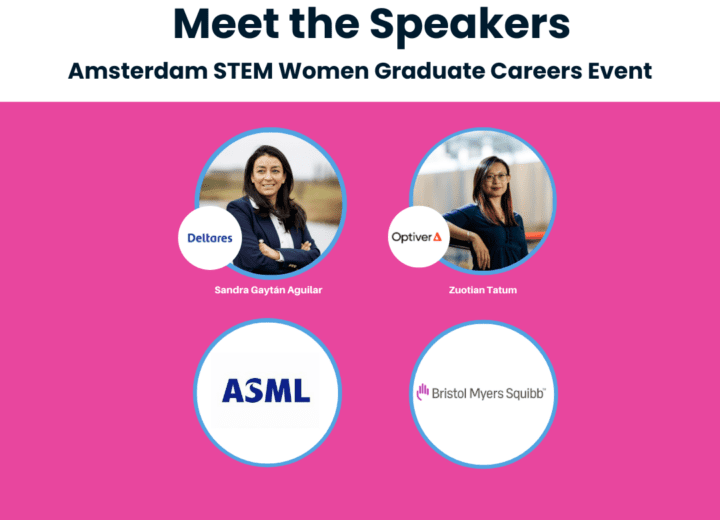 On Monday 6th November, we are excited to welcome hundreds of students and recent graduates to the Amsterdam STEM Women Graduate Careers event. This event is perfect for students and graduates studying a STEM (science, technology, engineering, or mathematics) related course.
We'll have 18 exhibiting employers taking part in the event. Attendees can network with these exhibitors at their company stalls throughout the event – this is a fantastic opportunity to discover new career paths, forge connections and kick-start a career in STEM! Four companies will also be delivering live presentations, sharing insights, advice and top tips with the audience!
Event welcome and employer insight talks
The event will begin at 12.00 with attendees able to register and head to the theatre space for the first speaker session.
The session will start with a welcome talk from STEM Women. Attendees will then be able to enjoy an insight talks from Sandra Gaytán Aguilar, Head of Department Hydrodynamics and Forecasting at Deltares. Sandra will deliver a talk outlining how Deltares contributes to safe and sustainable living in deltas throughout the world.
 "Our mission of 'Enabling Delta Life' is more urgent than ever against the backdrop of drastic developments such as climate change, extreme weather events and population growth. If you are seeking a dynamic environment to advance your career while contributing to Deltares' mission, then this presentation is for you."
– Sandra Gaytán Aguilar, Head of Department Hydrodynamics and Forecasting at Deltares
Demystifying FinTech
Next, attendees will hear from Zuotian Tatum, Head of Tech Education at Optiver, in a talk titled 'Demystifying FinTech'.
In this  presentation, Zuotian will lead the audience in an exploration the world of the modern financial market. Zuotian will delve into Optiver's role as a market maker, and take a look at the day-to-day life of a trader and a software engineer.
Attendees will also hear insight talks from ASML and BMS, which will be followed by networking until the end of the event at 4pm.
Grow Your Network
Exhibitors will include:
ASML
BMS (Bristol Myers Squibb)
Bol
com
Capgemini
Deltares
EIB (European Investment Bank)
Just Eat
Optiver
Pfizer
Redwire Space Europe
Royal BAM Group
Tata Steel Europe
TNO
Uber
Van Lanschot Kempen
To enquire about exhibiting at our upcoming events, get in touch with Event Sales Manager, Lauren Jenkins by emailing laurenj@stemwomen.com.