Highlights from the Virtual STEM Women Netherlands Event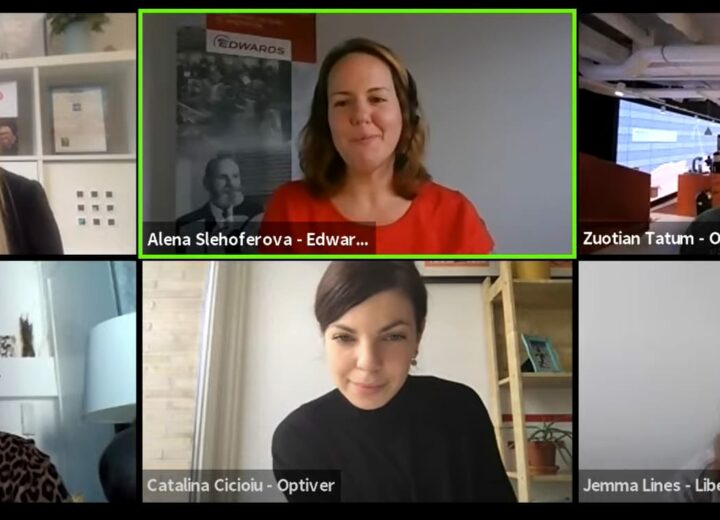 Our Autumn 2020 virtual event season closed with our first ever careers fair for the Netherlands on Thursday 12th November 2020. This event was aimed at female students and recent graduates based across the Netherland and looking for exciting job opportunities in STEM industries.
During the event, attendees could virtually network with potential employers, watch live speaker sessions, apply for jobs and join the audience for a panel session featuring women working in STEM industries.
We welcomed 275 attendees to network with 7 employers, which included Liberty Global (Virgin Media), Edwards Vacuum, Optiver, Flow Traders, PwC, Mercury Engineering and IMC. Over the course of the event, attendees and employers had 283 conversations, sending 2,237 chat messages in total. Whilst browsing company stalls, attendees also submitted 97 job applications. We enjoyed a range of speaker and panel sessions throughout the day and had a peak live presentations audience of 179.
Our attendees were studying a range of STEM subjects at university, from Data Analytics, to Computer Science, Mechanical Engineering, Mathematics, Chemical Engineering and many more.
​
The event began at 12.30 pm (CET) with a welcome talk from STEM Women Events Manager, Sophie Chadwick. Sophie gave attendees an introduction to STEM Women and a brief overview of each company and what opportunities they had available.
After a short networking break, our speaker sessions began at 1 pm with a presentation from Zuotian Tatum, Team Lead, Infrastructure Data at Optiver. Zuotian began her talk by outlining her personal career journey, from studying Computer Science and Bioengineering at the University of Washington to working as a Software Engineer at Microsoft, relocating to the Netherlands to work at Leiden University Medical Centre and finally joining Optiver in 2015. She gave attendees a fascinating insight into who Optiver are, the company history and described what 'market-making' is. Her presentation ended with some invaluable advice on the skills graduates need to succeed at Optiver and what opportunities are available.
Next up we welcomed Nadia Howden, Senior Manager Connectivity CVP at Liberty Global. Nadia's session focused on her personal journey as a Technology and Innovation graduate. She first explained who Liberty Global are, highlighting that they are one of the world's leading converged video, broadband and communications companies and are made up of around 20,200 employees! She spoke about the amazing company culture and the huge array of different projects graduates work on when they join. Nadia then went on to outline the graduate opportunities available at Liberty Global, offering some great advice on getting through the application and interview stages.
Our speaker sessions ended with a presentation from Alena Slehoferova, Key Account Manager, BeNeLux SEMI, at Edwards Vacuum. Alena joined Edwards in 2013 as a customer care coordinator, she was then promoted to customer care team leader, customer care manager and finally the key account manager. She gave attendees an overview of who Edwards is, the innovative technology they develop and the unique company culture. We learnt more about the strong women she works alongside and gained an insight into the Benelux office.
At 2.30 pm, attendees were then invited to join the audience of a panel discussion, where they could ask questions to a panel of women working in STEM industries! On our panel, we welcomed back Alena Slehoferova from Edwards Vacuum, Zuotian Tatum and Catalina Cicioiu from Optiver, and Jemma Lines and Joanna Emmanouiliduo from Liberty Global. Our panellists gave some really inspiring answers to questions on overcoming the career challenges as a result of coronavirus, their experience of working in male dominated environments, and how to juggle work-life balance effectively. Attendees also heard some great advice on how to approach managers when they are struggling with workloads.
Our first event in the Netherlands was a fabulous success, with both attendees and employers highlighting how effective they found it.
Joanna Emmanouiliduo from Liberty Global shared her experience of being a panellist.
"My first panel discussion experience was nothing but stellar. The advice and insights shared by my fellow panellists, women of all levels in various STEM fields, left me with a smile on my face and feeling more empowered than I would have imagined."
Stela Florea, an attendee on the day described her experience:
"Great event, very well organized, and amazing opportunity to interact with experienced women and recruiters from different industries. I highly recommend attending the future ones."
Our Netherlands event was the last of our 2020 Autumn events, however, we have recently announced dates for our Early 2021 virtual events! We will be hosting regional and sector-specific events across the UK, Ireland, Europe and for the first time Australia. For more information, visit our events page or request a brochure. You can also follow us on LinkedIn, Twitter, Instagram and Facebook for updates.