Highlights from the UK Technology Careers Event Sponsored by PwC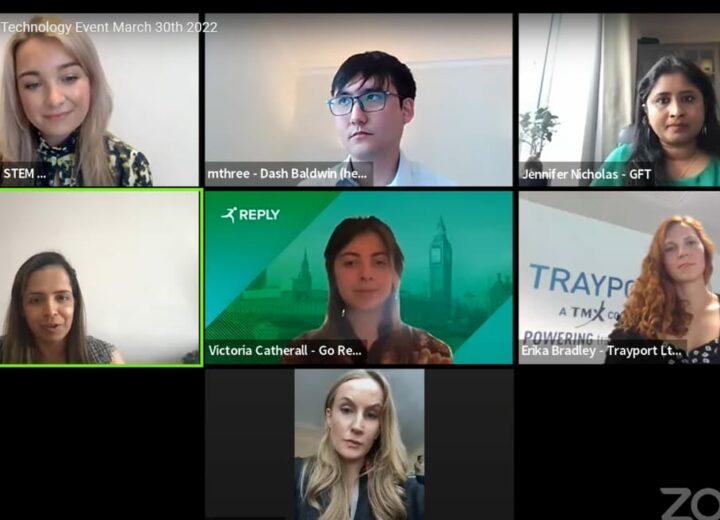 On Wednesday 30th March, we ran our UK Technology Careers Event, sponsored by PwC. We signed up a fantastic 1,593 STEM students and recent graduates and had 685 logging in on the event day! Our attendees were studying a range of STEM subjects, but the most popular courses were computer science, data analytics, data science and cyber security.
It was a great event, with employers and students having 2,425 conversations, and sending 7,521 chat messages. Attendees also made 1,082 job applications throughout the day, which is one of our highest figures for a virtual event!
The day began with an introduction from Sophie Chadwick, STEM Women events host, followed by a welcome talk from our event sponsors PwC. This presentation was led by Talent Engagement Officer, Lizzie Hughes. Lizzie introduced PwC, their key business areas, and the exciting opportunities they have available.
Inspiring Panel Session
Following this we enjoyed an insightful panel discussion featuring representatives from a number of exhibiting employers. Our panelists were Jennifer Nicholas from GFT, Dash Baldwin from mthree, Ritu Yadav from DVLA, Victoria Catherall from Reply, Erika Bradley from Trayport, and Chloe Carter from PwC.
Our attendees heard some great advice on how to build their professional work experience and why a career in technology is so rewarding. Our attendees asked our panelists some interesting questions on how to successfully move from university to the workforce, and how to take rejections from job applications. The key themes that emerged were the importance of confidence and believing in your abilities, plus using rejections as a redirection to move onto greater things.
Employer Speaker Sessions
After a short networking break, the employer speaker sessions then began. This featured 12 presentations from companies all looking to recruit for their exciting opportunities! These were run by IBM, PwC, Reply, MI5, Mi6 and GCHQ, DVLA, mthree, GFT, The Software Institute, Trayport, Quantexa, Brambles, and causaLens.
Attendees heard some invaluable advice from the recruitment teams and women working in technology. Charlie from IBM, spoke about her journey from completing a PhD to moving into a technology role.
Coco and Andrea from PwC talked to attendees about their personal career journeys, and how they found the digital audit and technology data and analytics graduate schemes. Next, we heard from the team at Reply and learnt more about how the company was founded and the amazing tech career opportunities they offer. Anita and Myria also spoke about the graduate scheme at Reply, and we heard how Myria secured her role after she attended the STEM Women event last year!
Attendees got a glimpse into the secretive world of technology roles within the UK Intelligence Agencies from Jo, a Lead Software Engineer at MI5. We then enjoyed a Q&A session with Kirsten, Ffion and Ritu from the DVLA. Our event host Sophie asked them questions about what their roles involve day-to-day, how they started their careers in digital and why they would recommend it.
Khadijah from mthree covered how her company supports STEM graduates, from the application to training to placement. Following this, Rosyln introduced GFT and the teams that make up the company. She then handed over to Jennifer and Rachel who spoke about their roles in technology at GFT in more detail.
Olivia and Harriet introduced The Software Institute and the exciting projects they work on. Olivia spoke about her role as a graduate web developer and how she found the application and interview process.
We were then delighted to introduce the CEO of Trayport, Peter Conroy, to present on the company and their commitment to employing more women into their tech teams. Next, we welcomed the co-founder of Quantexa, Laura Hutton, who gave attendees a fascinating overview of her career journey and how she become a co-founder.
Next, Emily, Patricia and Monica gave attendees an overview of Brambles, their commitment to sustainability and their roles within technology. We then heard from our final employer of the day, Tina Wilkinson from causaLens. Tina spoke about her personal career journey from life sciences into technology, and in particular, fintech.
"Fantastic event, very well organised. Will definitely attend future events!"
– Sam Brown HR & Programme Progression Lead, Energus
"I found the event extremely useful. The job listings and presentations allowed me to discover many different roles and the live video calls provided on opportunity to ask any questions I had about the position and company. I have applied to several jobs as a result of this event and I couldn't recommend it highly enough to any women looking for work in STEM."
– Abby Jones MSc Applied Data Science and Statistics
STEM Women Events
We are running a number of events throughout 2022. Next up we have our Hybrid UK STEM Careers Event on 22nd June 2022, and our Australia and New Zealand event in August 2022. For more information visit www.stemwomenevents.com, follow us on LinkedIn, Twitter and Facebook for event updates.
If you're interested in exhibiting at an upcoming event, please don't hesitate to get in touch with Event Sales Manager, Lauren Jenkins by emailing info@stemwomen.com.