Highlights from the STEM Women UK Graduate Technology Event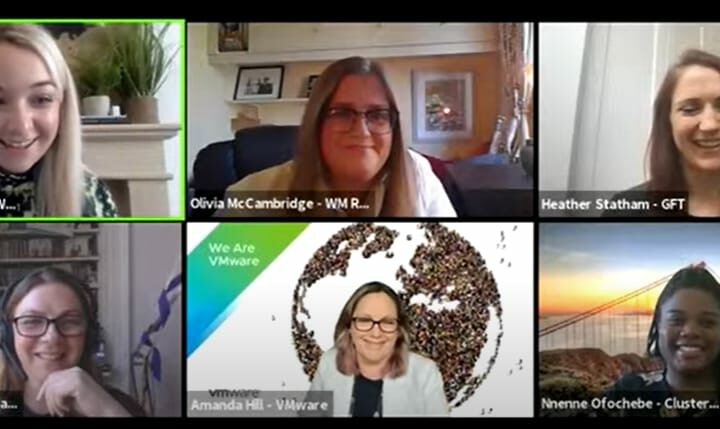 On Wednesday 21st April, we hosted our technology event for attendees based in the UK! The event was aimed at students and recent graduates who identify as female and are interested in starting their careers in the tech sector.
We welcomed an amazing 479 attendees to virtually network with 18 inspirational employers. Our exhibitors included VMware, GFT, Reply, SLC, Swift, KPMG, Ekimetrics, Willmott Dixon, Sparta Global, Barclays, Alacrity, Alfa, Capita, Softcat, GCHQ, MI5 and MI6, Virgin, Analysys Mason and Ava.
Over the course of the day, attendees and employers had 978 conversations, sending 5,125 chat messages, and students made 396 job applications. We also recorded a peak live presentations audience of 258!
Attendees were predominately studying Computer Science, Mathematics, Data Analytics, Data Science, Mechanical Engineering, Biological Sciences or Physics at University.
The event began with a welcome talk from Sophie Chadwick, STEM Women Events Manager. Sophie gave attendees an overview of the agenda, introduced them to the platform, the companies and their stalls, and offered some tips on how to get the best out of the day.
At 12.10pm, attendees were then invited to take part in a Q&A session where they could ask questions to a panel of women working in technology. Our panellists included Amanda Hill from VMware, Olivia McCambridge and Nnenne Ofochebe from Reply, Kirsty Jordan from Student Loans Company and Heather Statham from GFT. We heard questions surrounding the best ways to get into tech when you don't have an IT or technical degree background, how to keep up to date with trends in tech and how to overcome confidence issues. Our panellists highlighted that when it comes to tech, you aren't expected to know everything, instead it's about how you approach and solve problems.
Following our fantastic panel session, attendees had an hour to network with employers via webchat, voice and video call, before the start of our four speaker sessions.
At 1.45, Reply began the speaker sessions with an in-depth presentation about the company, featuring members of their recruitment team, and two graduates. Eike Luebben, Senior Talent Acquisition Consultant began the session off with an introduction to Reply, their unique culture and the huge range of graduate opportunities they have available. Tinka Ivanova, Talent Acquisition Consultant then took over to ask the graduates some questions about how they have found their working life at Reply. Jasmine Dixit, Senior Consultant Future Networks and Zoe Loughton, Data Consultant gave attendees an insight into their roles, the projects they have worked on, and offered some tips on how to succeed.
Next up we welcomed Sarah Biggs, Technical Account Manager at VMware. Sarah began by giving us an overview of her career path so far, from studying Business Information Systems at university, to how she discovered her love for technology.  Sarah spoke about how she has found her first 10 months at VMware, her day-to-day working life and the amazing people she works with. She also gave attendees a great insight into the graduate programme and offered tips on how to successfully network with colleagues when working from home.
At 2.35pm, Gemma Barrett, Learning, Development and Talent Partner Manager, Heather Statham, Lead Business Consultant and Zlatina Lazarova, Cloud Engineer from GFT presented their session. This talk was entitled 'Demystifying the myriad of roles in the IT industry' and began with an introduction to the company and what they do, followed by an explanation of the range of opportunities they have available. Zlatina then spoke about her personal career journey from studying a Masters in Electronics at the University of Sheffield, to becoming a Cloud Data Engineer. She gave attendees a fascinating overview of what Cloud Engineering actually is, and the skills you need to be one. Heather then took over to talk about her 7 years at GFT and how she made the move from Canada to London to follow her career path.
Our final speaker session was presented by Kirsty Jordan CISO and Stacey Wylie, Recruitment from the Student Loan Company. Kirsty began the session by delving straight into her role as Chief Information Security Officer and what it's like to work in the fast-paced world of cyber security. She explained how she originally studied Cell Biology, but slowly moved over towards technology and finally Forensics and Security. Kirsty gave attendees some invaluable tips and highlighted that not everyone is expected to know everything, but it's important to always stay curious. Following this, Stacey then took over to talk more about the graduate programme at SLC, what it involves and the vast range of sectors that are available.
Our UK technology event was a huge success, and we can't wait to host more like this in the future. Next up, we will be hosting a UK career event in June, for more information, visit our events page and follow us on LinkedIn, Twitter and Facebook for updates.
There are still spaces left for employers for our upcoming events, if you're interested in exhibiting, get in touch with laurenj@stemwomen.co.uk.