Highlights from the STEM Women England and Wales Careers Event, Sponsored by PwC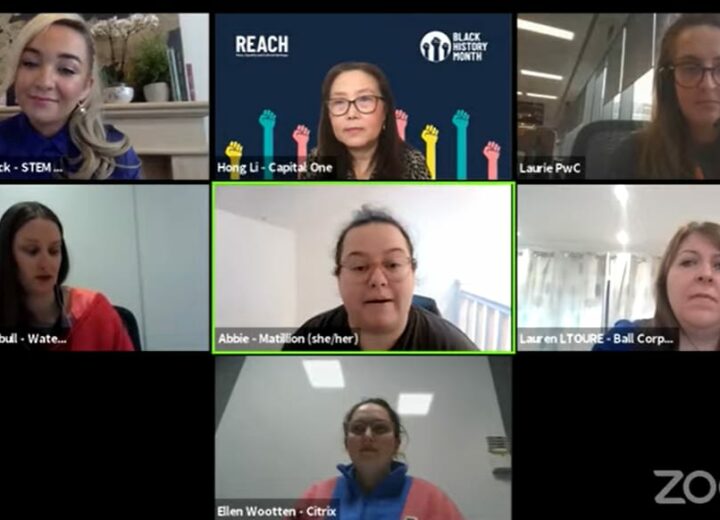 On Wednesday 12th October, we held our England and Wales Careers Event (excluding London), which was sponsored by PwC. This event was targeted towards STEM students and recent graduates who identify as female or non-binary.
This was another large event for us, with a record 1196 students and graduates signed up for the event, and 496 logging in on the day. We had 26 fantastic employers, including Alacrity Foundation, AquaQ Analytics, AstraZeneca, Atkins, Automata, Baker Hughes, Ball Corporation, Capital One, Citrix, Dunelm, Educators Wales, JN Bentley, KPMG, London Business School, Matillion, Nestle, Newton, nucleargraduates, PM Group, PPD, PwC, Rolls Royce, The Hut Group, Waters, Welsh Water and Willmott Dixon.
Over the course of the event, attendees and employers had a total of 1,573 conversations, sending 5,455 chat messages, and recorded 349 job applications. During our live presentations, there was a peak audience of 228.
Our attendees were predominately studying computer science followed by biology and data analytics.
The event began with a welcome talk from STEM Women Events Host, Sophie Chadwick. Sophie addressed the audience and gave everyone an introduction to the platform and the exhibitors. She also went through the event agenda and timings for the speaker sessions.
This was followed by a welcome address from our event sponsors, PwC. Laurie Watson, Talent Engagement Senior Associate gave attendees an overview of PwC and the exciting roles and opportunities they have available. She also spoke briefly about the graduate scheme and how to best apply.
Following the welcome talk and presentation, Sophie hosted our insightful panel session with women working in STEM industries. Our panelists were Hong Li from Capital One, Laurie Watson from PwC, Lauren Toure from Ball Corporation, Abbie Murphy from Matillion, Stephanie Turnbull from Waters, and Ellen Wootten from Citrix. During the session we heard some invaluable advice about how to navigate the working world virtually, tips on entering a role that isn't linked to your degree background and the importance of mentors. The panelists also spoke about how they have overcome career doubts and offered advice on interviewing and applications.
Following this, attendees then had a final networking break to chat with employers, apply for jobs and browse company stalls.
At 1.30pm, our employer speaker sessions then began with a presentation from Mary Connors, Director Strategic HR Business Partner EMEA at Ball Corporation. Mary covered who Ball are, what they do and the huge scope of the business. She also explained more about her role and the strong commitment Ball have to diversity and inclusion. She finished her presentation by highlighting the roles and opportunities they have available and how to apply.
Next up we welcomed Anna Jones, Early Careers Recruiter at Capital One. Anna began by explaining who Capital One are, when they were founded, their products and how they partner with big brands globally. She gave attendees an overview of the early years opportunities and went into detail about the two current graduate roles they have open. Anna's session ended with some fascinating myth busting around the financial services industry and STEM as a whole.
We then introduced Stephanie Turnbull, Systems Sales Account Manager at Waters who gave her presentation which was titled 'Sails to sales'. Stephanie spoke about her dream to join the Royal Navy as a Marine Engineer Officer, but following her AS studies, made a career path change and completed a degree in forensic science. She talked honestly about her path through education and how she overcame set backs and rejections from job applications. Stephanie's presentation gave attendees a fantastic insight into her personal journey and how she has developed her successful career.
Karimi Kihato, People Operations Director at Matillion then took over to present her session. She gave a brief introduction to Matillion and the work they do. She then moved on to talk passionately about women in tech, highlighting the need for a more gender balanced workforce in the future. She spoke about her personal career path into technology, the challenges she overcame and how much she enjoys working in the industry. She finished her talk by highlighting to importance of resilience and always being confident in your abilities.
Our penultimate speaker session was presented by Cat White, Senior Associate at PwC. Cat spoke to attendees about her professional journey and how she secured her role at PwC. She covered her experience at university, working in Japan as an English teacher and finally joining PwC on the graduate scheme. Cat explained more about the opportunities available at PwC, what Audit is and what attracted her to the company.
The speaker session ended with a talk from Pauline Mercier, Associate Presales Engineer at Citrix who covered her unique journey into technology. She began by talking about her experience at university, studying her bachelors and masters, followed by how she secured her first internship with a technology company. She highlighted the importance of never giving up on your dream career and gave some invaluable advice for people wanting to start a career in tech without having technical skills.
We are delighted with how our England and Wales Event went, both attendees and employers were keen to offer some great feedback after the event.
Kirsty Duthie, Event Attendee:

"Today I attended my second STEM Women Careers Event. Listening to all the inspiring women talk about their career progression and taking the invaluable advice they have to offer has brightened my day and made me feel excited for the future. I really enjoyed being able to network with a wide variety of companies and getting insight into how I can apply my degree to a range of roles."
We now have just two events left of the autumn season! Next up, will be our UK Engineering Event, followed by our Benelux Region STEM Careers Event. For more information visit www.stemwomenevents.com, follow us on LinkedIn, Twitter and Facebook for event updates.
There are still a few employer spaces left for upcoming events. If you're interested in exhibiting, get in touch with laurenj@stemwomen.co.uk.