Highlights from the STEM Women UK Technology Event, Sponsored by Bloomberg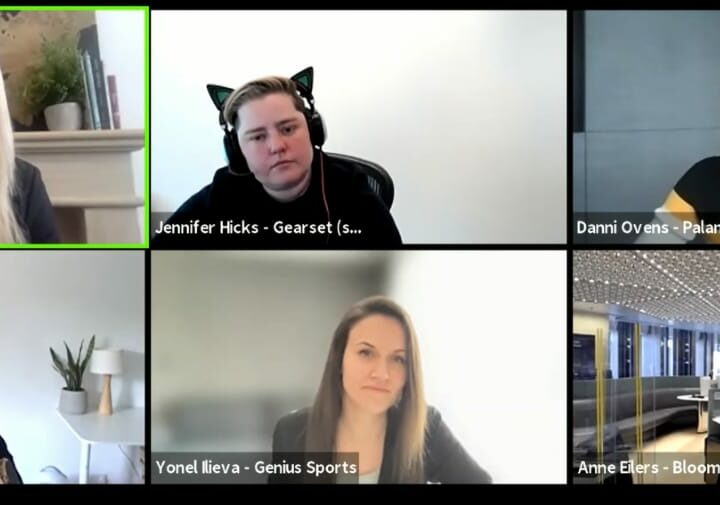 On Wednesday 15th September, we held our second event of the autumn season! This event was for students and recent graduates who were interested in starting their careers in technology, and identified as female or non-binary.
Ahead of the event, we had 940 students and graduates signed up to attend the event, with 521 attendees logging on to the platform on the day.
The attendees were all looking to network with top employers, apply for roles and opportunities, listen to live talks and inspiring panel sessions, and learn more about the application processes.
We welcomed 19 employers, including our event sponsors Bloomberg, along with AND Digital, BAE Systems, Baillie Gifford, BlackRock, Collaborative Solutions, DFT, Focal Point Positioning, GCHQ, MI5, and MI6, Gearset, Genius Sports, Infosys, Jane Street, Kainos, KPMG, Palantir, Publicis Sapient, Softcat and Tessella.
Attendees and employers had 1,164 conversations, sent 5,340 chat messages and during the live presentations we had a peak audience of 311!
Attendees also made 292 job applications over the course of the event, and were mostly studying or had recently graduated from degrees in computer science, followed by data and mathematics.
The event day began with a short welcome talk from Sophie Chadwick, STEM Women Events Manager who went over the agenda for the day and introduced our event sponsor Bloomberg. Taryn Williams delivered an inspiring sponsor's talk, referencing  Sheryl Sandberg's quote "If you're offered a seat of a rocket ship, don't ask what seat"!
Following this, attendees were then invited to join the audience of a panel session featuring women working in technology. The audience could ask live questions to the panel, and upvote those that they found most interesting. The panel was made up of Anne Dodson (DVSA), Yonel Ilieva (Genius Sports), Jennifer Hicks (Gearset), Anne Eilers (Bloomberg) and Danni Ovens (Palantir). The panel debunked myths relating to the tech community, discussed their experiences with imposter syndrome and covered many other fascinating topics.
After the panel session, we had a short networking break, where attendees could browse company stalls, apply for jobs and network with employers.
At 1.30pm our employer speaker sessions began with a presentation from a representative from the security services and this was watched by 250 attendees!
We then welcomed Alexa Jones and Stiliyana Yaneva from Bloomberg at 1:55. Alexa was an attendee at our 2019 Scotland STEM Women event, and she discussed how she successfully applied to Bloomberg! She talked about her first year in the role, describing the many clubs and groups that exist, and how supportive the culture is for new starters.
Next up was Alice Easey from Gearset. She talked about the challenges that she had faced when joining a company as the only female hire in a previous role, and also highlighted how important it is to find a supportive culture such as the one that exists at Gearset. Her authentic talk received a huge number of favourable comments.
At 2.45pm Sophie put questions to Erica Connell and Anna Dodson from DVSA, and Sophie Broady and Kirsty Bennett from DVLA. We heard passionate accounts from all the speakers as the audience heard about their roles, how they got into tech, the barriers facing women who pursue a digital career and why they recommend their employer!
Next was Genius Sports and Yonel Llieva delivered a fascinating presentation. The audience heard about Yonel's career experiences to date, and what she had learnt through studying and working in multiple countries. We then heard about the exciting opportunities at Genius Sports.
And finally, we introduced Shilpa Balaji from Palantir. Shilpa shared her exciting career journey and took questions from the audience at the end. We learnt how important it is to find a company that invests in their employees, and how this is demonstrated in practice by Palantir.
Following this, attendees then had a final networking break to chat with employers, apply for jobs and read through company stalls.
Our technology event was great for both attendees and employers to continue building a gender balanced future of the technology industry in the UK. We had some amazing feedback from our employers and event attendees, highlighting how much they enjoyed the event.
'Virtual stall is excellent and really allows you to bring your organisation to life. We found the chat function easy to use and it nice to have the option to speak live with candidates via video too. We look forward to the next STEM Women event. Thank you!' 
Sophie Burnett, Student Recruitment Assistant Manager at KPMG
Alongside our Technology Event, we are also set to host another 6 events in our autumn season. Next up, we will be hosting our Scotland STEM Careers event, as well as similar events for London, England and Wales, Ireland, and the Benelux Region. We will also be holding an industry specific event for Engineering in October.
For more information visit www.stemwomenevents.com, follow us on LinkedIn, Twitter and Facebook for event updates.
There are still a few employers spaces left for upcoming events. If you're interested in exhibiting, get in touch with laurenj@stemwomen.co.uk.