Meet the Speakers at the Upcoming UK Technology Industry Careers Event, Sponsored by Bloomberg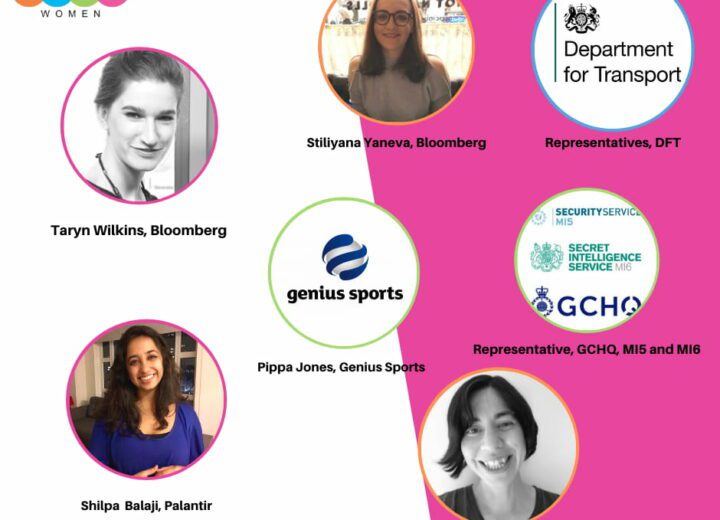 On Wednesday 15th September, we are hosting our UK Technology Industry Careers Event. This event is perfect for students and recent graduates who identify as female or non-binary and are looking to start their career in technology.
As well as live networking, attendees will also have the chance to watch live presentations during the day. These speaker sessions will be presented by representatives from top employers who will cover their personal career journey, what it's like to work at the company and offer attendees invaluable advice on the application and interviewing process.
We caught up with the speakers at our technology event to find out more about them, what they will be covering in their sessions and what they are looking forward to on the event day.
Welcome Talk from STEM Women
The event will start with a welcome talk from STEM Women Event Host, Sophie Chadwick. Sophie will give attendees an overview of the agenda, highlight the company stalls and introduce the sponsor speaker who will address the audience.
"I am so excited to be hosting yet another STEM Women Technology Event on Wednesday, our Technology event is always so inspiring for both employers and attendees. I am really looking forward to chairing the panel session alongside women working in the industry and sharing some invaluable insights."
Welcome talk from Bloomberg
Taryn Wilkins, EMEA Data Manager for Equity Corporate Actions & Capital Markets
Taryn Wilkins from Bloomberg will then present the sponsor welcome talk.
Could you give us a brief description of your role at Bloomberg?
"I am responsible for the Equity Corporate Actions and Capital Markets Data Department within EMEA, with a focus on exploring the opportunities Technology offers in data driven workflows, alongside adding valuing to our clients and products. I am passionate about developing roles, careers and people into higher levels to collectively add value to the business."
What topics can attendee expect to hear from you on the event day?
"I am grateful and excited for the opportunity to provide the opening address for the event. Looking forward to welcoming everyone and sharing some insights on my own career journey."
What are you most looking forward to on the event day?
"Opportunity to hear from so many talented women and looking forward to hearing from graduates around exciting opportunities at Bloomberg! Events such as the STEM Women In Technology enable us to educate candidates on our roles, opportunities and company culture, as well as demystifying the skills and experience we look for. They also play an important role in breaking down barriers brought on by stereotyping and thought patterns, such as imposter syndrome."
A representative from GCHQ, MI5, and MI6
At 1.30pm, our speaker sessions will start with a presentation from a Technical Director from GCHQ, MI5 and MI6.
"Come and talk to us on the day and find out about what it's like to join one of the Intelligence Agencies, the different ways you can apply your skills to keep the UK safe and hear from one of the technical directors who will be sharing insight and highlights from their own career!"
Stiliyana Yaneva, Campus Recruiting Coordinator, Bloomberg
Next up we will welcome Stiliyana from Bloomberg who will be running an employer talk alongside her colleague Alexa Joyce from the Global Data department. The session will explore the culture at Bloomberg, as well as how to be successful in your application with them.
Could you give us a brief description of your role at Bloomberg?
"I am a Campus recruiting coordinator and my role focuses on providing seamless candidate experience and supporting our recruitment efforts at Bloomberg in EMEA."
What are you most looking forward to on the event day?
"I am looking forward to talking to the event attendees and introducing them to Bloomberg and the exciting opportunities we have."
Do you have any tips for attendees ahead of the event?
"I would advise anyone attending to come in with an open mind and not be afraid to ask questions. We will have recruitment and business representatives at our stand so please come in with any questions you might have around our roles, culture and other opportunities!"
Alice Easey, Dev Manager, Gearset
At 2:20pm, Alice from Gearset will sharing her nonlinear career journey, explaining how she got her current role as Dev Manager. Alice will also be offering some helpful advice on things she's learnt during her career so far.
Could you give us a brief description of your role at Gearset?
"I'm the dev manager at Gearset. It's my job to support the teams and make sure they have everything they need to be awesome. A typical day might include coaching a team lead in how to grow/develop one of her team, helping a team align on the most important work, or troubleshooting an issue that is affecting the dev teams."
What are you most looking forward to on the event day?
"Meeting students and recent graduates is always really inspiring – I'm looking forward to hearing the questions and answers at the panel sessions."
Do you have any tips for attendees before or during the day?
"I'd say definitely try and enjoy it as much as possible – don't worry about taking everything in or feeling like you have to network super hard if that's not your bag. Reflecting afterwards on the key points that resonated with you or following up with the people whom you had the best conversations with are definitely worthwhile things to do."
Why is inspiring more women into technology important to you/your company?
"It's well established that companies that encompass a range of backgrounds and experiences have happier workforces and perform more successfully – Gearset is growing really quickly, and we'd love to encourage more women to join us."
Department for Transport
Following this, representatives from the Department for Transport will present an employer session.
Pippa Jones, Director of Project Management, Genius Sports
At 3:10pm, Pippa Jones from Genius Sports will then take over to host a session.
Shilpa Balaji, Product Lead for Foundry, Palantir
Lastly, we will welcome Shilpa Balaji from Palantir. Shilpa will be giving attendees an overview of her career journey, her role at Palantir and the unique company culture.
What topics will you be covering at the event?
"Personal and professional growth, Palantir culture."
What are you looking forward to at the event?
"Meeting so many bright up-and-coming women in technology!"
Do you have any tips to share with attendees ahead of the event?
"You are a multi-dimensional, dynamic individual — don't be so eager to put yourself in a box, be open to new experiences and unexpected sources of growth and learning."​
STEM Women Events
Before our speaker sessions begin, attendees can also watch and ask questions during a live panel discussion with women working in technology.
If you're interested in starting your career in Technology and would like to attend a STEM Women event. Visit www.stemwomenevents.com and register for your free ticket today!
There are also still spaces available for employers looking to exhibit at this event and our upcoming autumn 2021 events. Get in touch with Lauren at laurenj@stemwomen.co.uk for more information.