Highlights from the STEM Women UK Financial Services Event, Sponsored by NatWest Markets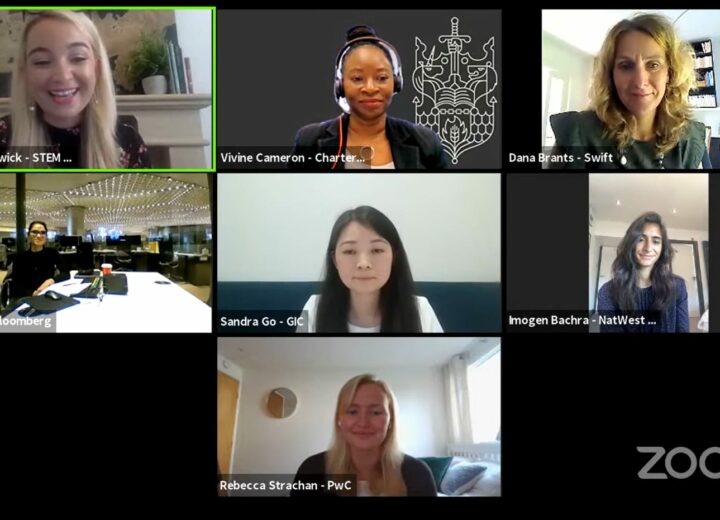 On Tuesday 7th September 2021, we hosted our Financial Services Event for students and recent graduates who identify as female or non-binary. This was our first event of a big autumn season, and we were so excited get started!
We are delighted that over 891 student and recent graduates signed up to the event, with 434 attendees logging on during the day.
There were 11 top exhibitors to network with which included our sponsors NatWest Markets, Baillie Gifford, Barclays, Bloomberg, Chartered Insurance Institute, GIC, Jane Street, London Business School, NFU Mutual, PwC and Swift.
During the day, attendees and employers had 547 conversations, sending 4,069 chat messages. There were also 216 job applications and during the live presentations we had a peak audience of 284.
Our attendees were predominately studying Accounting and Finance degrees, followed by Mathematics, and Business Management.
The event day began with a short welcome talk from Sophie Chadwick, STEM Women Events Manager who went over the agenda for the day and introduced our event sponsor NatWest Markets.
Lucy Grimstead, Managing Director, Head of UK & European Large Corporate FS Sales gave attendees a fascinating overview of her personal career journey, from studying at university, to motherhood and becoming a Managing Director at NatWest.
Following this, attendees were then invited to join the audience of a panel session featuring women working in financial services. The audience could ask live questions to the panel, and upvote those that they found most interesting. The panel was made up of Vivine Cameron from CII, Dana Brants from Swift, Rebecca Strachan from PwC, Sandra Go from GIC, Ishita Jain from Bloomberg and Imogen Bachra from NatWest Markets. We had some great questions, including how to make your application stand out from the crowd, how to go about specialising within financial services, and tips on being confident in an interview. Attendees also heard some interesting insights into some preconceptions about banking and finance, which were debunked by our panelists.
After the panel session, we had a short networking break, where attendees could browse company stalls, apply for jobs and network with employers.
At 1.30pm our employer speaker sessions began with a presentation from Vivine Cameron, Education Partnerships Manager from the Chartered Insurance Institute. Vivine hosted a short panel session with a group of colleagues representing CII. She began the session with an introduction to the company and then introduced the other speakers. Each speaker gave attendees an overview of their career journey and offered some invaluable advice. We heard from Brendan McCafferty, Layal AlHarahsha, Chanelle Pattinson, Melina Golfels, Esther Kimotho, Kerry Burgess and Rowena Hollins.
Next up we welcomed Caroline Haas, Head of Climate and ESG Capital Markets at NatWest Markets. She talked about her career journey in financial services, becoming a mother and how she navigated a return to work after a career break. She highlights her love for her job, and how the climate and ESG market has grown exponentially. Caroline ended her session by giving some fantastic advice on how to get into the financial services industry without a relevant degree or much knowledge of the sector.
We then heard from Rebecca Strachan, Associate at PwC. Rebecca gave attendees a brief overview of her background, from studying at university to securing internships and finally starting her full-time position at PwC. She offered some great advice for attendees currently at university and looking for roles or internships, alongside highlighting some of the amazing opportunities available at the company. Rebecca covered her day-to-day role at PwC and was passionate about all of the society and groups the company offer to its employees.
At 2.45pm, Achint Mann, an Associate HR from GIC delivered her talk. She gave the attendees an in-depth insight into the opportunities that are available at the company, and top tips on how to kick start a career at GIC! Achint began her presentation by talking through GIC are, what they do and where their employees are based.
Next up we welcomed Alissa Garland, Early Years Recruiter at Bloomberg. Alissa began her presentation with an overview of her role at the company and why she is excited to be speaking at the event. She then went into how Bloomberg was founded and explained more about Bloomberg's core product, the Bloomberg terminal. Attendees also learnt more about the business areas Bloomberg cover and the graduate opportunities they can apply for at the company.
And finally, we introduced Rachel Levi, Head of Innovation Engineering at Swift who presented a session which covered her experiences as a woman in Financial Services. Rachel described who Swift are, the work they do and the type of roles they recruit for. She then went into her educational background, her career journey and why she chose Swift.
Following this, attendees then had a final networking break to chat with employers, apply for jobs and read company stalls.
This event was the perfect way to kick start our autumn event season, we couldn't be happier with how our first event went. Both attendees and employers were keen to offer some great feedback after the event.
Nick Mayes from GIC highlighted how happy they were with the event:  

"On behalf of GIC, we wanted to thank you for arranging today's event. From our perspective, it was a fantastic event! We could clearly see the hard work from the team which went in behind the scenes! Thanks again for everything!"
Student attendees

"I want to say thank you for the amazing STEM women event yesterday. It was useful and inspiring to listen to various careers journey stories, and also allowed myself to set a dedicated time to job-hunt."
As well the Financial Services event, we are also hosting a UK Technology Industry Event, A UK Engineering Event and general STEM careers events for London, England and Wales, Scotland, Ireland and the Benelux Region.  For more information visit www.stemwomenevents.com, follow us on LinkedIn, Twitter and Facebook for event updates.
There are still a few employer spaces left for upcoming events. If you're interested in exhibiting, get in touch with laurenj@stemwomen.co.uk.