Highlights from the STEM Women Ireland Technology Careers Event 2021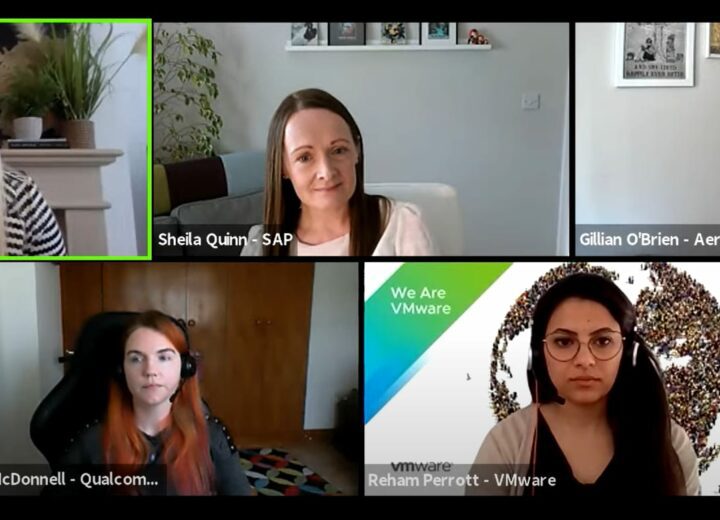 On Wednesday 24th March, we hosted our first technology event for attendees based in Ireland! This event was targeted towards students and recent graduates who identify as female and are interested in starting their careers in the tech industry.
The event was a huge success, we welcomed 370 attendees to virtually network with 11 top companies. Our exhibitors included VMware, Aer Lingus, Qualcomm, Optum (UHG), Amazon, Telnyx, Intel, Avanade, AquaQ Analytics, SAP and Bearing Point.
During the event, attendees and employers had a total of 808 conversations, sending 4,045 chat messages! We also recorded 260 job applications and a peak live presentations audience of 195.
The event began with a welcome talk from Sophie Chadwick, STEM Women Events Manager. Sophie gave attendees a run down of the agenda, introduced them to the platform, the companies and gave some tips on how to get the best out of the event day.
At 12.40pm, attendees were then invited to take part in a Q&A session where they could ask questions to a panel of women working in technology. Our panellists included Sheila Quinn from SAP, Gillian O'Brien from Aer Lingus, Paula McDonnell from Qualcomm and Reham Perrott from VMware. Attendees heard some inspiring career highlights and learnt the importance of putting yourself out of your comfort zone. The panellists spoke about how companies don't expect graduates to know everything straight away and to remember that it is okay to ask for help. Attendees asked some great questions, including what advice the panellists would give to someone who wants to enter the tech industry but doesn't have the strongest background in tech, and the key soft skills you need to succeed!
Following this amazing panel session, attendees were then invited to browse the virtual stalls, watch videos, apply for jobs and network with company representatives via webchat, voice or video call.
At 2pm, the first of our four company insight talks started with a presentation from Kelly Conway, Technical Support Engineer at VMware. Kelly began by telling attendees more about her role at the company and how she secured her job. She then highlighted who VMware are and what her role involves, from troubleshooting to customer relations and responding to queries and concerns. Kelly then spoke to attendees about the onboarding process, which she completed remotely, and described how much she enjoyed the training and her integration within the team.
Next up we enjoyed a speaker session from Rachael Tooher, Group Lead Business Analyst at Aer Lingus. Rachael gave attendees a fascinating insight into her career journey, what a business analyst is and what it's like to work in Aer Lingus tech. She spoke about her path in digital from working as a web designer to web editing, project management and finally becoming a Business Analyst 7 to 8 years ago. Attendees were given some invaluable advice on the importance of keeping their tech skills up to date and always being their own biggest advocate.
Our third speaker session was hosted by Aileen McCabe, a Design Verification Engineer at Qualcomm. Aileen's presentation highlighted her personal journey, what it's like to work at Qualcomm and a guide to the application process. Attendees heard how she graduated with a degree in Electronic Engineering from UCD and began working at Qualcomm around a year and a half ago. She explained how Qualcomm are a global leader in communication technology 5G and that she currently works in the snapdragon team. Aileen ended her session by running through some of the amazing opportunities that the company have available and gave attendees some tips on how to give a good impression at an interview.

Aileen from Qualcomm
Our last speaker session was with Sheila Quinn, Chief Architect at SAP Ireland, who was also on the panel session earlier in the event day. She began by highlighting that she had been working in the IT industry for 20 years now and 18 of those have been at SAP. Sheila covered the background of SAP, the culture and what they do, explaining how the company has many offices across the globe and the huge number of opportunities they have available. She ended her session by describing one of the biggest challenges she faced during her career, how she overcame it, and how it turned into one of her biggest career achievements.
Following the event we had some fantastic feedback:
"I thoroughly enjoyed this event, it was engaging and interesting! It is a brilliant way to network and chat to companies in the Tech industry! It was also so inspiring to hear from women who have found success in STEM fields."
Brooke Flanagan, BA (Hons) in Business, Dublin Business School
"AquaQ Analytics was delighted to take part in the virtual careers event for STEM Women. The platform was easy to navigate, the sourcing tool was particularly useful, and there was a lot of engagement from students wanting to hear more about our opportunities. Overall, it was a great afternoon!"
Lucy-Jane Rankin, Talent Acquisition Specialist
We couldn't be happier with the success of our first technology focused event for Ireland and will be sure to run a similar evet in future! Next up, we are hosting a Technology sector-specific event for companies and attendees based in the UK and a general STEM careers graduate event in June.  For more information, visit our events page and follow us on LinkedIn, Twitter and Facebook for updates.
There are still spaces left for employers for our upcoming events, if you're interested in exhibiting, get in touch with laurenj@stemwomen.co.uk.