Highlights from the STEM Women Career Skills and Networking Event sponsored by Bloomberg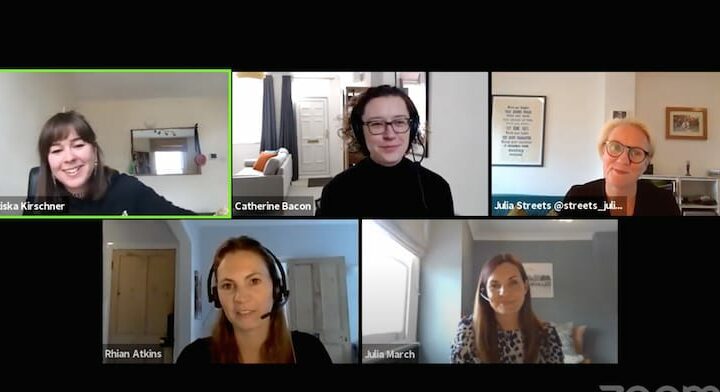 On Tuesday 29th September, we hosted our very first  career skills and networking event for early years professionals working in technology. Sponsored by Bloomberg, the event focused on 'career advancement' and allowed attendees to network with a range of top tech employers, and hear insightful talks from industry speaker, career coaches and panellists.
We welcomed women looking to progress their career within the technology industry and 10 companies including Bloomberg, Gearset, Altius Data, Tractable, Willmott Dixon, BAE Systems, Tessella, Gamsys, Gymshark and Abbott. Attendees were invited to network with company reps using webchat, voice or video call, we reached a total of 178 conversations, 1,595 chat messages and 64  job applications!
Over the course of the event, attendees were invited to join the live audience for a number of speaker sessions. These sessions began with an insightful talk from Linn O'Connor, EMEA Head of Global Data at Bloomberg who gave an overview of the company, their core values and the importance they place on having a gender balanced workforce. She spoke about how data has transformed the world we live in, her personal career path and trajectory, plus some key tips for attendees looking to move up in their company.
This was followed by an amazing keynote speech from event host and fintech champion Julia Streets. Her inspiring talk began with her personal career journey, from starting in secretarial college and learning to touch type, to working for one of the largest Stock Exchange companies in the world, having a stint as a stand-up comedian, and finally becoming the founder and CEO of her own tech company. Her speech highlighted the importance of saying yes to new and exciting opportunities, becoming a good risk taker and how always being 'present' can help you to succeed faster.
We then hosted a series of speaker sessions with women working in tech, or recruiting for technology roles. These sessions began with a presentation from Catherine Bacon, a Software Engineer at Gearset. Her talk was entitled "From chemistry to coding: how I switched from lab to leet" and gave attendees an honest account of how she struggled to find a role she enjoyed after leaving university. She explained how she decided to take a step back, reassess and retrain, learning to code as an intern at the age of 30.
Jese Navaranjan, a Senior Power Platform Consultant at Altius Data then took to the virtual stage to guide attendees through her career journey from studying Morse at Warwick University, to securing her role at Altius. Her presentation was powered using a new software she currently works on called Power Apps, which gave the audience a technical look at how this kind of platform works. She also answered some questions from the audience, including the best ways to get a job in power BI with little to no experience.
Next up was Alissa Garland from the Recruitment Team at Bloomberg. Her talk was focused more on the roles that are available at Bloomberg and what it's like to work for the company. She talked about the Bloomberg Philanthropy programme and the vast number of societies and communities the company champion, including the Women's Communities.
Following Alissa was a presentation from Georgie Steele (Junior Software Engineer), Franziska Kirschner (Research Lead) and Emma Matsubara (Senior Software Engineer) at Tractable. Their presentation covered who Tractable are, and their roles within the company. They explained that Tractable have developed an AI application that enables people to take pictures of their car following an accident, visual AI will then analyse the damage and will either approve for repair or decline within minutes!
At 4pm the attendees then enjoyed a panel discussion featuring Catherine Bacon from Gearset, Rhian Atkins from Altius, Julia March from Bloomberg and Fran Kirschner from Tractable. The session was hosted by Julia Streets and focused on 'how to accelerate your career.' The panellists spoke about a range of topics from career path and highlights, to the best ways to move up the ladder and transition into leadership roles, and the myths surrounding what mentors 'look like' and how to find them.
Our event drew to a close with a final skills session with Executive Leadership Coach, Sarah Perugia. Her session gave attendees some invaluable advice and tips on how to present with impact and purpose in a virtual environment. She covered how to implement strategic thinking, manage your mind by thinking positive and confident thoughts and how to use body language to your advantage.
One attendees highlighted how she found the event –
"I loved the event and found it profoundly useful in understanding how to develop and succeed in business. It also made me understand that if I wanted to shift into a different role, sector or industry that there is capacity to do so. I'd like to say a massive thank you to every speaker who took time out of their day to give back and impact my career for the better."
Alongside our Technology Professionals Event, we are also hosting general STEM careers events from student and graduates in targeted regions across the UK, Ireland and Europe. For more information, visit our events page and follow us on LinkedIn, Twitter and Facebook for updates.
There are still spaces left for employers for our upcoming events, If you're interested in exhibiting, get in touch with laurenj@stemwomen.co.uk.