Introducing the Sponsor and Speakers at the STEM Women Virtual Technology Professionals Career Skills and Networking Event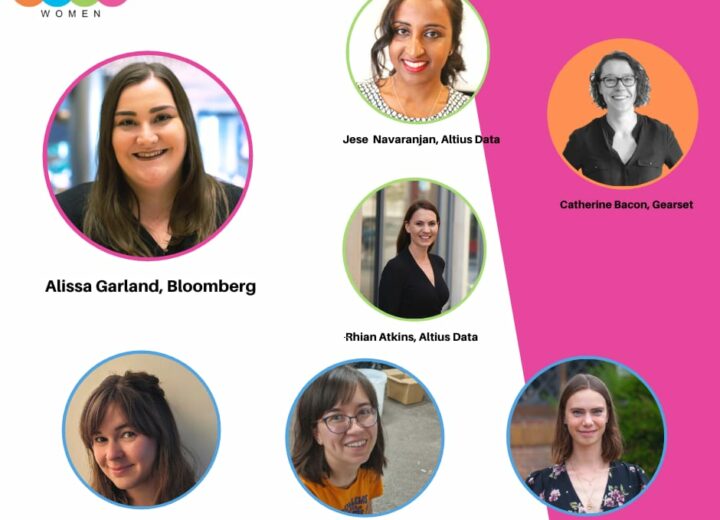 We are so excited to host our first Technology focused event for early years professionals on 29th September. The theme of this event is "Career Advancement" and will feature a range of insightful industry speakers, career coaches and panelists who will address how women can progress their career during this period of uncertainty and remote working.
Sponsored by Bloomberg, this event will be hosted by Julia Streets, a champion of fintech and female entrepreneurship, you can read more about her here. Alongside Julia, we have also invited a range of companies from the technology industry to share their personal career journeys and offer advice to attendees.
Ahead of the event, we caught up with some of the women taking part in the speaker sessions to give you a little preview of what to expect!
Sponsor
Bloomberg
We are proud to welcome Bloomberg as our event sponsor. There will be a representative from Bloomberg participating in the welcome talk, delivering a talk at 3pm and taking part in our panel discussion.
Speakers
After attendees have enjoyed the welcome talk, keynote speech and began networking, our speaker session will start with Catherine from Gearset at 2.20pm. Her talk will focus on her transition from chemistry to coding, how she switched from lab to leet.
What are you most looking forward to on the event day?
"Talking with other women in tech!"
What do you like most about your role?
"It's just the right balance of problem solving and creativity."
Why do you think getting more women working in technology is important?
"Getting many different types of people from many different backgrounds into the industry is important. If it's always the same type of people who think in similar ways stuff starts to get dull fast and you end up trying to solve the same sort of problems in the same sort of ways."
Do you have any tips for attendees before the event?
"Only general advice, to listen, ask questions and talk to as many people as you can (which is tough if you're an introvert like me)."
What you've learnt during the pandemic?
"Connections with your colleagues are really important. I've missed all the little interactions you have throughout the day. It's more effort to have a quick 5-minute chat, but it's worth it."
Altius Data
Jese Navaranjan, Senior Power Platform Consultant
Following Catherine, we will welcome Jese from Altius Data. She will be covering her professional journey to becoming a Senior Power BI Specialist and giving some insights along the way.
What can attendees expect to hear from you on the day?
"I will be exploring my field of work "The Microsoft Power Platform" and will be showing this all on a custom application which I built!"
What are you most looking forward to on the event day?
"I am most looking forward to meeting talented woman and learning about all the similarities and differences we all have and hopefully inspiring someone."
Why do you think getting more women working in technology is important?
"Women need to work in technology, as we are massively under represented. In a modern society, the fact that I am often the only woman in a room, when in a professional context is shocking, and needs to change for the better for the next generations."
Do you have any tips for attendees before the event?
"Keep an open mind, and be keen to learn, both professionally and from a personal development viewpoint."
Don't miss Jese's talk which will begin at 2.40pm.
You can also hear from Rhian Atkins, Client Director at Altius Data. She will be taking part in the panel session at 4pm! With plenty of professional experience within tech, don't miss out on Rhian covering the best ways to accelerate your career and offering some top tips to attendees on how to get ahead!
Next up we have an insightful talk from Bloomberg representative Alissa, starting at 3pm. As headline sponsor, Bloomberg will be taking part in a range of talks throughout the day. Alissa's speaker session will be entitled: "Discover Bloomberg. An insight into our company and roles."
What are you most looking forward to on the event day?
"I am really looking forward to networking with many talented women and introducing them to or teaching them more about Bloomberg."
What do you love about your role or company?
"I love working for Bloomberg as we have a wonderful culture and great colleagues! In terms of my role, working in entry-level recruitment means I get to meet lots of amazing students and recent graduates and help them to make important decisions regarding their career."
Why do you think getting more women working in technology is important?
"I think equal representation among all sectors and industries is very important. I also know that diversity makes sense from a business perspective as different people from different backgrounds come to the table with different ideas and that helps us innovate and ensure we stay the market leader we are today. All diversity is very important to me personally and to us as a business, gender is just one facet of this!"
Do you have any tips for attendees before the event?
"Ask questions and be curious! Don't go into the event with any expectations, get to know all the employers exhibiting and maybe you will end up learning about roles and opportunities you never expected!"
Tractable
Fran Kirschner, Research Lead, Emma Matsubara, Senior Software Developer and Georgina Steele, Junior Software Developer
The speaker sessions will end with a talk from Tractable at 3.20pm. Fran, Emma and Georgina will all present an insight into what it's like to work for a cutting-edge AI scale-up.
What type of topics can attendees expect to hear from you on the event day?
"Fran, our Research Lead, will be talking about how she spearheads Tractable's mission to apply AI and deep learning to solve real-world problems and help the world recover quicker from accidents and disasters.
Emma, a Senior Software Developer, will discuss the challenging technical problems she gets to solve at Tractable and what it's like to be an engineer at a top AI company.
And Georgina, a Junior Software Developer, will be speaking on why she decided to switch from a career as an engineer in Formula 1 to come and join our team at Tractable."
What do you like most about your role and company?
Fran: It's super dynamic and fast moving, so I can pick up new skills quickly and never get bored.
Emma: I'm given the autonomy and trust to solve problems and grow rapidly as an engineer.
Georgie: I'm constantly learning and being challenged to reach my full potential. It's great to work with such supportive, friendly and hugely intelligent people.
Why do you think getting more women working in technology is important?
Fran: It's cool and really impactful. Working in tech involves solving a lot of humanity's most complex and important problems.
Emma: It's a fun and great career – I don't want women missing out on that because they feel they might not fit in.
Georgie: Having worked in two very male dominated industries, it's always been a subject close to my heart. Having a greater female representation means that young girls will be able to have role models to look up to that have similar interests to them. It's incredibly valuable and empowering.
Do you have any tips for attendees before the event?
Fran: Prepare to talk to as many people as possible and ask as many questions as you can.
Emma: Think about what your own priorities are for choosing a career/workplace and think of questions that will help you gain that insight.
Georgie: Engage with the speakers and don't be afraid to contact them afterwards to ask more questions – this is such a great way to form connections.
What you've learnt during the pandemic?
Fran: Japanese! (obvs I'm still very much a beginner)
Emma: I've learnt to deep-fry.
Georgie: Having started a new career over lockdown, I've learnt the power of building my network and connecting with like-minded people. I also learnt to forage!
Fran will also be taking part in the panel session at 4pm.
We are so excited to welcome all of these wonderful women to our event this Tuesday. Alongside our event sponsor and speakers, Willmott Dixon, BAE Systems, Tessella, Gamesys, Gymshark and Abbott will also be exhibiting.
There will also be a keynote speech from Julia Streets on fintech and female entrepreneurship, innovation, equality, diversity and inclusion at 1.30pm and a panel session at 3pm focusing on 'How to accelerate your career – Tips from senior leaders and hiring managers". Hosted by Julia Streets, with representatives from Altius Data, Gearset, Tractable and Bloomberg.
Sarah Perugia, Leadership Coach will then host a skills session on "How to present yourself with impact and purpose in a virtual environment".
There are plenty of great presentations and sessions going on throughout the event, so don't miss out!
If you're currently working in technology and are looking to advance your career, there are still tickets available. Visit www.stemwomenevents.com to register for your free ticket today!
There are also still a few spaces available for employers looking to exhibit at this event. Get in touch with Lauren at laurenj@stemwomen.co.uk for more information.