Highlights from our UK Hybrid STEM Careers Event – Our Biggest Careers Event Ever!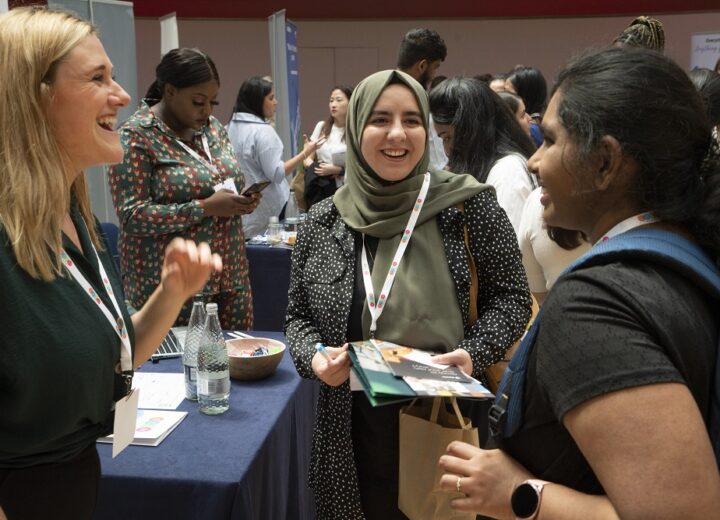 On Wednesday 22nd June, we ran our very first Hybrid STEM Careers Event! Taking place both online and in the Congress Centre in London, this was the first event we have hosted with an in-person element since 2019!
We signed up a staggering 2,132 students and recent graduates to this event, and welcomed 40 top employers, making it our largest event to date. It was fantastic to see employers and students back networking face-to-face in this grand venue, and we heard some truly inspiring presentations from employers presenting on stage.
As noon approached, attendees began to arrive at the venue, eager to get a good spot in our theatre for the welcome talk and first set of speaker sessions.
Speaker Session One
The event began in the theatre with an introduction from STEM Women Events Manager, Sophie Chadwick, which was streamed live onto our events platform for attendees watching at home. This was followed by a video highlighting the experiences of graduates and apprentices at the intelligence agencies (MI5, MI6 and GCHQ).
Our next speaker was Hannah Hawken, and she discussed her career at Darktrace. Hannah introduced self-learning AI to our audience and highlighted how inspiring it is to work in a company that is led by a female CEO and CFO. This talk was followed by Dr Sarah Schlobohm, Head of AI at Kubrick. Sarah described her move from academia into industry and gave an overview of her career to date. She also provided practical advice to the audience, including the need to use parallel structure on a CV and why it is important to highlight your best achievements in the first and final bullet points.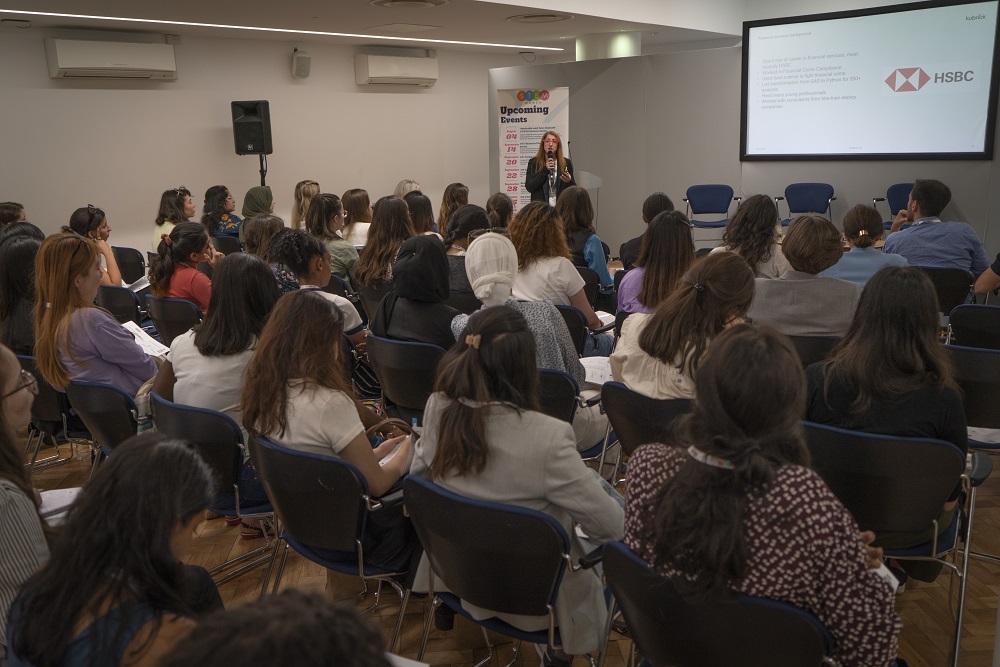 Networking
After the talks had finished, the students all filtered into the large networking hall which was populated with company banners, free goodies, leaflets and employers waiting to start discussions and offer advice to prospective candidates. Attendees and employers taking part in the online part of the event began their webchats and one to one video chats. This resulted in 1,936 "online" conversations, 5,723 "chat messages" and countless face-to-face encounters within the venue!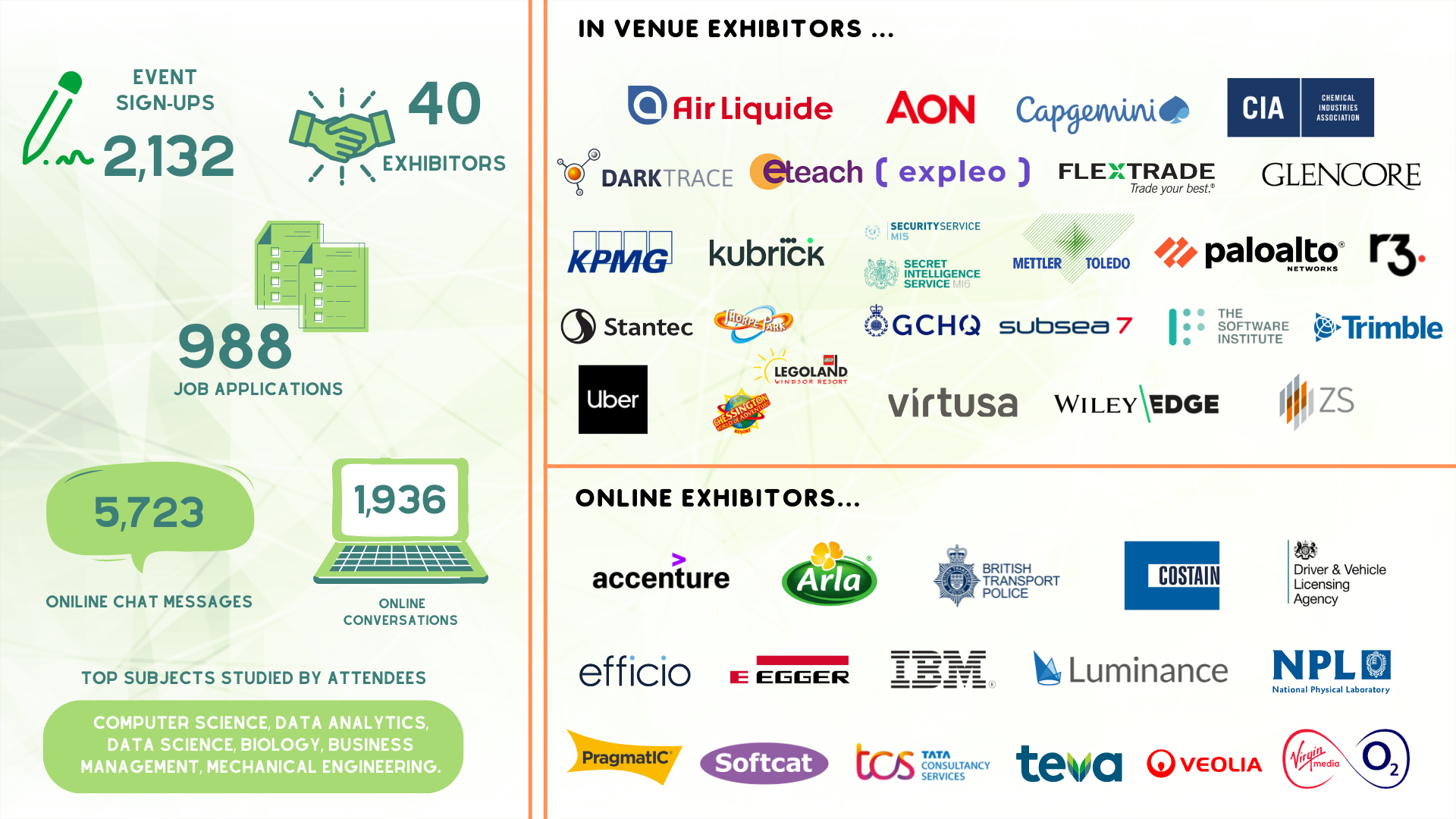 Zoom Speaker Sessions
There were three speakers who were unable to deliver their talks in person due to the train strikes that impacted services travelling into London on our event day. Fortunately, we were able to create a separate Zoom session that was shown on screens within the event venue and streamed live to our online audience.
Emma Ainsworth from Air Liquide described her 26 year experience within the scientific sector. She described her career to date and how she overcame challenges (including the closure of a facility). Emma passed on practical advice to students and highlighted the global career opportunities within Air Liquide.  Rachael Odell introduced Mettler Toledo, a global manufacturer of precision equipment and services. She has enjoyed a 15 year career within the company and sits on the senior leadership team alongside three female colleagues. Rachael described how her STEM background has benefitted her career and how there are no limitations on what the current audience can achieve! Suzy Styles, representing Capgemini, delivered the final Zoom talk. She introduced the many roles on offer within the business and described the application process. Suzy passed on tips, including the need to focus on a strong application form and to practice digital interviews!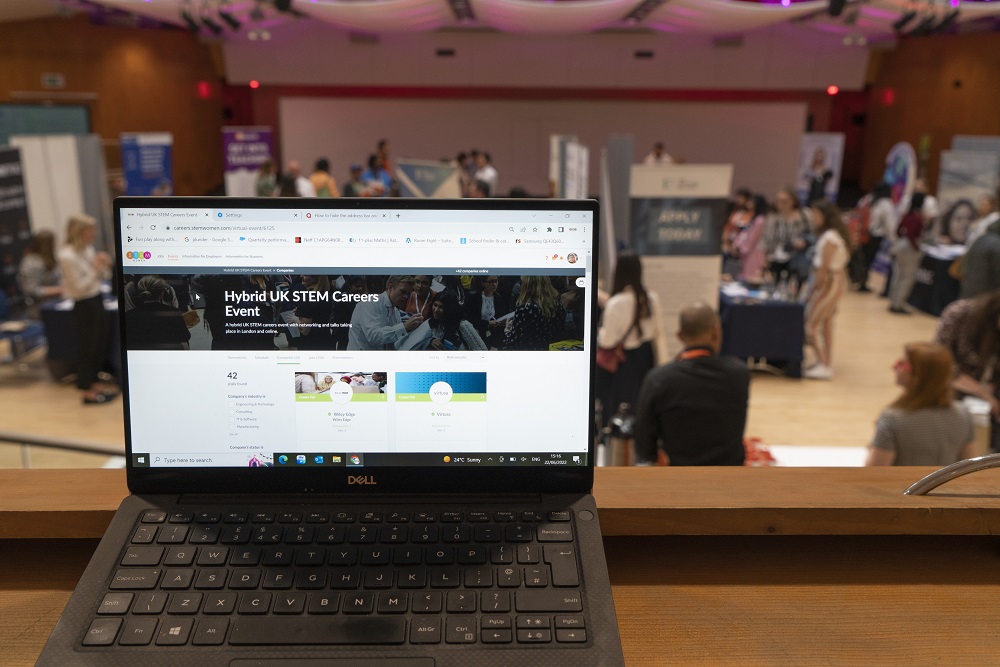 Speaker Session Two
At 2pm the second speaker sessions began in the theatre and in the 'Live Presentations' area of the event platform. We heard talks from KPMG, Virtusa and eTeach, followed by a Q&A with the representatives.
Ambreen Sheikh from KPMG discussed her career and told the story of women in tech, showing the historical reasons behind gender imbalances. Ambreen finished with a passionate plea for the audience to tell themselves the right story and to believe in themselves. Abhijit Deb from Virtusa delivered the next talk, highlighting the potential of technology and the need for diversity of thought. Abhijit passed on practical advice to students and highlighted the current importance of technology within the financial services industry. The final speaker of the day was Chantal Dos Santos from eTeach. She described her passion for teaching and the need for teachers with STEM expertise, especially within high schools. Chantal also highlighted the various management and senior leadership opportunities available within the teaching profession.
Final Networking
The event ended with a final networking session in the venue and online, where students were encouraged to find out more about the exhibiting companies and apply for roles on the platform! During the event, attendees made 988 job applications!
Amazing Feedback
This was one of our best events yet, with a record number of attendee and employer sign ups. We were delighted to return to the Congress Centre and get back to hosting in-person events, there was a great atmosphere throughout the day!
We are so proud to be introducing even more STEM students to inspirational employers.
"Fantastic event. It was so great to speak to so many passionate young women about our graduate roles in data and tech!" – Sarah Collins, Kubrick
"Super successful – it gave us the opportunity to engage with some brilliant graduates and talk to them about opportunities they may not have felt qualified to apply to". Employer representative from R3.
STEM Women Events
We are running a number of events throughout 2022. Next up we have our Australia and New Zealand event on 4th August 2022, followed by our autumn event season. For more information visit www.careers.stemwomen.com, and follow us on LinkedIn, Instagram, Twitter and Facebook for event updates.
If you're interested in exhibiting at an upcoming event, please don't hesitate to get in touch with Event Sales Manager, Lauren Jenkins by emailing laurenj@stemwomen.com.