Get your free ticket for the Exclusive VMware Insight Event!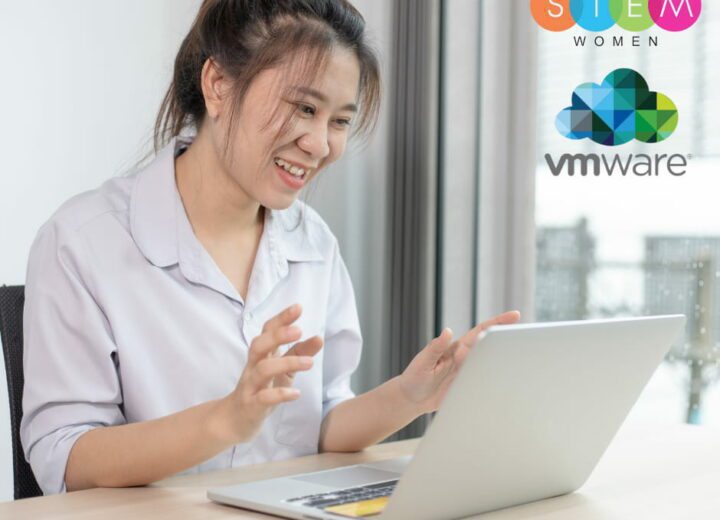 On Wednesday 26th January, we are teaming up with VMware to run an exclusive insight event that will introduce German speaking STEM students to exciting opportunities at VMware!
This unique event will take place on our virtual event platform and will run from 11am – 2.30pm CET. Attendees will gain exclusive access to live presentations from representatives at VMware, be able to ask their questions during a panel discussion and network 1-1 with the team from VMware.
So, if you're a German speaker and are passionate about starting your career at an exciting and innovative tech company, register today! www.stemwomenevents.com/events/5601
The event agenda
11am – 11:10am Welcome talk.
11:10 – 11:40am Live talk: Uta Haller – EMEA Director – "Growth Mindset".
11:45 – 12:15pm Live talk: Stephan Koch – Senior Consultant – "Help us save the world! Be a superhero".
12:20 – 12:50pm Live talk: Ronke Babajide – Lead Solutions Engineer "Speed Up your career – avoid typical stumbling blocks."
12:50 – 1pm Comfort break.
1:00 – 1:45pm Panel discussion and open Q&A!
1:50 – 2:20pm Breakout sessions: chat 1-1 with the recruitment team at VMware!
 2:20 – 2:30pm Closing comments.
2:30pm Event ends
This event has a limited number of places available, so register today to avoid disappointment. You can also follow along with the event on social media with the hashtag #swvmware22
About VMware
VMware offers a breadth of digital solutions that powers apps, services, and experiences which enable organizations to deliver the best customer service and empower employees.
The company was founded in 1998, and ever since then they have been behind the technology innovations transforming entire industries, from banking, healthcare, and government to retail, telecommunications, manufacturing, and transportation.
Every day, they work to solve their customers' toughest challenges through disruptive technologies like edge computing, artificial intelligence, blockchain, machine learning, Kubernetes and more–to define the digital foundation that will accelerate the next wave of innovation.
STEM Women Events
If you're interested in starting your career with VMware or finding out more about the company and opportunities available, register your interest here.  This is a truly unique opportunity, with limited spaces available, so please register for your place today!
Interested in hosting your own bespoke insight event? Get in touch with us and find out more by emailing info@stemwomen.com.
We have previously hosted insight events for Bloomberg, Assystem, Jane Street, and Graphcore, Check out their case studies to find out more.