Event Review – Dublin STEM Women Graduate Careers Event – 1st November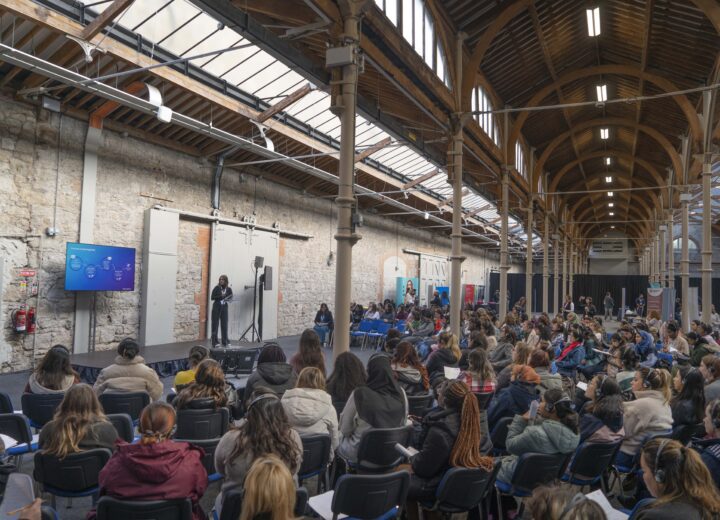 On Wednesday 1st November, STEM Women hosted the Dublin STEM Women Graduate Careers Event. The event attracted 37 exhibiting employers and 400 student and graduate attendees.
Attendees were able to network with employers from a wide range of STEM-related industries, including data engineering, digital healthcare, cloud technology, renewable energy, and construction to name just a few.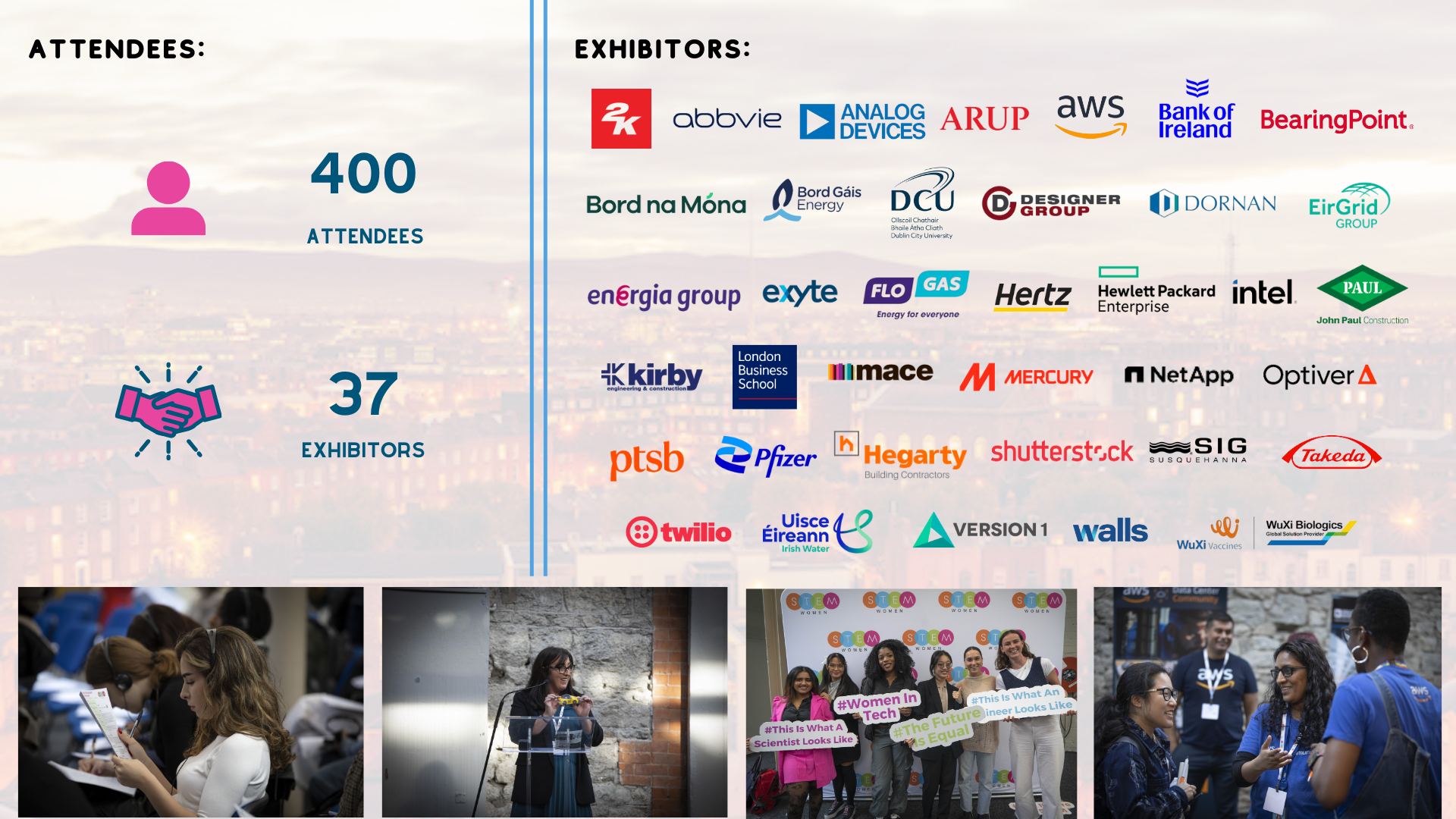 There was a fantastic atmosphere throughout the event, with student and graduates building their professional networks and exploring opportunities.
Exhibitors included:
Abbvie
Bearing Point
Exyte
Netapp
2K Games
Analog Devices
Arup
AWS
Bank of Ireland
Bord Na Mona
Bordgais
Designer Group
Dornan Group
Dublin City University
EirGrid
Energia Group
Flogas
Hertz
HPE
Intel
John Paul Construction
Kirby Group
London Business School
Mace Group
Mercury Engineering
Optiver
Permanent TSB
Pfizer
PJ Hegarty
Shutterstock
SIG
Takeda
Twilio
Uisce Éireann
Version 1
Walls
WuXi Biologics & WuXi Vaccines
The First Speaker Session
The event began with a welcome from STEM Women. We then heard a fascinating insight talk from Emily Burke at 2K Games who described a typical day at 2K Games, the global opportunities they have available and the many benefits of working for the organisation.
Emily was followed by Ellen Whelan from Bearing Point, who spoke about the skills required to become a great consultant, and Georgina O'Leary from Hertz, who focussed on the importance of workplace culture.
The Second Speaker Session
In the second speaker session we heard from Anna Malogulko from Shutterstock. Anna spoke about her journey into tech, despite not coming from a tech background. Next, Kelly Derby and Valeria Frischknecht from NetApp offered a fascinating perspective on how the company invests in DE&I and has a structured Early Careers Program.
Finally, Elizabeth Taiwo described the professional development opportunities available at London Business School.
Each of the speakers shared tips and guidance with the audience, emphasising the need to find an organisation which makes you excited to get up for work in the morning!
Panel discussion with Twilio
In this bespoke session, Lateefat Olajide & Temitayo Ayeni from software company, Twilio, helped the audience to reframe a fear of failure. They highlighted that, instead of looking at ways to avoid failing, we should actually be excited to fail, as this 'redirection' can help you to find your path.
Throughout the sessions, the attendees were encouraged to chat and connect with as many people as possible – and we certainly saw them putting this advice into action as this spectacular venue was buzzing with conversation all afternoon!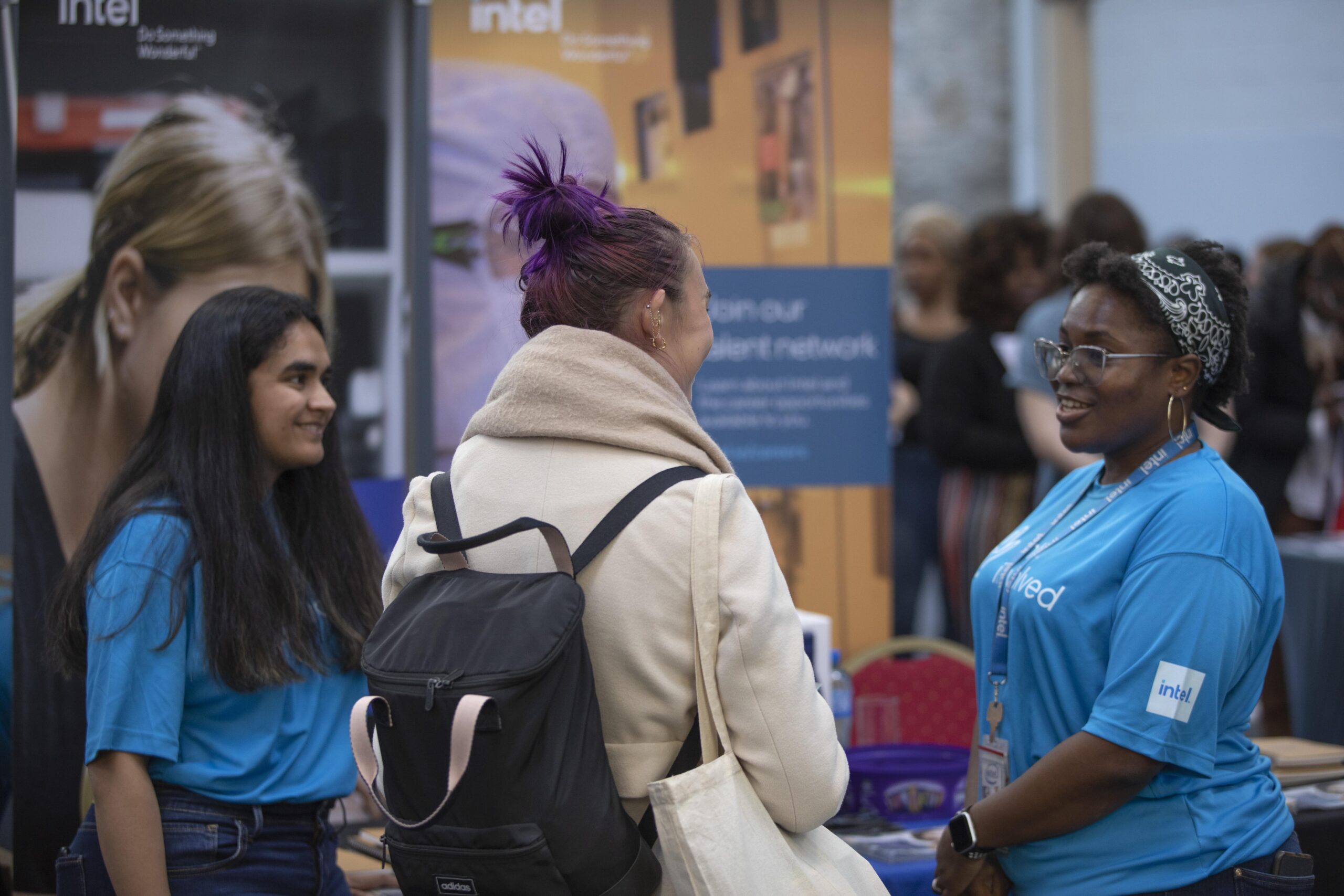 Join us at a STEM Women Event
We host a range of STEM recruitment and networking event each year.
If you're a student looking to register for your free ticket, take a look at our upcoming events – www.stemwomen.com/events and follow us on LinkedIn, Instagram, Facebook and X for event updates.
If you're an employer interested in exhibiting at an upcoming event, please don't hesitate to get in touch with Event Sales Manager, Lauren Jenkins, by emailing laurenj@stemwomen.com or visit our website www.stemwomen.com