Top 10 Benefits of Moving Graduate Careers Events Online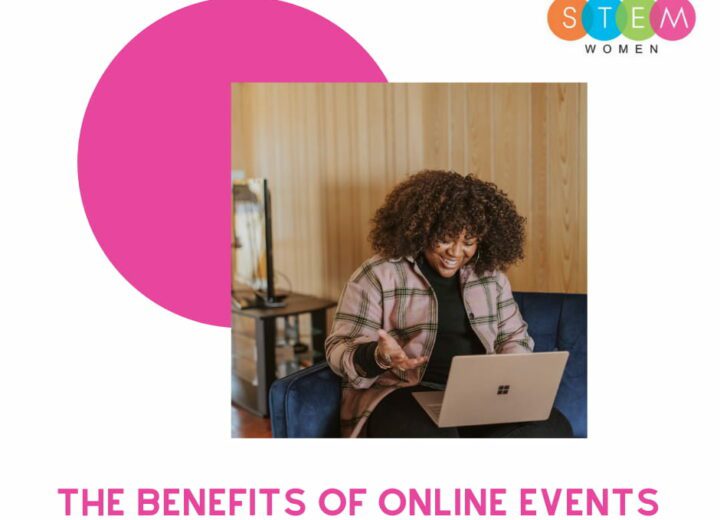 At STEM Women, we have been hosting events for STEM students and graduates since 2018, introducing over 10,000 female students to graduate employers in the UK, Ireland and the Netherlands! In autumn 2020, we made the switch to virtual and hosted 10 successful online events on an innovative platform.
Making the switch from face-to-face to virtual came with its challenges, but we learnt so much along the way, including some of the great benefits that come from this new style of event.
We've put together a guide to some of the top benefits of exhibiting at a STEM Women virtual event.
Higher Attendee Numbers at Regional Events
We have held regional careers events during autumn 2018, 2019 and repeated this approach in 2020. Prior to 2020, we had to select a venue city for each regional event, and inevitably a high proportion of students studying in the chosen city attended the event. Our online events ensured that we attracted attendees from across entire regions in more equal numbers. By way of an example, our Scottish event is historically held in Edinburgh, but the move online ensured that we had a high number of attendees based in Glasgow, Aberdeen, St Andrews, Edinburgh and other Scottish cities. This led to an increased number of total attendees, from 160 in 2019 to 454 in 2020.  This trend was repeated across our other events, demonstrating that our online events are more accessible and result in higher student numbers.
Our Sourcing Feature – enabling exhibitors to initiate a chat!
Our innovative STEM Women platform allows companies to target specific event attendees using the sourcing feature. This popular tool enables recruiters to search for potential candidates who are active during the fair by filtering course, graduation date, university, and more. When employers find suitable candidates, they are then able to reach out to them to begin a webchat, voice or video call. This is the perfect way to ensure that exhibitors reach all the very best candidates at the event, without the worry of them walking past their stand!
"We were able to have more in-depth conversations with people as we could manage multiple chats at any one time. We were also able to reach out to students who we felt were a good match for us (based on their profile) which you wouldn't be able to do face to face."
Exhibitor at STEM Women Financial Services Event, September 2020
Post Jobs – receive applications on an event day!
Companies exhibiting at a STEM Women event can post vacancies in a searchable, "live job" section. This is in addition to managing their own virtual stand featuring information, videos and resources. The job section enables attendees to actively view live roles available to them during the event and apply. Our 2020 online events saw candidates applying for roles throughout the day as they browsed company stands. This means employers can expect to see instant applications and measurable results on an event day.
Availability of speakers and company representatives
For companies on the speaker or sponsor packages, virtual events can be perfect for busy staff members or senior leaders who simply wouldn't have time to travel and spend the whole day away from their desk. Having inspirational female leaders speak at a STEM Women event has proven to hugely benefit companies and attendees. Strong female role models can have a hugely positive effect on encouraging more women to enter STEM roles.
Employers on the premium, speaker and sponsor packages are welcome to have an unlimited number of staff manning their virtual stand, which can really help companies rotate staff and ensure they have the optimum number of staff to network with all the relevant candidates throughout the afternoon. Representatives can also have multiple chats live at one time, meaning employers can be much more economical with their time on an event day.

Panel session at our Ireland 2020 Virtual Event 
Review attendee CVs during webchats
One of the best benefits of virtual events is the tool that allows recruiters to review the CVs of potential candidates whilst they are chatting to them. This allows employers to quickly determine whether they are suitable for their roles by viewing their experience, graduation year and course. This experience works both ways, as students have an opportunity to find out about a company before initiating a webchat.
"Worked really well, almost better as you could review CV of person chatting to which you wouldn't be able to do face to face. Also, you were engaging with people genuinely interested in the role."
National Grid – South West and South Coast England, and South Wales Event
Save money
The virtual aspect of the event means that there is no need to employers to spend money on travelling, hotels and kitting out their stalls with brochures, pens and other gadgets. At STEM Women we have also been able to lower our costs, and this has resulted in lower exhibitor package prices. This budget can be saved and used towards a larger recruitment drive!
Save time   
As there is no travelling time or overnight stays, our virtual events help staff make the very best use of their time. Speakers, recruiters or panellists will only have to block out a couple of hours in their day to dedicate to the event, but they will still reap the same benefits.
Keep a record of chat history
Our platform also allows employers to keep a record of previous chat history to share with the rest of their team afterwards. This can be hugely beneficial for post-event meetings and candidate screening, as employers can look back on what questions the attendee asked and what experience they had, to jog recruiter's memory.
"Loved it! Was able to connect with lots of people and being able to download the chat data post event was really valuable."
Alacrity – Technology Graduate Event 2020
Assign chats to team members
When an event attendee initiates a chat, employer representatives are given the option to assign certain chats to certain members of staff, based on the student's comments, bio or CV. This way, attendees will always be talking to the correct member of the team, and webchats can run smoothly with students speaking to relevant recruiters or event hiring managers from within the business.
Decide who you promote to a voice or video call
During our online event, employers can choose to 'upgrade' certain attendees to a voice or video call if they would like to conduct more of an interview-style correspondence. This can be invaluable as recruiters can manage general enquiries via webchat, but then initiate a video call and spend longer chatting to selected students from target courses.
STEM Women Events
We hope this has highlighted some of the amazing benefits that come from virtual events. But, of course, face-to-face events still offer something truly unique to many companies and attendees. In the future, we hope to offer a combination of these two event styles, to meet everyone's needs.
We are proud to continue to introduce inspiring STEM employers to female STEM students and graduates. Our events have already led to hundreds of students finding internships, work placements and permanent graduate jobs. Each year we receive glowing feedback from both employers and students highlighting our innovative approach and effectiveness at facilitating meaningful networking.
If you are an employer interested in exhibiting at one of our events, get in touch with Lauren Jenkins laurenj@stemwomen.co.uk or request a demo on the virtual platform.
Check out our 2021 event listings here.