Meet the speakers – Manchester STEM Women Graduate Careers Event – Wednesday 18th October 2023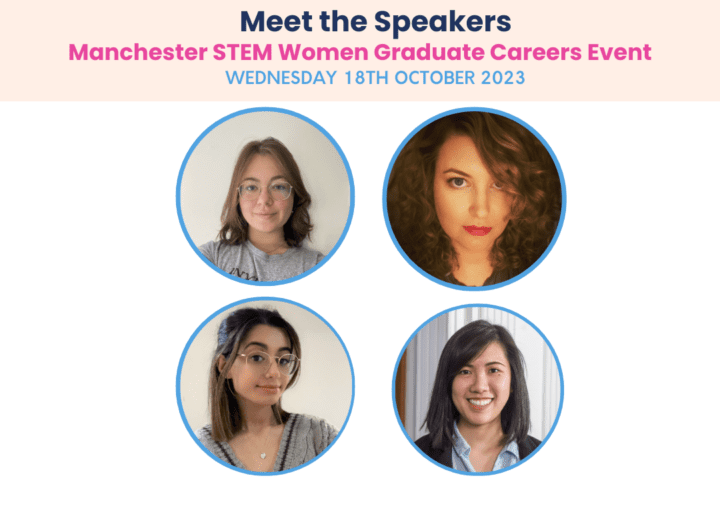 On Wednesday 18thth October, we are excited to welcome hundreds of students and recent graduates to the Manchester STEM Women Graduate Careers event, sponsored by LANXESS.
This event is perfect for students and graduates studying a STEM (science, technology, engineering, or mathematics) related course.
We'll have 26 exhibiting employers taking part in the event. Five companies will also be delivering live presentations, and representatives will share their tips and insights in a panel discussion.
At 12.00pm the event will begin, with attendees able to register and head to the theatre space for the first speaker session.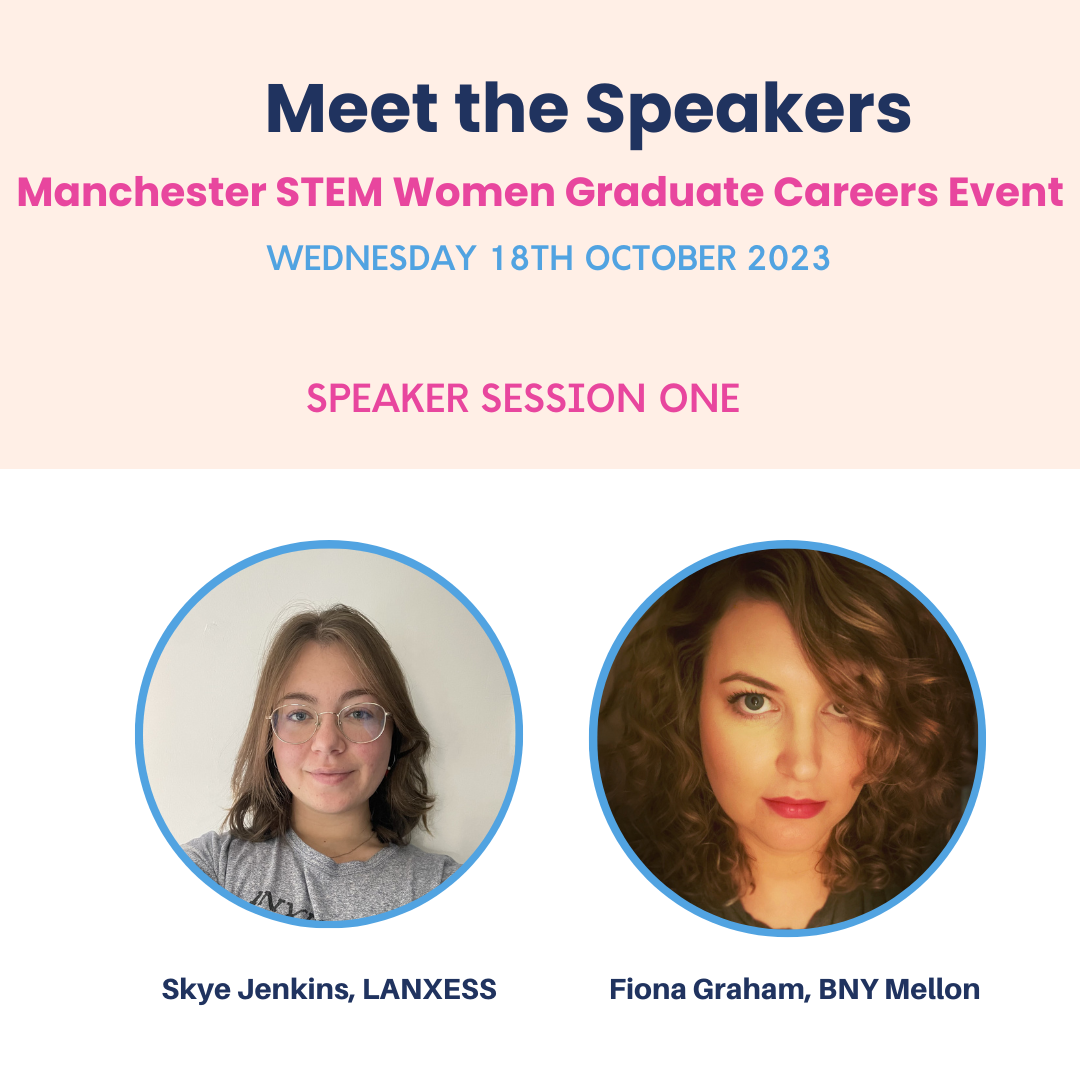 First speaker session
The session will start with a welcome talk from STEM Women and our event sponsor, LANXESS.
This will be followed by an insight talk from Skye Jenkins, Placement R&D Chemist at LANXESS. Skye's talk is titled 'My Journey to LANXESS: Challenges and Tips".
Attendees will then be able to hear a further insight talks from Fiona Graham. Fiona is a Business Analyst (Screening Product Development) at BNY Mellon as well as the BNY Mellon Women in Engineering Manchester Chapter President. Fiona's talk, titled 'Growth and Belonging, will cover her career over the past 15 years, the obstacles she has faced and how she has gone from being "relatively passive regarding the direction of my career to taking charge of it and seeking opportunities for myself".
Reflecting on the theme of her talk, Fiona said "I will be sharing my struggles with anxiety and how I try to adopt a growth mindset in order to reframe anxiety, as well as my thoughts on imposter syndrome and how it came be reframed as a positive".
Panel Discussion
Following the first insight session, STEM Women will host a panel discussion with representatives from BNY Mellon and LANXESS sharing their tips and expertise.
Networking will then commence until the event ends. Attendees can visit company stands, connect with employers and find out about jobs and internship opportunities.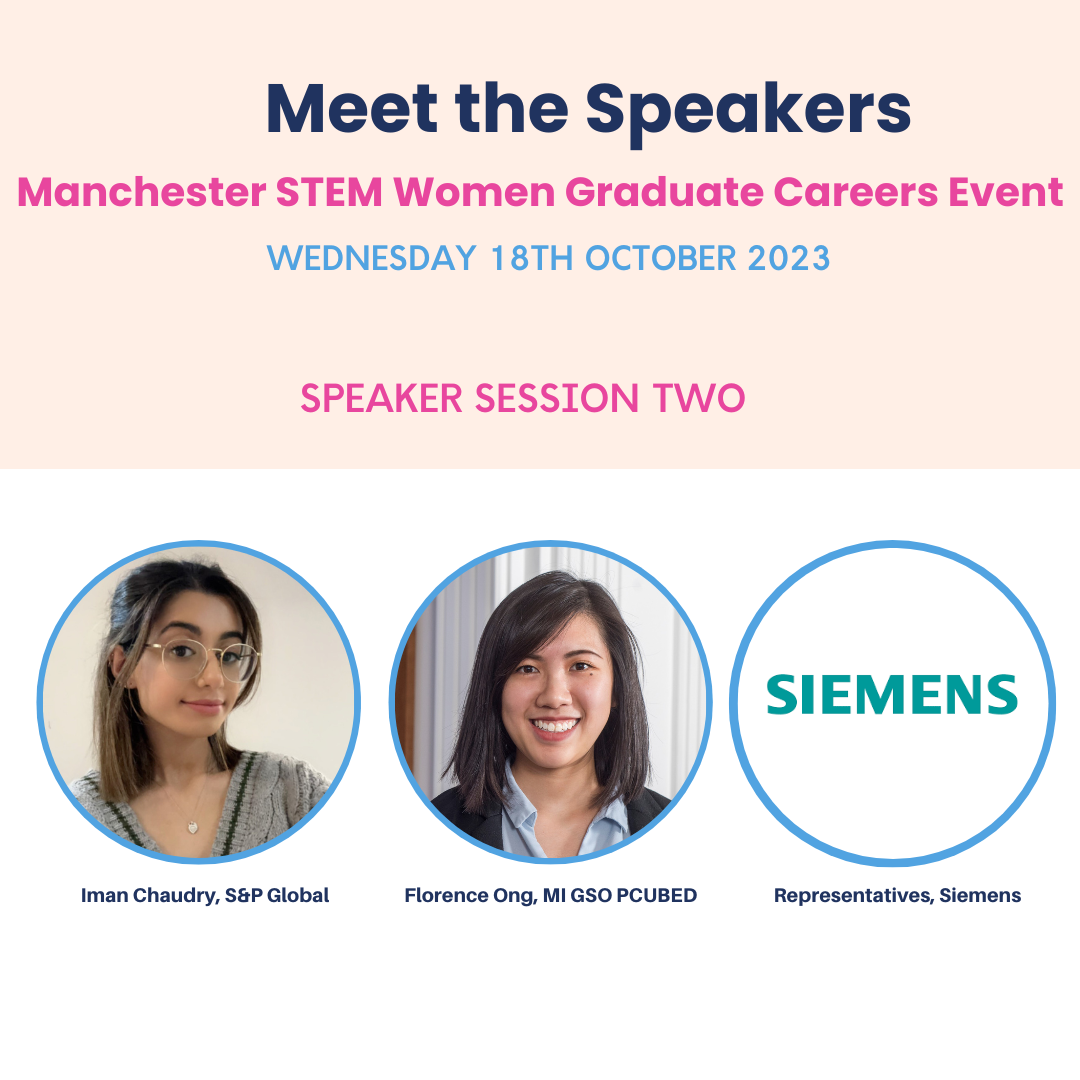 Second Speaker Session
At 2pm, a second speaker session will commence, beginning with Iman Chaudry, Operational Excellence Analyst from S&P Global.
Iman said "I'm going to be talking about what it's like going straight into a graduate job after university, what I do, and what it's been like here after a year."
We'll then hear from Florence Ong, Senior Delivery Consultant at MI-GSO PCUBED. Florence brings a wealth of expertise in Project Management and Project Controls in the Defence and Aerospace industry. Having graduated with a degree in Chemical Engineering, Florence switched into Project Management where she merges technical prowess with strategic business acumen to help her client solve complex technical problems. In her talk, she will share how she pivoted 'from STEM to PM'!
Finally, we will hear from representatives from Siemens who will provide an insight into their fantastic graduate opportunities.
Attendees can network with the exhibitors until the end of the event at 4pm.
To enquire about exhibiting at our upcoming events, get in touch with Event Sales Manager, Lauren Jenkins by emailing laurenj@stemwomen.com.