Meet the speakers – Birmingham STEM Women Graduate Careers Event – Wednesday 25th October 2023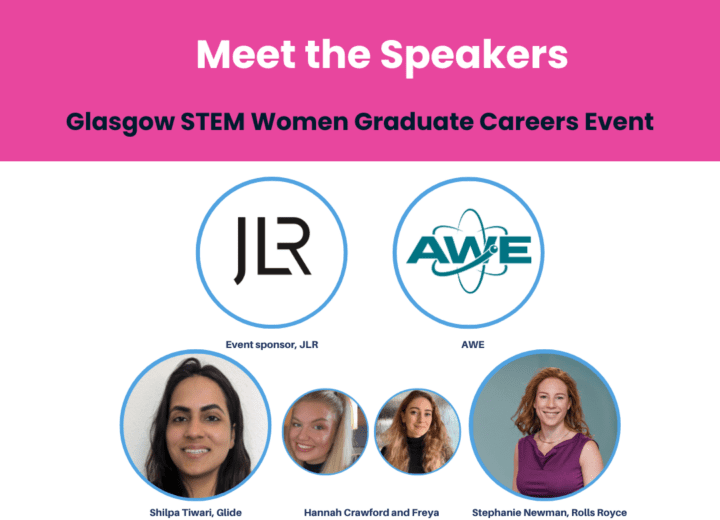 On Wednesday 25th October, we are excited to welcome hundreds of students and recent graduates to the Birmingham STEM Women Graduate Careers event, sponsored by JLR. This event is perfect for students and graduates studying a STEM (science, technology, engineering, or mathematics) related course.
We'll have 27 exhibiting employers taking part in the event. Five companies will also be delivering live presentations, with event sponsor JLR providing an in-depth talk about their organisation and opportunities.
At 12.00pm the event will begin, with attendees able to register and head to the theatre space for the first speaker session.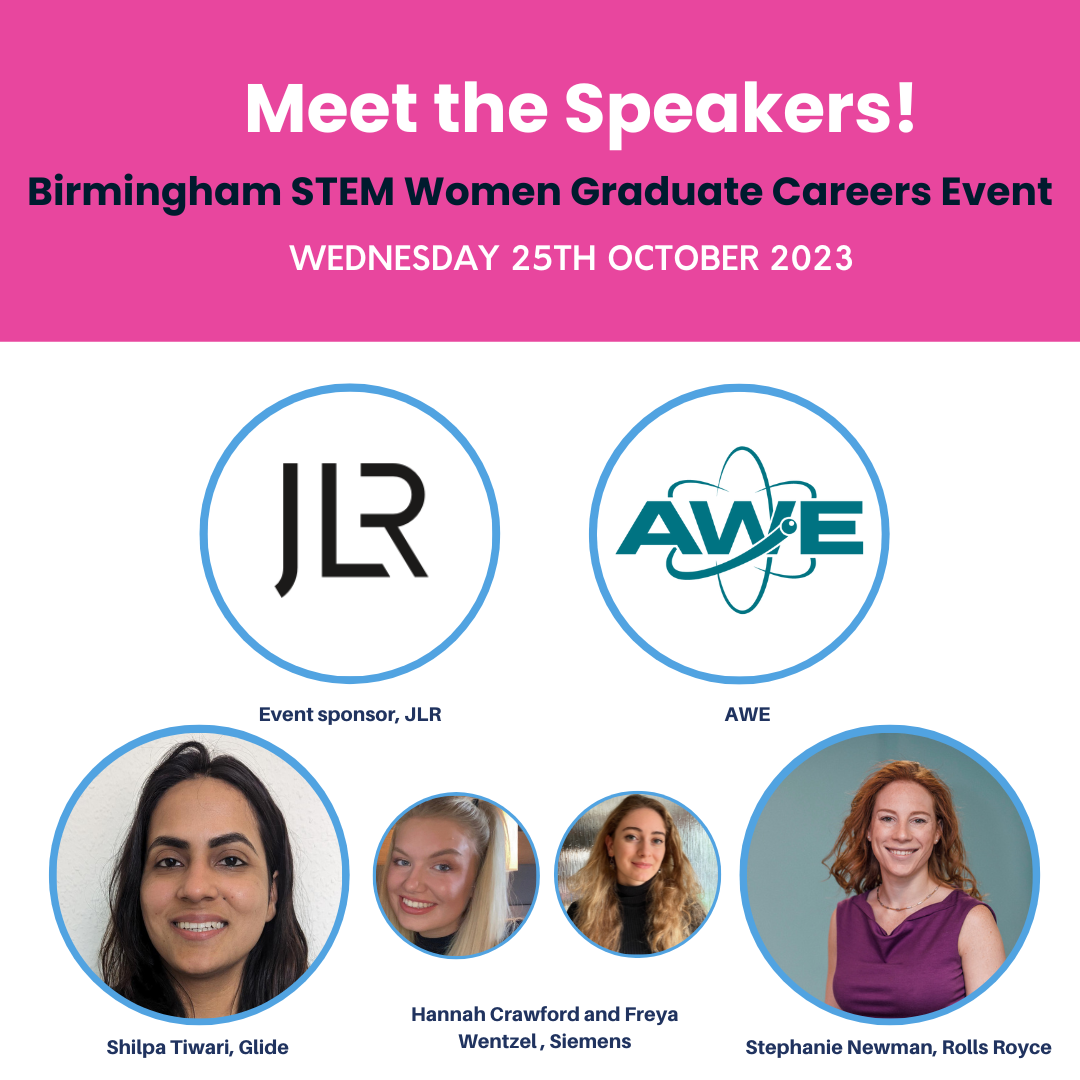 Speaker insight session
The session will start with a welcome talk from STEM Women and our event sponsor, JLR.
Attendees will then be able to hear insight talks from AWE followed by Shilpa Tiwari from Glide. Shilpa is a ServiceNow Developer with over five years' experience in the role. She will deliver a talk titled "My Journey in Tech: Breaking Barriers & ServiceNow, the Tech Magic Wand".
Shilpa will be followed by Freya Wentzel, Graduate R&D Engineer, and Hannah Crawford, Graduate Signalling Engineer from Siemens.
Hannah is going to share an insight into the key roles and responsibilities she has been given in the last 14 months since she joined Siemens Mobility in the railway industry as an Engineering graduate. Freya will cover the day-to-day experience of a Graduate, as well as the opportunities available as an Entry Level Talent employee.
In the final insight talk, we will welcome Stephanie Newman, Chief Project Engineer Trent Fleet Engines from Rolls Royce Plc. Stephanie will cover a summary of the graduate opportunities at Rolls-Royce and will talk about her journey from Engineering Graduate to Assistant Chief Engineer and from Derby to Singapore to Montreal. She'll also talk about some tips for applications and how to shine during the assessment process.
Event Sponsor Insight Talk
Following the insight sessions, STEM Women will introduce an in-depth insight talk from event sponsors, JLR. Their speaker will highlight their early careers opportunities, describing 'how JLR is evolving the world of modern automotive luxury and creating era-defining vehicles across four distinct brands, with profound cultural influence'.
Attendees can network with the exhibitors until the end of the event at 4pm
To enquire about exhibiting at our upcoming events, get in touch with Event Sales Manager, Lauren Jenkins by emailing laurenj@stemwomen.com.