Introducing the Speakers at our UK Hybrid STEM Careers Event!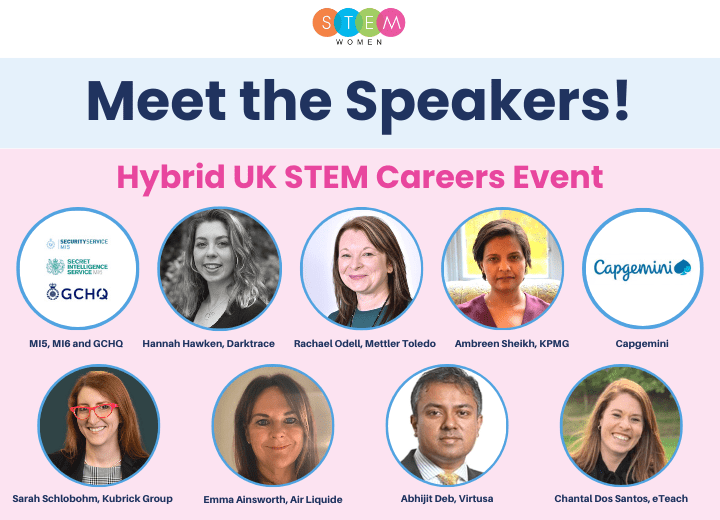 We can't wait to host our first Hybrid STEM Careers Event on Wednesday 22nd June! For this event, we have signed up 39 fantastic employers who will be ready to network with you either in person or online and promote their roles and opportunities. During the day, you can also watch a selection of presentations from exhibiting companies, either in the venue or live on our events platform.
We will be running two separate speaker session which will include presentations from a selection of companies, followed by a fun Q&A at the end. Each speaker will talk about their personal experiences of working in their industry, the exciting opportunities available at their company and what graduates can expect when applying for roles!
Meet the Speakers!
During the event there will be two speaker sessions, featuring talks from representatives from a range of different industries –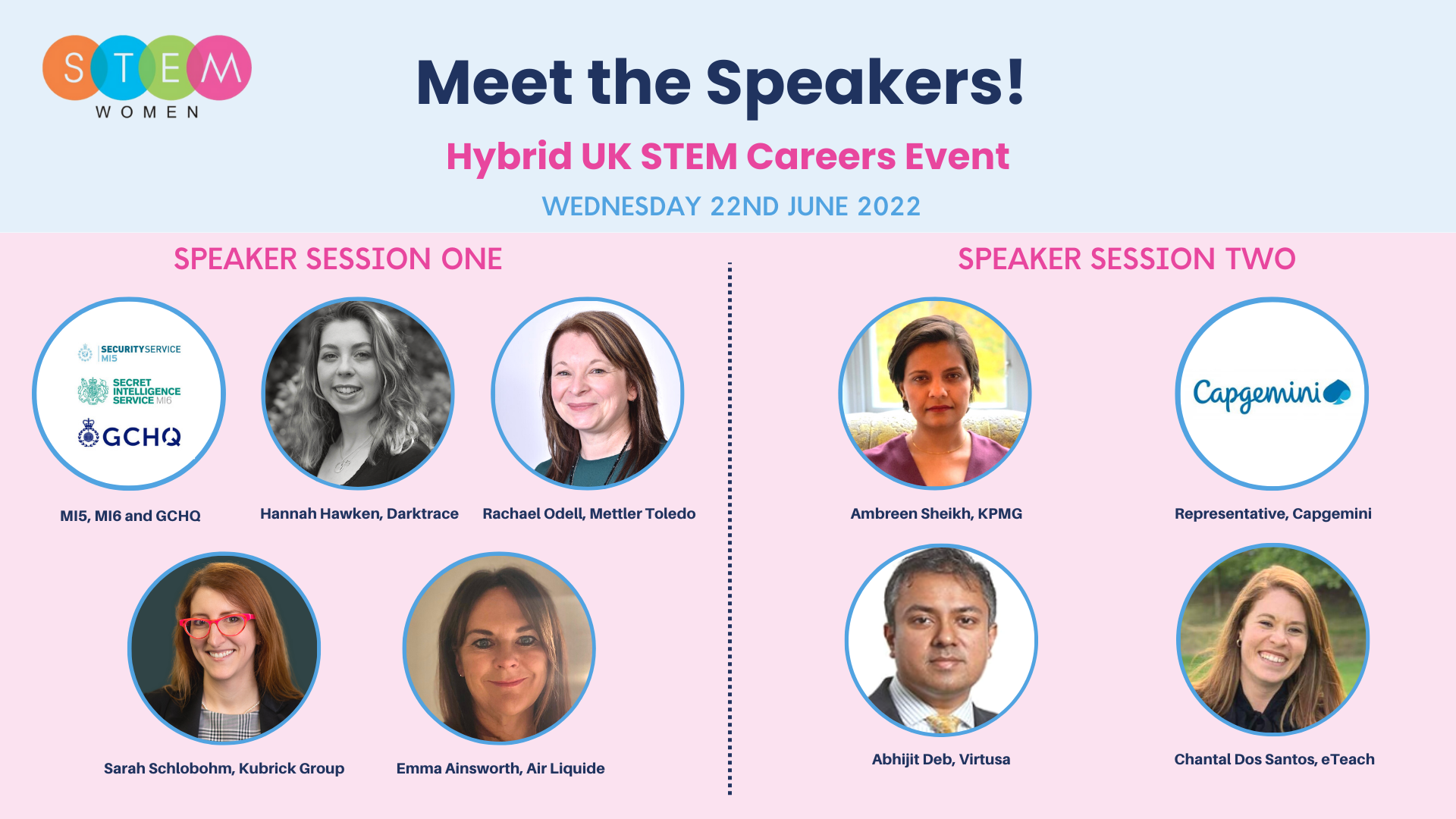 Our speakers are just as excited as us to talk to you all at the event, hear from some of them below-
"I am looking forward to connecting with incredible people and helping others pursue a future in the hugely rewarding world of STEM.  It will be my pleasure and honour to share my journey, and those of other incredible women that I work with at Mettler Toledo.  We have an ethos of being precisely where we belong, as 'One Team, with Global Reach, providing Amazing Solutions', embracing all that STEM has to offer." – Rachael Odell, Mettler Toledo
"I will talk about my career in the Specialty Gases & Chemicals World from Graduating to present day." – Emma Ainsworth, Air Liquide
Speaker Session Agenda
Speaker Session 1
Noon – Welcome talk delivered by STEM Women.
12:10 – MI5, MI6 and GCHQ – Representative
12:20 – Darktrace – Hannah Hawken, Cyber Technology Specialist
12:30 – Mettler Toledo – Rachael Odell, Head of Inside Sales and GKAM
12:40 – Kubrick Group – Sarah Schlobohm, Head of AI
12:50 – Air Liquide – Emma Ainsworth, Market Development Manager, Research & Analysis
1:05 – Q&A featuring all employers
1:25 – Speaker session ends.
Speaker Session 2
2:00 – Welcome from STEM Women.
2:10 – KPMG – Ambreen Sheikh, Principal Software Engineer
2:20 – Capgemini – Representative
2:30 – Virtusa – Abhijit Deb, Head of Banking & Financial Services, UK & Eur
2:40 – eTeach – Chantal Dos Santos, Careers Manager
2:55 – Q&A featuring all employers
3:15 – Speaker session ends.
STEM Women Events
Register for your free ticket to this event – https://careers.stemwomen.com/event/6125
If you're interested in starting your career in a STEM related industry, and would like to attend a STEM Women event, visit careers.stemwomen.com and register for your free ticket today!
There are also still spaces available for employers looking to exhibit at this event and our upcoming events. Get in touch with Event Sales Manager, Lauren Jenkins by emailing laurenj@stemwomen.com.