Highlights from the STEM Women Scotland Careers Event 2021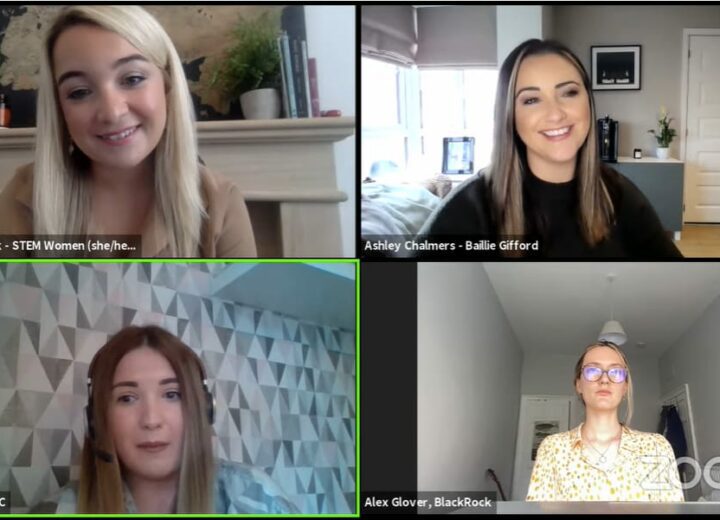 On Wednesday 22nd September, we hosted our Scotland STEM Careers Event which was the third event of the autumn season!
We were so happy to have 659 students and recent graduates sign up for the event, with 318 attendees logging in on the day. Attendees had the chance to network with 12 top employers via webchat, voice and video call, apply for jobs, and hear live presentations from representatives working in STEM.
Our exhibiting employers included our event sponsors PwC, BlackRock, Baillie Gifford, EY, NatWest Group, Newton, Morgan Stanley, Network Rail, Baker Hughes, Thermo Fisher, KPMG and Ministry of Defence.
During the event, attendees and employers had 544 conversations, sending 4,163 chat messages. There were also 160 job applications and during the live presentations we had a peak audience of 185. Our attendees were predominately studying Computer Science, followed by Biology, and Chemical Engineering.
The event began with a short welcome talk from STEM Women Events Host Sophie Chadwick. She introduced the employers, went over the agenda for the day and highlighted some of the key presentations to catch throughout the event. This was followed by a welcome address from our event sponsors, PwC. Laurie Watson, Talent Engagement Senior Associate at PwC, gave attendees a brief overview of the company and the business areas they work in. She then highlighted some of the opportunities available and prompted the audience to head to their stall and apply!
Attendees were then invited to join the audience and ask their questions to a panel of women working in STEM. Our panellists were Alex Glover from BlackRock, Ashley Chalmers at Baillie Gifford and Sarah Kelly from PwC. We heard some really interesting questions from the audience, including tips for the best first steps to take in your career, what the most exciting new projects are in their industries, and the most sought-after transferable skills that companies look for. The panellists also talked about how their career options weren't restricted by the course that they studied, and how they have overcome challenges in their career journey so far.
Following a network break, at 1.30pm our speaker sessions began with a presentation from Warda Majid, Software Engineer at BlackRock. Warda gave attendees a brief overview of her career journey so far and what it's like to work at BlackRock. Attendees learnt more about the history of the company, its unique culture and the innovative technologies they use, such as Aladdin.
This was followed by a speaker session presented by Sarah Kelly, Associate within Technology, Data & Analytics from PwC. Sarah began by highlighting her educational background and how her degree helped her to decide which direction to take her career. She then went into her experience of the PwC graduate application process, her interview and how she got her job.
And finally, we heard from Victoria MacGillivray, Early Careers Consultant and Russell Glencross, IS Talent and Development Lead from Baillie Gifford. They began their presentation by introducing themselves, their roles and the opportunities that are available at Baillie Gifford.  They went into detail about the office environment at the company, and the diverse range of roles they offer to candidates. They ended their presentation by highlighting the key skills they look for from applicants and the importance of working towards a more gender balanced STEM workforce in the future.
We were delighted with how our Scotland career event went and have received glowing feedback from both attendees and employers.
Kirsten Byers, BSc Mathematics and Statistics:

"I thoroughly enjoyed this event as it allowed me to see how many job opportunities are out there for women in STEM! Being able to chat one on one with the employers allowed me to ask and receive answers to all my questions. I will definitely be recommending to my friends!"

Warda Majid, BlackRock:

"STEM Women has been great for us and I really enjoy coming back to do this event every year. I have met some amazing people through these events. I think I have been very lucky in finding my place at BlackRock, and I want to help as many people as I can to experience the same kind of satisfaction in their careers, as I do in mine. One way of doing that is by going out and talking to people about the experience that I have had at BlackRock, encouraging them to strive for the same, and so I want to thank STEM Women for providing us with the platform to do that."
Alongside our Scotland event, we will also be hosting general STEM Careers Events for London, England and Wales, and the Benelux Region, as well as an industry specific event for UK Engineering.
There are still a few employer spaces left for upcoming events. If you're interested in exhibiting, get in touch with laurenj@stemwomen.co.uk.
For more information visit www.stemwomenevents.com, follow us on LinkedIn, Twitter and Facebook for event updates.