Future Career Prospects Blossom at our Birmingham STEM Women Event in the Botanical Gardens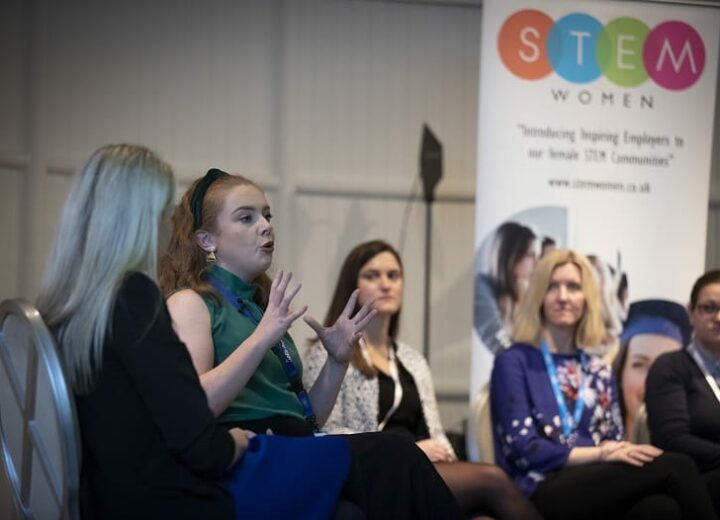 After reaching the halfway point in the STEM Women Autumn event season last week, we were back with another event in Birmingham's Botanical Gardens.
On Tuesday 5th November, we welcomed over 190 female students to meet with 30 top STEM employers, hear some inspirational talks and take part in a panel session with women working in industry.
Students from universities in Birmingham, Coventry, Warwick, Loughborough, and Leicester, studying a variety of STEM subjects, were invited to the event, with free coaches arranged from various pick-up points.
The event attracted impressive exhibiting companies such as Rolls Royce, Buckingham Group, MThree, PwC, IBM, REPL Group, West Midlands Trains, Altius, FDM, Capgemini, Goldman Sachs, IMI, Galliford Try, ARM, Zonal, Citrix, Accenture, PA Consulting, KPMG, Moody's, AstraZenca, Baker Hughes, Kainos, Instron, Sopra Steria, SPD, Next, Keller, Cadent and Kautex.
The event venue was one of our most unique, with large glasshouses and gardens surrounding the exhibition hall and theatre space. Students made their way through the tropical leaves, cacti, exotic blossoms and past lush fountains to reach the event entrance.
By 11.30 am, excited students had already checked in and were taking their seats in the large theatre space, illuminated with pretty fairy lights. The event began with a motivating welcome video and introduction from STEM Women Events Manager, Sophie Chadwick.
This was followed by interviews with women working at Rolls Royce, Buckingham Group, REPL Group, MThree Consulting, PwC and IBM. First up to the stage was Katherine, a Tech Recruiter at PwC. She talked about the opportunities available at PwC for graduates, from cybersecurity to data analytics and forensic data analytics:
"At PwC, if you're applying for graduate roles, we really aren't looking for lots of experience, it's more based on behaviours. To be successful, it's about looking up their values and culture and seeing if that fits with what you're looking for."
We then welcomed Senior Manager at IBM, Maria. She discussed her career journey from starting out at university and not knowing what she wanted to do, to attending careers events, finding a mentor and discovering that HR was where she belonged. Maria gave the students some great advice about the application process and the importance of mentorship.
Elysha from REPL Group was next up to describe her unusual journey into the world of technology, from completing her degree in drama to her current role as a Business Analyst. She explained how she learned to just be brave and believe in herself when applying for technical roles. She also spoke about what she finds to be the most exciting trend in the tech industry at the moment; Femtech, or female technology:
"There's lots of stuff coming out surrounding the fact that women have been left out of technology and how female bodies haven't been brought into the equation when software and products are being developed. I think Femtech is definitely a really interesting space and an area to watch. It's going to revolutionise our future and how we live. I feel really empowered saying this because I have all these women looking back at me, it's great!"
Next up was Jen, a Design and Engineering Manager at Buckingham Group. Jen was asked how she first got into construction and what she loves so much about the industry:
"I knew I wanted to be an engineer since I was about 10. I was like 'I am going to be an engineer; I don't know what type but I'm going to work it out!'  What I love about construction is the variety. I've worked on so many different projects from track to demolition projects, building train stations, bridges, connecting roads and loads more. I've done all of that and had children. So, you know what, you can be a woman in this industry and have a family and still do what you love!"
We then heard from Megan, a Graduate Engineer at Rolls Royce. She described what it's like to work at Rolls Royce and all the amazing opportunities you can get involved with in the company, from designing rigs to hosting awards events and being part of the unique culture. Megan also highlighted the importance of getting involved with as many of these opportunities as possible.
"If you get an opportunity, just go for it. If you go out of your comfort zone and prove to yourself and others that you can do it, the opportunities will just keep coming. It may be a small snowball, but it is that snowball effect where you start to get involved in things. Just say yes to the opportunities."
Lastly, we heard from Cassandra, a Java/Scala Developer at MThree Consulting, who spoke about learning how to code in her free time after completing her physics degree and focusing on her transferrable skills to get the role she wanted.
Once this welcome session had finished, lunch was then served which included a selection of soup, sandwiches, chicken, vegetarian and vegan options. Shortly after this the main networking hall was opened up and the buzz of students and employers discussing job opportunities and connecting filled the venue.
Students made their way around the stands, picking up leaflets, networking and asking important questions about the application process.
Maria from IBM came and spoke to us after she had been interviewed on stage:
"I found that a lot of people came up and spoke to me after I'd been on the stage, I was really touched actually because a couple of people asked me to be their mentor. I think they like what I said about not really having a clear career path in mind when I graduated and that really seemed to resonate with them because they are in a similar position. Seeing the impact you make and the value you might add during half an hour of your time at an event like this is really great."
Just after 2pm, whilst the networking continued, a panel session began with the women who were interviewed at the start of the event. This session allowed students from the audience to ask the panelists questions about their roles, what it's like to be women working in STEM and any advice for applications and interviews.
There were some great questions asked by the audience, including 'what are some of the positives of being a woman in STEM' and 'What are your experiences with mentorship programmes?'
After this session, networking continued until the event ended at half 3. We spoke to Morgan, a Biochemistry student at the University of Birmingham, about how she found the event:
"I think the best thing that I got out of the STEM Women event today is probably the panel discussion with the question and answering format. The women had lots to say about having careers in STEM. I didn't realise how easy it is to kind of chop and change your career or go into different departments that you didn't study at university or you didn't know about before starting your career, so that's been very inspirational."
With both employers and students extremely happy with how the event went, we are so proud to be introducing so many female STEM students to inspirational employers. And with more events to come, we can't wait to meet even more women in STEM. Check out our events page to find out where the next STEM Women event is taking place. You can also become a STEM Women member and hear news of our upcoming events first.
Are you an employer looking to exhibit and talk at one of our events? Get in touch with our team today and be part of the next STEM Women event.