Event Review – London STEM Careers Event Sponsored by Capgemini Invent – October 2022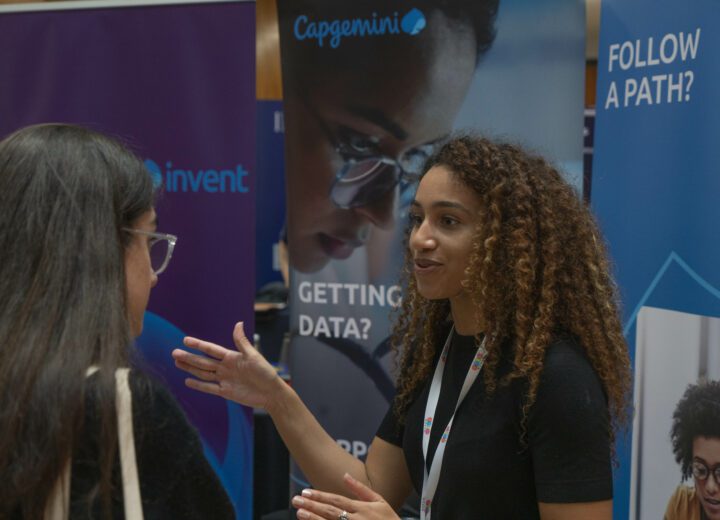 On Wednesday 19th October, we ran our final event of 2022, the London STEM Careers Event, at the Congress Centre. Sponsored by Capgemini Invent, this event was our largest in-person event to date attracting 51 exhibiting employers and over 1,200 student sign ups!
The event began at 12.10pm with a welcome talk from STEM Women events host, Pam McGee. We then heard presentations from 9 exhibiting companies throughout the afternoon. During the day, attendees could network with employers in four different areas in the Congress Centre.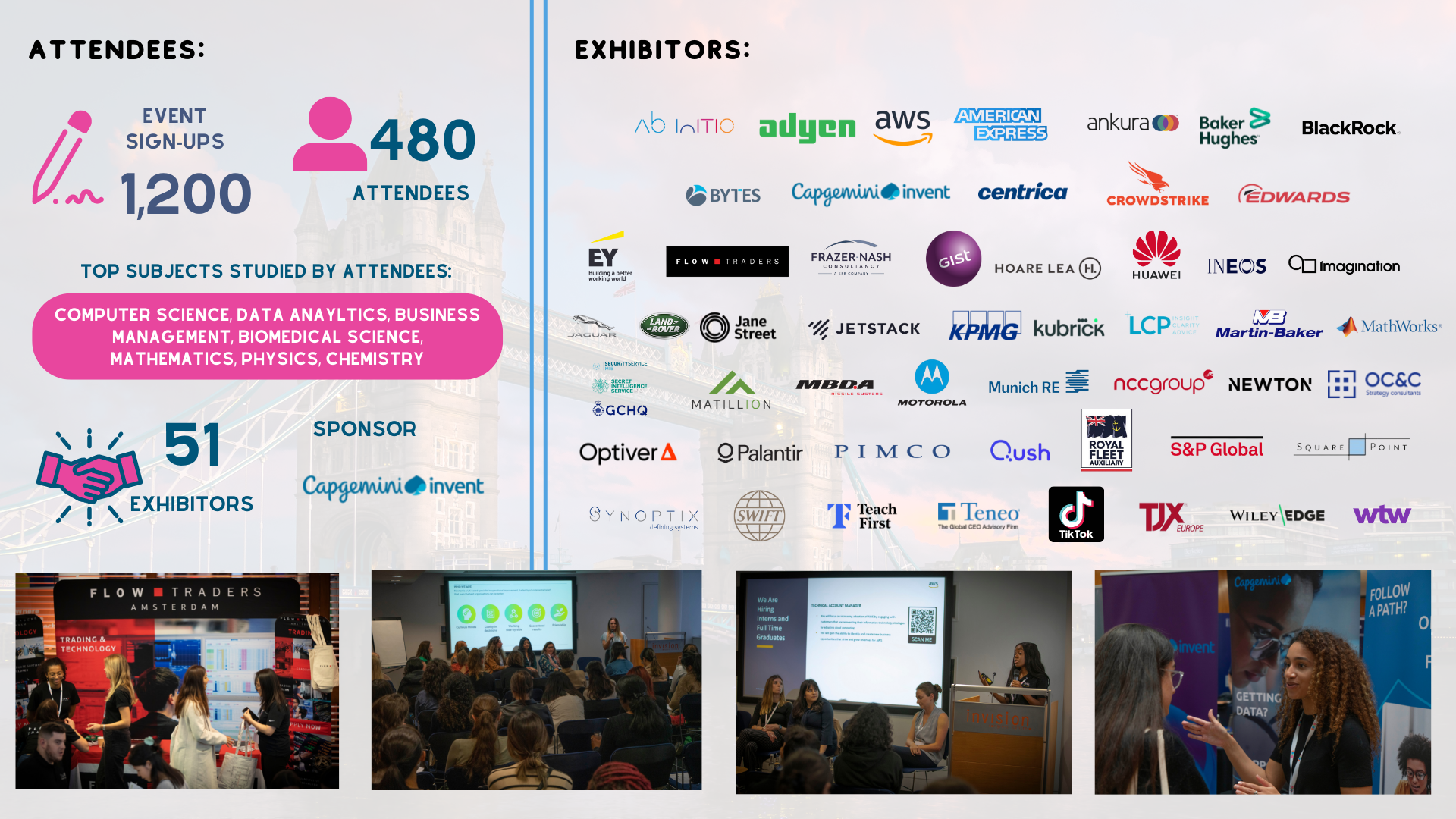 Speaker Session One
Our first speaker session began just after 12:15pm with a welcome talk from our event sponsors Capgemini Invent. Kim Field, Director, Energy & Utilities presented this session, giving attendees an overview of the company and their values.
Following this, Tomi Popoola from Amazon Web Services began her session covering who AWS are, their services and the exciting graduate roles they have available. We then heard from Carla Cox and Anya Vithlani from Kubrick Group who shared their personal career journeys, overcoming imposter syndrome and what a typical working day is like at Kubrick.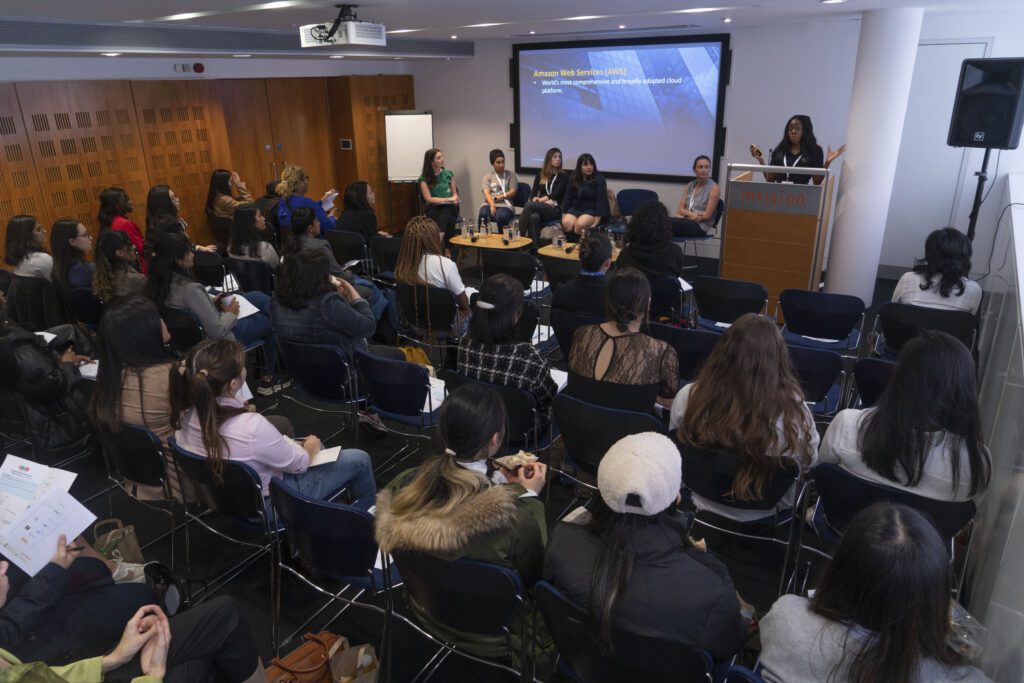 Next up, Kay Pandor from Wiley Edge took to the stage to talk to the audience about her company, the unique culture and training opportunities they offer graduates. Our final speaker of session one was Lucy Thorp from Teneo who gave attendees a fascinating insight into her journey from studying physics at university to becoming managing director at her company.  Following this, we had a short Q&A with all of the speakers who gave some great advice around career confidence and standing out during interviews.
Networking
Throughout the whole day, attendees could network with our exhibiting employers in four different areas in the Congress Centre. These areas were filled with company banners, free goodies, leaflets and employers waiting to start discussions and offer advice to prospective candidates. There was a fantastic atmosphere throughout the event, with lots of attendees taking pictures with the event banners and building their professional networks. The networking spaces were full all the way up until the event ended at half 4!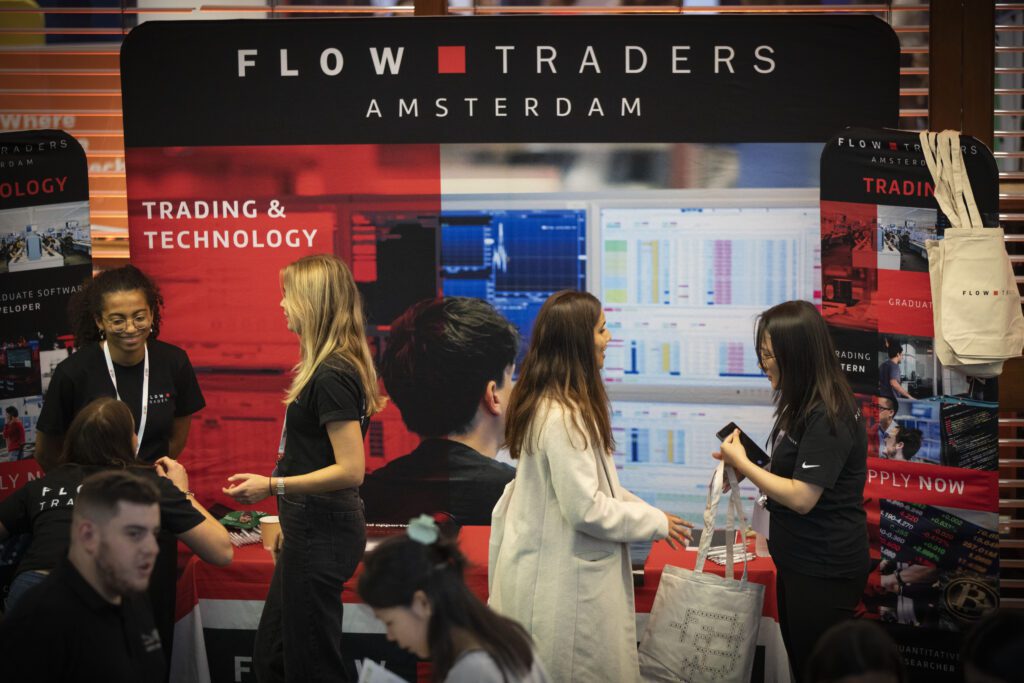 Speaker Session Two
The second speaker session began at 2:10pm with a presentation from Elisa Sai from Capgemini Invent. Elisa built on the welcome talk from the beginning of the event, highlighting the scope of Capgemini in more detail and the wide variety of role they have open. We then welcomed Anjali Desai from EY to the stage who spoke about her personal experience on the graduate scheme and why she chose EY. Marta Melero Gazo from S&P Global followed this with a presentation which covered her personal career journey.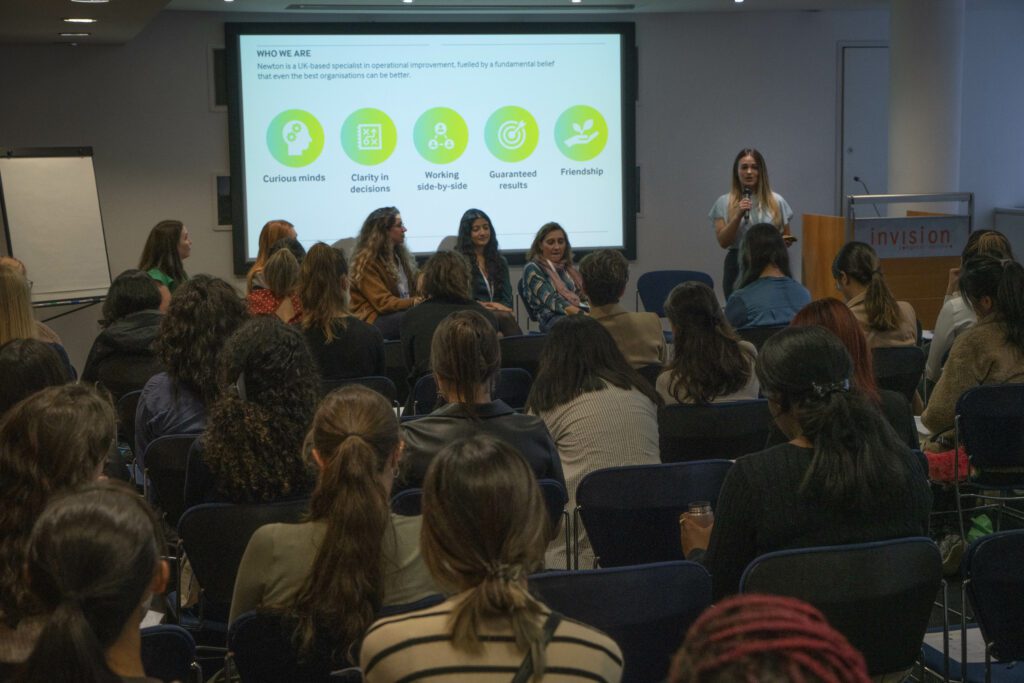 Next up we welcomed Sarah Shalaby from Palantir who spoke about who Palantir are, the industries they work in and a day in the life of a Deployment Strategist. Our final speaker of the day was Tiggy Idelson from Newton. Tiggy gave attendees an insight into consulting and spoke about the importance of staying curious when working in tech. This session was also followed by a short Q&A where we heard more about the importance of transferrable skills.
Amazing Feedback
"So pleased to have been able to represent EY at the STEM Women event in London, and take myself back to how my career started. It was such a pleasure chatting to all the amazing women that attended and share my experience of working within Assurance at EY so far – this first year has gone so quickly!"- Alys Nichols, Assurance Associate, EY
"Hearing advice from Elisa Sai, Sarah Shalaby and more inspiring women was so useful in my job search. I learnt to never give up on my job search and to always think about the value of the company. Thank you STEM Women for the fantastic event with great networking opportunities and advice."- Bethany Smith, University of West England.
Join us at a STEM Women Event!
We run a range of industry specific, general STEM and location specific careers events each year.
If you're a student looking to register for your free ticket, take a look at our events line up – careers.stemwomen.com, and follow us on LinkedIn, Instagram, Twitter and Facebook for event updates.
If you're an employer interested in exhibiting at an upcoming event, please don't hesitate to get in touch with Event Sales Manager, Lauren Jenkins by emailing laurenj@stemwomen.com, or fill out the form below. www.stemwomen.com.
Sign up to hear about our next event