Celebrating International Women in Engineering Day with STEM Women Events and Ball Corporation.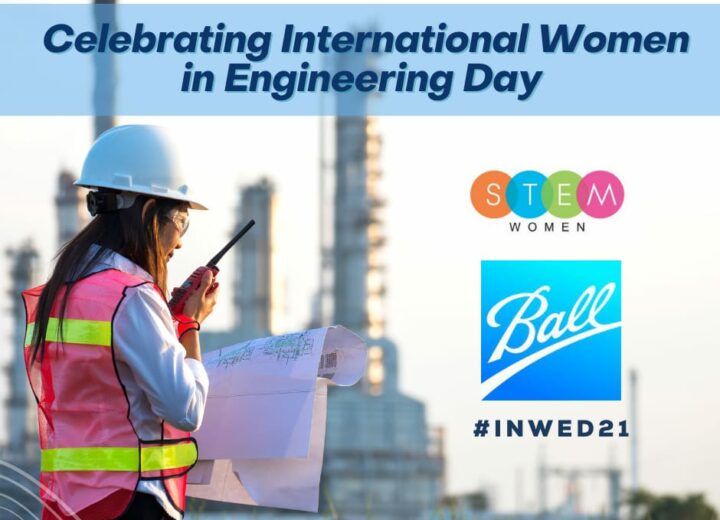 Today at STEM Women we are celebrating International Women in Engineering Day! This year's theme focuses on celebrating Engineering Heroes and the amazing work they do around the world.
To mark the day, we wanted to highlight one of our partnered clients and the sponsor of the STEM Women Virtual Engineering Industry Event, Ball Corporation.
Celebrating Women in Engineering
This autumn, STEM Women are running an engineering specific event for students and recent graduates who identify as female or non-binary, and are looking to start their careers in the industry.
This inspiring event is sponsored by Ball Corporation, a global company that supplies innovative and sustainable packaging solution for beverage, personal care and household products, alongside aerospace and other technologies.
Ball employs over 21,500 people worldwide and is also sponsor of International Women in Engineering Day this year! We are so happy to have partnered with this great company to work towards encouraging more women to enter engineering careers in the future.
Ball is celebrating Women in Engineering Day by highlighting its legacy of supporting female engineers in a culture of belonging. At Ball, female team members embrace an authentic ownership within their own STEM careers!
Meet Michelle Lyle – Engineering Support Team at Ball
Michelle Lyle joined the Engineering Support Team in the UK in 2015. She shared with us what has motivated her to feel unstoppable during her journey at Ball.
"To give you an idea, my job consists of deciding what designs to bring to trial through extensive simulation work, organizing for designs to be tested, analyzing data, reporting on trial results, and a lot of giving my opinion.
"Being a woman in engineering can be an interesting line to walk. It means learning how to get my point across. It means learning to repeat myself when I feel like I have an important point that needs to be heard. It means learning to be comfortable with being challenged and my colleagues being comfortable with challenging me."
Michelle is hopeful that bringing attention to the women who are in engineering will encourage more women and young girls to decide to join.
She thanked "the great managers and colleagues I have had within Ball who have been there to lend their support."
When: Wednesday 20th October 2021
We are so excited to have Ball Corporation sponsoring our Engineering event this autumn! During our events, attendees have the chance to listen to inspiring talks from women working in STEM, ask their questions during a live panel session, apply for roles, browse company stalls and network live with employers via webchat, voice and video call.
We hope this engineering event will help inspire the next generation of female engineers in the UK, and work towards a more gender balanced future.
If you are interested in attending this event or any of our autumn events, register your interest on our event page.
For employers looking to exhibit at our engineering event or any of our autumn events, get in touch with Event Sales Manager Lauren Jenkins at laurenj@stemwomen.co.uk for more information.