Announcing the Speakers at the STEM Women Yorkshire, North West and North East Event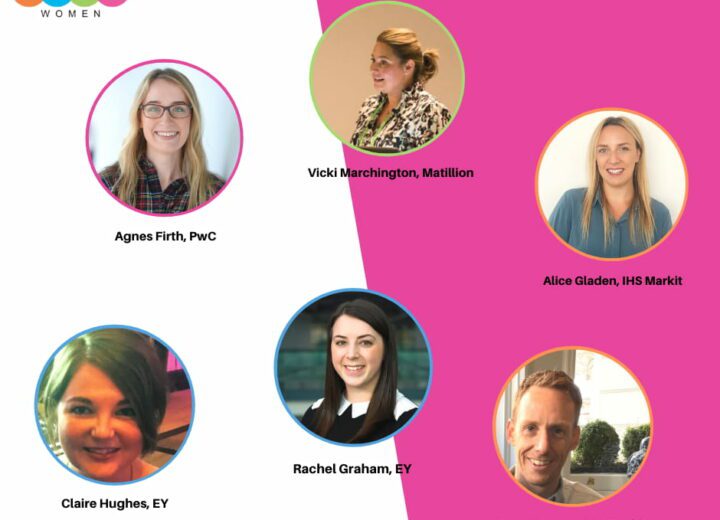 On the 8th October, we will be hosting our graduate STEM careers event for Yorkshire, North West and North East England regions. We are so excited to announced the speakers taking part in our inspiring sessions throughout the day!
Our event is perfect for female students or recent graduates looking to start a career in a STEM related industry. Attendees will network with employers, watch speaker sessions and have their questions answered during a panel discussion.  The event is targeted at women looking for graduate jobs, internships and placements.
We caught up with our speakers ahead of the event to discover more about what attendees can expect to hear on the event day!
Speakers
PwC
Agnes Firth, Senior Associate Robotic Automation
We are very excited to welcome Agnes Firth to our STEM Women event. Her talk will focus on her first year at PwC, the work environment which includes from home and in the office, plus some insight into Robotic Process Automation!
What are you most looking forward to on the event day?
"Hearing the panel discussions!"
What do you love about your role/company?
"Flexible working and supportive colleagues."
Do you have any tips for attendees before the event?
"Read the agenda and put on a reminder for the talks you do not want to miss! And don't forget to bring your questions!"
Have you learnt anything new in or out of work during the pandemic?  
"The true importance of routine and work life balance."
EY
Rachel Graham and Claire Hughes, Recruitment Team
From EY, we will welcome Rachel and Claire from the recruitment team. Their session will give attendees a greater understanding of the different opportunities available at EY, and offer tips and insights that can help students make a successful application.
What are you most looking forward to on the event day?
"Looking forward to meeting so many interesting and engaged females from STEM backgrounds in the North, especially through the new virtual careers fair tech on offer!"
What you like most about your role?
"We love having the opportunity to speak to and meet new people on a daily basis to represent EY. We're really proud to work here and want to share that experience with you!"
Why do you think getting more women working in STEM is important?
"We believe that we do our best work when diverse teams of people bring together different perspectives, backgrounds and abilities, and that includes having a good gender balance within all of our teams at EY."
Do you have any tips for attendees before the event?
"Have a think about questions that you want answers to. They may be covered in the speaker sessions or panel, but also make use of the 1-1 networking opportunities to get the most out of the experience. Also – keep an open mind. There may be companies at the event that you wouldn't have imagined working for, but this event could change your mind!"
IHS Markit
Alice Gladen, Regional Operations/SME Associate and Tom Kearney, Solution Architect, Enterprise Data Management
We are really excited to also be welcoming Alice and Tom from IHS Markit. They will be giving attendees an insight into two different business areas.
What topics can attendees expect to hear from you on the event day?
Alice: "A brief overview of what we do at IHS Markit, my background and route into my current role from a chemistry masters, insight into our graduate scheme & what I wish I'd realised when I was at university looking for a job."
Tom: "A little bit about myself, and the aspects of a career in software development that I've enjoyed and that I think would be relevant to people considering it as a career choice. Some information about the product I'm currently working on, and a general idea of what day-to-day life is like in our software development teams within the EDM group at IHS Markit."
What are you most looking forward to on the event day?
Alice: "Meeting students who are in the same position as I was in just a few years ago. Hopefully I can share some tips and insight into a career you may not have previously considered."
Tom: "Hearing from and talking with the next generation of professionals that will shape the future of industries like software engineering. Our industry, in particular, and many teams I've worked with, have suffered from a gender imbalance. Therefore, it will be great to hear from women that are considering software development as a career choice. Hopefully, I can also impart some helpful advice based on my own personal experience on how that can be a great career choice for them."
What do you love about your role/company?
Alice: "I love the variety in my role – every day is different and a steep learning curve. I was thrown into a new industry and had to adapt and learn quickly which means I'm constantly learning and improving. I also love the company I work for and the ethos – the junior members of the team are valued and our opinions considered just as important as those in senior leadership, which is a great position to be in at such an early stage of my career."
Tom: "In my particular group, we are embarking on an ambitious project. I enjoy the challenge of these types of projects that require a team of great people to come up with great solutions."
Do you have any tips for attendees before the event?
Alice: "Be open minded! I would never have pictured myself in the role I am in now but I am loving every part of it. There are so many opportunities out there and with a STEM background you have such a broad skillset. Think about what type of tasks you want to do each day as opposed to whether you have the skills in that space – you can learn new topics quickly but understanding if you want to be client facing or research or product focused etc will help you narrow down the type of roles you're looking for and ensure you enjoy any role you end up in."
Tom: "Be open to taking on different challenges so that you can find fields, industries, roles that you most enjoy. Don't be afraid to try things, even if you have some trepidation. If you work hard at it, you'll always have the respect by your co-workers. Build your professional network. It is an excellent place to go for advice and will provide opportunities to work with people you know and enjoy working with."
Have you learnt anything new in or out of work during the pandemic?
Alice: "I've really enjoyed seeing our data evolve and pivot to fit our clients needs during this time – it's unprecedented for everyone but we're really striving to help our clients in anyway possible and building that relationship for when the situation returns to normal is vital. On a personal level – I really miss travelling and can't wait until that's back to normal both for holidays and work trips to see clients!"
Tom: "The importance of good collaboration and team cohesiveness. Our teams are all working from home, so it's not as easy as it was previously to get together on an ad-hoc basis and work through a problem on the whiteboard or around someone's laptop. Therefore, it's more important than ever to ensure that our teams share in the vision for the product, feel confident that know how to contribute and work together to achieve great results."
Matillion
Vicki Marchington, VP People
We can't wait to hear Vicki's talk on why tech needs you! She will be focusing on the importance of women in tech and offering tips for interviewing in our 'new normal'.
What are you most looking forward to on the event day?
"The buzz and excitement of exploring people's future career opportunities and the chance for Matillioners to connect with the next gen women in tech talent."
What do you love about your role/company?
"What don't I love? There are only 2 problems in business; one are people problems and the other is problems you haven't realised are about people. People Ops is at the heart of the business and collaborates with all functions which makes it always interesting and always varied. Matillion is extremely exciting, fast paced and the company where I truly believe every single person can have an impact."
Do you have any tips for attendees before the event?
"Have a big bottle of water, some snacks and a coffee – concentrating on zoom can be tough when face to face interactions are the norm for these kind of events – be kind to yourself and be kind to the presenters – nice to see a friendly face on the screen or some level of interaction wherever possible."
Have you learnt anything new in or out of work during the pandemic? 
"You're often told when you are starting your career that you need to be proactive; this is very true – however in a pandemic you need to be reactive and able to pivot quickly to new information and the need for emotional intelligence, understanding and empathy to navigate through it – both at home and at work!"
Alongside our event speaker, attendees can also network with Astra Zeneca, Welsh Water, Covea Insurance, Baker Hughes, ARM, QA, Virgin, The Hut Group and KPMG.
The event day will also feature a panel discussion at 3pm, which will give attendees the chance to ask their questions to a range of women working in STEM industries. It will offer a fascinating first hand-insights into the careers of our panellists, and will explore topics that are relevant to STEM students.
If you are a student or recent graduate looking to start a career in a STEM industry, check out our event page and sign up for free today!
Does your company need more women in your STEM roles? Get in touch with Lauren at laurenj@stemwomen.co.uk for more information about our exhibitor rates.